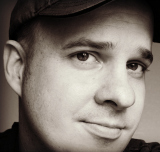 The trailer for the new film "Change in the Air" has just come out, and I have to say, I'm intrigued. It has a draw-you-in quality to it, which is always a good sign for a trailer. (Like when someone's a good storyteller, and the way they tell their stories makes you lean forward closer to them.)
It's got a stack of notable, talented actors: Rachel Brosnahan ("The Marvelous Mrs. Maisel"), Aidan Quinn ("Elementary"), Satya Bhabha ("Scott Pilgrim vs. the World"), Olympia Dukakis ("Moonstruck"), M. Emmet Walsh ("Blade Runner," and I actually loved his character in "Christmas With The Kranks," by the way), and many others, including the recording artist/actor Macy Gray.
Word on the street is that it has some interesting faith-related themes in it. Although it's not always easy to guess the full scope of a film's content from a trailer, you can pick up hints. I get a vibe that sort of reminds me of "Henry Poole Is Here": a mysterious occurrence/person disrupts the normal routine of a small community, and there is a quiet tension between the miraculous and the tragic that builds in both directions in unpredictable ways. That's just my gut reaction at first glance. ("Henry Poole Is Here" is one of my favorite films of all time, so this comparison is meant to be positive.)
Here's a plot summary from the studio: "A peaceful community is forever changed when a mysterious young woman moves in. As the quirky locals embrace her, their lives soon improve. But, they can't help notice that their strange new neighbor has a secret."
This film is the directorial debut of Dianne Dreyer. She has worked in some capacity on, well, just about every film ever made since the '90s. Okay, I'm exaggerating, not every film, but wow she has a long list of films with a wide variety of jobs she's done, from acting to script supervising to producing. (A big shout out to her for "City of Angels." I was obsessed with that movie in 1998 for some reason.)
It's also the screenwriting debut of Audra Gorman, who, like Dreyer, has a long, impressive resume of films.
Both of these filmmakers have been in the industry for a long time, so they're clearly drawing on rich layers of experience. It's always fun to see new voices emerge with a debut project, and from what I've seen in the trailer, it looks like they're off to an excellent start with their creative work.
You can go to the official site for Change in the Air for more info. Below is the trailer so you can judge for yourself. I'll be screening it in due time and will have a review up in October, so keep an eye out for that. The film releases October 19.