Our journey to GraceFest in Palmdale, CA this year began as all things begin in California: a little surreal, unpredictable, and slightly alarming.
First, we made it over the Tehachapi mountains around a long, winding road through a forest of giant wind turbines.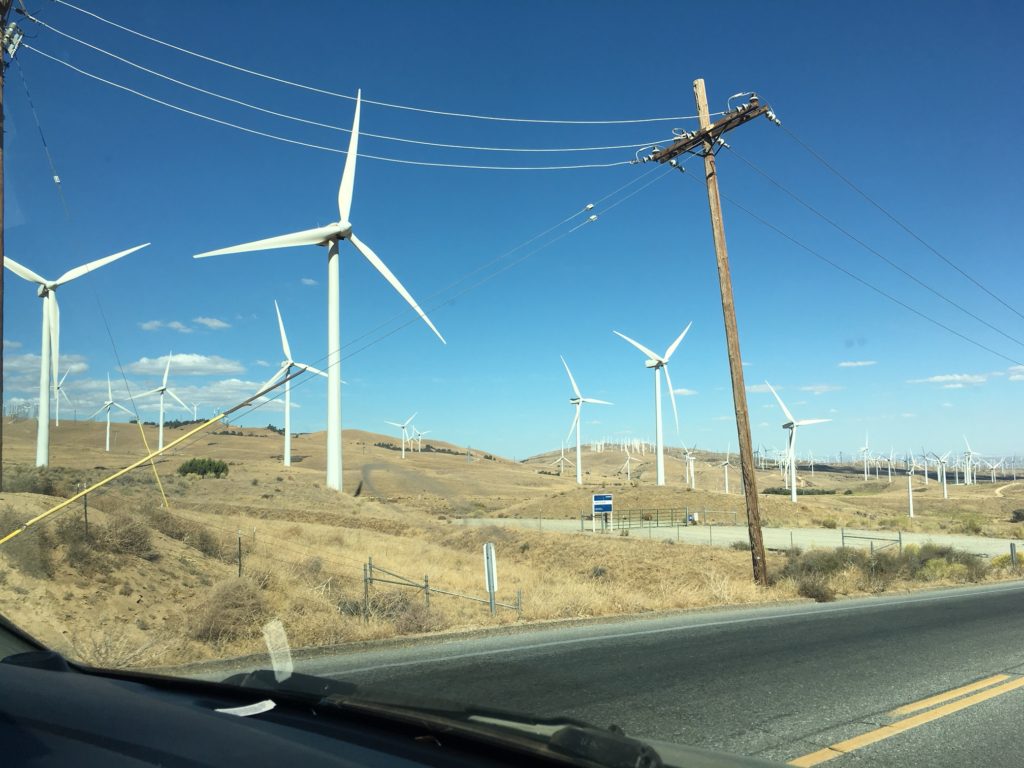 Then, as we turned right to skirt the edge of the Mojave Desert (think the highway scene in the film "Rango" and you've got it), we saw a huge column of smoke rise into the sky.
Not good.
It looked as if a very large bomb had been accidentally dropped in the foothills directly behind the outdoor venue where GraceFest would take place. This was alarming, especially when I realized this meant we'd be driving directly toward the smoke, not away from it.
Turns out it was a very large wildfire that had just broken out that afternoon: the Charlie Fire, which was already up to a few thousand acres by that time. Fortunately, the fire was not near the venue at all (even though it looked like it), and we made it there safely. From our vantage point near the back of the festival crowd, the huge drifts of smoke were still visible during the concert, and they hovered over the hills and gave the twilight some fresh fuel for its golden fire.
A Strangely Beautiful Setting (And a Wonderful Set)
As the sun sank, the light cast an orange-bronze glint over the hills and across the wide swath of smoke–a strangely beautiful scene. This was around the same time that Plumb had played her set.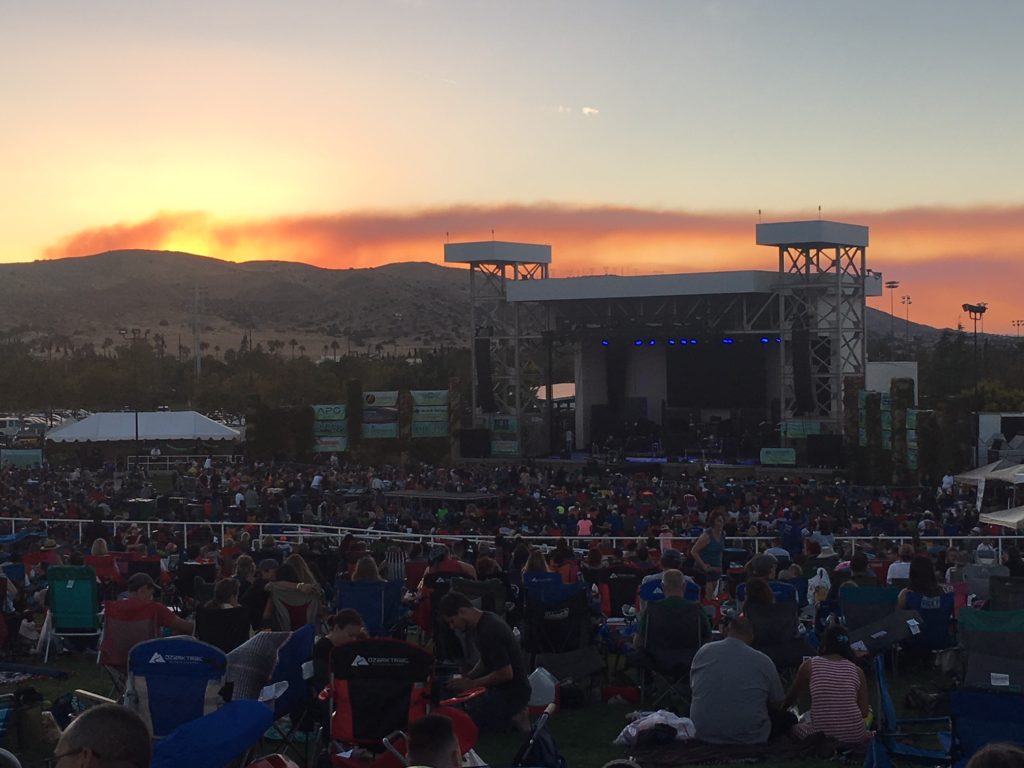 Somehow all of it was oddly fitting as the image and words "beautifully broken" flashed across the huge screen above the stage where she was singing.
And it was a fantastic set.
Besides her widely known songs like "Need You Now," she played a few tracks from her new album Beautifully Broken. She played my two favorites (so far)–"Crazy About You" and "Somebody Loves You"–and they sounded pristine and powerful, as good as listening to the studio recording. I've seen Plumb's shows before, and it's always impressive how her voice has the same clarity, control, and power as you hear on the studio recording. (When a person is touring and doing shows night after night, it's not easy to do that.)
And it's just plain fun to hear a live version of songs you've been absorbing again and again in the car on your way to work or at home or in your headphones. I love how the songs on this new album (like "Crazy About You") have compact but powerful little grooves in the bass and rhythm–elegantly understated beat production with hints of EDM. There's plenty of thump and bass beneath the songs, and on the studio recording her voice soars beautifully over all of it.
This effect is even more pronounced live when these songs are armed with giant festival-sized speakers.
The bass rumbles and shakes your ribcage, yet simultaneously Plumb's voice floats and dips/dives/ascends over everything and adds a sonorous timbre to the song–just as it's echoing and expanding over the huge open-sky venue, which adds even more hugeness to the sound. The melodic hooks in this album are also big and epic–and joyously triumphant somehow–and this just adds to scope of the live performance.
The bottom-line is this: you've got to see Plumb live. It's a wonderful experience. (You can check out upcoming tour dates and buy tickets at her website.)
I've been following her career since the mid-'90s, and it's been interesting to see her artistry grow with each new project. A powerful theme has been God's unrelenting lovingkindness–His grace and hope, especially hope. And (dear God), I've so badly needed hope in recent years. We all need it every day in this crazy world. "Hope is the thing with feathers," as the Dickinson line says–a line that's inscribed on the Plumb necklace I bought for my daughter at Plumb's merch booth at GraceFest. (The necklace has a molded feather and a little medallion that says "hope.") All these things–the music, the books, the testimonies, even the pretty little necklace that makes a six-year-old girl smile really big when she puts it on and reads the inscription–are all bright lights in a hope-starved world.
For the reasons above, it's a joy to watch God's people minister (whether they're a famous singer or a local pastor), to see them overcome adversity, then to witness these same people (and the people who support them) shine even brighter once God brings them through it.
From 2014 to 2018: My (Unplanned) Trilogy of Plumb Interviews/Articles
From a music journalist's perspective, I've had the chance to witness a little bit of Plumb's journey in recent years. One thing is clear: God is better at planning things than I am. It has evolved (by no wisdom or planning of my own) into a three-part series. As I've worked on this third article, it's been interesting going back and reading about the first two times my path has crossed with Plumb's–seeing each snapshot tell a slightly different (but subtly connected) story, even though each conversation is years apart.
My first interview with Plumb was a phone interview in 2014 while she was on her bus driving "somewhere between Idaho and Oregon" during her tour supporting the "Need You Now: Deluxe Edition" release and the book "Need You Now: A Story of Hope." At the time, God had recently healed and restored her marriage in a truly amazing way. In that context, she said this about how God works in our lives:
…when He restores something, it's not like renovating your grandma's old rocking chair with a new stain of color. It is better than it was before. It's just stronger than it was before. I just wrote a song that's for my upcoming record called "Broken Places," and it says, "you're strong in the broken places." That's where He does His best. And so whatever is broken in you or broken in your life, just think about that — that God can actually be strong in that completely fractured or shattered place.
Two years later, I met Plumb for the first time in-person when I interviewed her at Redlands, CA in February 2016 during her tour with Big Daddy Weave and Jordan Feliz. The concert was in a church, and out of last-minute necessity we ended up in a kid's Sunday school room for the interview, sitting in those little kid-sized Sunday school chairs. That memory still makes me laugh to this day: one moment standing in the audience singing along to my favorite Plumb songs; a few moments later sitting across from her in tiny Sunday school chairs, asking her questions. God has a wonderful sense of humor. (And there's something about sitting in a tiny Sunday school chair that helps you relax and take yourself a little less seriously.)
In that conversation, she described how God had been using her and her husband's story since the release of her book two years prior in 2014. She made this observation:
…you don't just get to benefit from God's grace and forgiveness and mercy for yourself. You get to be used by him, if you're willing to do that. When he takes your pain and gives it purpose, you do relive it, but in such a redemptive way that…that stuff just owns me now. I live for a husband or a wife to say, "She came home," or "He came home," or "I feel free." There are some marriages that don't have that happy ending, yet the person that was fighting so hard finds peace and redemption and they find this life.
In 2014, it was amazing to read about her and her husband's testimony and hear her talk about it, then watch it multiply and expand in its message and themes in the subsequent tour in 2016.
And then with this new album and tour in 2018, we see these themes expand even more and take on this joy and sweetness (like in the new song "Crazy About You"), while also paired with her book "Fight For Her," which sees God's healing work expand into parent-child relationships. His living water always overflows from one relationship until it spills out into all the relationships surrounding it. Then it overflows from those relationships and spills out onto others.
God's river of life keeps overflowing and finding more people to drench and refresh. It gets wider, louder, and stronger with every new testimony and turn of the road.
My family and I certainly felt that refreshment at GraceFest this past weekend. To my great delight, my family was able to come with me this time to say hi to Plumb just after she had finished her set. Somehow this was so fitting considering the family themes mentioned above. It was a particularly fun blessing because my daughter Lucy (who's 6) and my wife Amy have both really enjoyed Plumb's music and writing, so they were beyond thrilled. (And Amy just published a review of Plumb's book Fight For Her.)
Below is a picture of us with Plumb, a wonderful capstone to our GraceFest experience, and also to this unplanned trilogy of Plumb articles that began in 2014. I'm grateful for these Christian artists. They (and their supportive families) have chosen to step out and share their lives, hearts–even their scars–with the public in hopes of shedding some of Christ's light into dark places. May God bless Plumb and her family, crew, and friends who make her ministry possible, and may He bless all the other Christian artists out there who do the same. We appreciate you. We're strangers in life, but family in Christ. (And we're all pulling for you and praying for you.)
Here's to all the family members–children, parents, spouses, siblings, cousins–we're fighting for. We won't ever give up. The joy, hope, and healing we have in Christ makes it all worth it. Happy pictures like this one remind me of that: