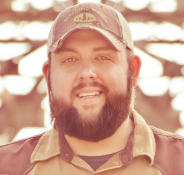 Gold Steps: what a great rockin' band straight out of Austin, Texas–a great video and message partnering with Heart Support (of which I am a big fan and supporter)!
In addition to their latest EP "Incandescent," the band has partnered exclusively with Heart Support to create the documentary/music video for their new single "As Luck Would Have It." The band's Spectacular front woman Liz Mauritz has a passion to share her experiences with mental health in hopes that she can inspire and help people who go through the same struggles. In addition to meeting and discussing with fans on the road she also has a special blog on Heart Support, which can be viewed here: https://blog.heartsupport.com/@lizmauritz
Her band GOLD STEPS is high energy and extremely upbeat with songs that will grab your attention and make your ears tell your brain they crave more. If the band is headed to your town, be sure and check them out. I assure you from what I know about them you will not be disappointed. Just like at The Alamo, this Tennessee guy has to support his brothers and sisters any way he can. (And it doesn't hurt that Gold Steps will rock your socks off!)
I had the privilege to pick the band's brain a little bit on Liz's efforts with the band and her mission to help make the world a better place:
It takes a lot of courage to openly discuss mental health issues and depression, etc. You let it all out in the open with your video and documentary in the song "As Luck Would Have It," as well as the song "Firestarter." Why decide to be that vulnerable and honest in your music?
Music for us is a way to tap into emotions or feelings and create connections between people, create a community around something that resonates with our audience. We're being honest about who we are, so there's no mistake about what we stand for and what we represent. Vulnerability is important to create lasting connections between people, whether that's in our personal relationships or with our audience. You wouldn't trust someone who can't be honest with you and let their walls down, right? We're putting it all out in the open so people can connect with us, and know this is who we really are.
The videos both are awesome, and the messages are sincere and the music is extremely fun and upbeat. What was the creative process for combing the two?
It really comes pretty naturally to us; Zach has a knack for writing really catchy guitar riffs that have an urgent energy to them, and Liz writes from the heart, so you'll consistently get that from us. Usually the two of them will craft the song together to create a skeleton of the song, from beginning to end, and the rest of the band fills in the blanks during practice. That's when we'll make our edits together, moving things around, reshaping melodies if we need to, adding extra layers and fun little additions of drums or bass to keep things interesting. Having the heartbeat set before we flesh out the rest of the song helps us stay true to what the vision is, which is usually set by the lyrical content.
How did you get partnered with Heart Support, and do you go more in-depth with personal issues on their website?
We met HeartSupport at So What Music Fest in 2017, and their mission really resonated with us. Mental health is something that Liz struggles with, and has since she was very young. After we did that interview with HeartSupport, something about the experience energized us in a way that made us want to do more. We kept in touch with Dan and Casey after So What, and hung around their Warped Tour tent at the San Antonio date. Liz did a livestream on Twitch with them in December, which is when we first started mentioning the idea of officially collaborating on something.
The idea to partner with them had been kicking around for awhile, and finally we just went for it. We reached out and described the video concept for "As Luck Would Have It," and hoped HeartSupport would be into it. They were, and the rest is history. We're passionate about their cause and proud to be supporting them. It's a partnership that makes sense; we have similar messages, just different ways of expressing them. We have a huge amount of respect for the wonderful, important work HeartSupport does to help the mental health and substance use community, and we want to be a part of that in any way we can.
Tell us about the release of "Incandescent"; how did you decide on the album name, the artwork and what message are you trying to convey to first-time listeners of your band?
Throughout the EP, there are many references to light, sparks, fire and brightness. We chose the name "Incandescent" because it means not only a physical presence of light, but also can describe something that is passionate or brilliant. You can hear the passion in the songs, you can feel it. "Incandescent" perfectly describes the EP's aura and energy.
The artwork, done by photographer Matt Cardinal, also describes the messages contained in "Incandescent." The model is reaching for the light, but she's also looking away; she's unsure, she's distressed. You can tell there's an uncertainty in her reach. It conveys that last attempt of reaching out, trying to find the light when you're in a state of devastation, you're ready to give up, but you throw out one last chance to pull yourself out of the darkness. It's hopeful and hopeless at the same time, which is how Liz describes her perspective on her mental health issues. You know there's a better way, you know there is a path out of the darkness, but when you're so far down in a spiral, you're not sure you'll ever find your way out of the dark.
That's the message we're trying to convey to our listeners. We know how pervasive the darkness can be, whatever you're struggling with. We understand that pain, we feel you, and we are right there with you. But there is a light. There is hope. You can get better, and people care about you getting better. This whole journey is about understanding the struggle, and how we support each other to find the light together. "We all fall down; but we all help each other get up again."
After live performances do you meet with fans, and if so what kind of response do you get?
You will always find us at the merch table and hanging out in the audience watching the other bands. We are a part of the community, we love to talk to people. The response is usually very positive; lately we've been having more people share why they like a certain song or how they relate to it. A few people have reached out to tell us about what they're going through online. It's important to be accessible, and connecting with people is what makes life worth living. People crave closeness, they crave the bonds that connect them with each other. It feels extremely humbling to have someone say that our music means something to them, or helps them get through something. That's all the incentive we need to keep doing our best as Gold Steps and as people.
Liz sounds similar to a friend and high school mate of mine Haley Williams (name drop!); is she by any chance a fan of Paramore?
The majority of the band grew up listening to Paramore, and we've done a couple of requested and well-received cover sets of their material. Hayley is an inspiration to many women who are the minority in the pop punk genre. She is the one who paved the way for women to rise up in this genre, so she is an influence in that way. Musically, we're always influenced by bands with a strong rhythm section, so the Farro brothers in Paramore's early material are influential in that sense for us, along with other bands like Four Year Strong, New Found Glory and Neck Deep. Lyrically, Liz is more influenced by Hit The Lights, The Wonder Years and Taylor Swift, while she counts Patrick Stump, Bryce Avary, Anthony Raneri and Dan "Soupy" Campbell as vocal inspirations.