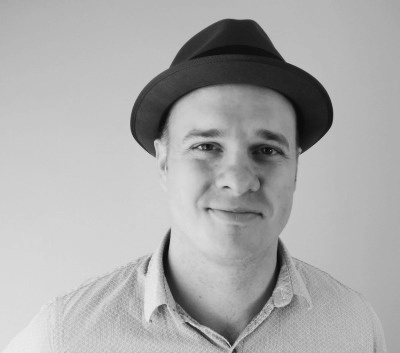 The new live-action Winnie the Pooh #Disney film Christopher Robin tells the story of an adult Christopher Robin (Ewan McGregor) living in midcentury London when suddenly he comes face-to-face with his past from Hundred Acre Wood.
The film releases in theaters nationwide this weekend. Like many Winnie the Pooh fans young and old, I'm looking forward to seeing it, especially after my intriguing conversation with the film's producer Brigham Taylor.
Directed by Marc Forster, the film also stars Hayley Atwell and Bronte Carmichael along with Jim Cummings reprising his beloved role as the voice of Winnie the Pooh and Tigger, roles he has played for several decades. There are quite a few other high caliber actors in this film–see full cast here. In fact, Clara McGregor, the daughter of Ewan McGregor, also has a few scenes in the film in what looks to be her first film with her father.
After such a heavy, rather contentious two years in American culture, a movie like this is both welcome and refreshing. I had the opportunity to discuss the film with Brigham Taylor, who produced Christopher Robin with Kristin Burr of Burr! Productions. Taylor has a long and fruitful history in Hollywood, recently producing under TaylorMade Productions such notable features as "Pirates of the Caribbean: Dead Men Tell No Tales," the live action version of "Jungle Book," and "Tomorrowland." When he was an executive vice president at Disney, he oversaw the "Pirates of the Caribbean" franchise, "Tron: Legacy," "The Chronicles of Narnia" and "Oz: The Great and Powerful." (I was especially interested to see his Narnia credit as I am a huge Narnia fan and published a book about C. S. Lewis.)
And as a long-time fan of Winnie the Pooh ("Winnie the Pooh and the Blustery Day" is still my favorite), I was quite curious about "Christopher Robin." I had a number of questions about the film, including how Ewan McGregor became interested in the project. After speaking with Brigham, I'm convinced that "Christopher Robin" will eventually become one of Disney's all-time classics. It seems to have all the right elements in play–even a powerful theme of redemption:
I know it took you many years to see it come to life. Can you share a little how that journey started for you and how it's evolved into the film we have today?
It's been an idea that I was thinking about years ago. We got as far as writing some scripts, but we set it aside because at the time [early 2000s] the animation group was still doing wonderful things with the character and the stories and putting films out. So we didn't really want to compete with ourselves, and so we set it aside. The years went by, and honestly for a stretch of that time I wasn't thinking that much about it just because of preoccupation with everything else we were doing. And then as we [Disney] were slowly coming back as we have in recent years to this idea of utilizing some of these classic stories, re-telling some of these fairy tales and featuring characters we love–to utilize old stories in new ways–it made more and more sense to pitch this. We had a whole new group at the studio, Alan Horn is now the Chairman and Sean Bailey is now President of Production, and none of them were around when we pitched this 15 years ago. So it's kind of like doing it all over again from the start. I was now stepping into my producing role at the studio, and my old friend and colleague Kristin Burr was still in an executive role and she's the one who said, "Now is the time to dig up that old idea of yours because this is really want they are leaning into." And she's definitely right, this was perfect, and so we found a new writer and we pitched it again. The concept was very similar. We had new details I think that we improved, in terms of certain ideas we put into it, but it was really about waiting for the right time, and it finally came out.
It sounds like the delay was a blessing in disguise.
I think so. We were able to not compete with other projects we were making. Also, we were able to benefit from the advancement and wonderful animation techniques that we can utilize with the visual effects team in bringing these characters to life. It's gotten ever more sophisticated. And the funny thing here is that we're trying to do the most rudimentary thing: we're trying to basically present vintage stuffed toys and have them only move in ways that they could realistically move. So we're trying to do the most low-fi possible presentation but it takes wonderful technology to do that. So hopefully the effect is that of a very low tech even though it's using state-of-the-art techniques.
Interesting contradiction there. I'm excited to see the animation. The trailer looks extraordinary. I write for a Christian website, and I'm a Christian. Obviously not every movie talks about faith, but just about every good movie in Hollywood has some theme of redemption in it, where something lost is found again. I was curious what kind of themes of redemption do you see in this project?
I think this is all about finding the things you've lost, and specifically the things that Christopher has left behind in childhood. So that is, I think, the universal challenge that everyone faces: how to hold on to the best things from youth, assuming we were privileged enough to have a happy childhood. But there are these wonderful lessons about friendship, about kindness, about taking time to be completely present with your friends and with your family. That gets ever more challenging as you get older and you take on your education and eventually your career. We wanted to tell a story and have Christopher Robin be very much the "everyman" who stands in for all of us, all the men and women who grow old and get weighed down with responsibilities and distractions that can absolutely pull you away from things that are important. And so what better way to remind you of that than the embodiment of your childhood–in this case Winnie the Pooh arriving at your doorstep needing your help. Christopher has to tend to someone else's needs, which is always a great way to get outside of your own issues. And in doing so, to see yourself even more clearly for what you're doing and more for what you're not doing. In the case of Christopher, he's really not attending to his most important relationships, which are his wife and daughter. And so hopefully in the story you will get a feeling that he corrects that and puts his life back in balance. We can't all quit our jobs and go play in the woods all day [laughs], but we can find time to do that and put life in balance, and that's hopefully the message that comes through.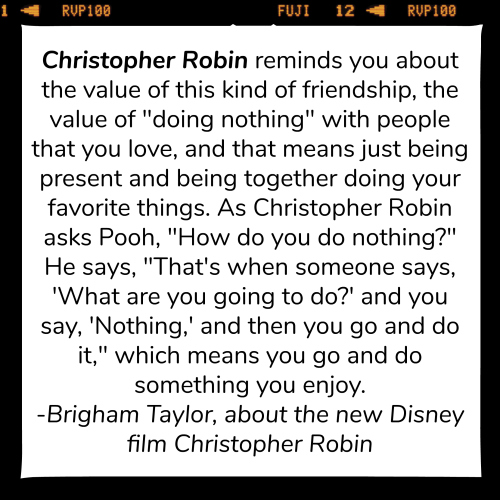 Was Winnie the Pooh a part of your childhood? What's your history with that character?
Yes, he was a part of my childhood, and the stories I remember were read to me by my mom who remains a huge fan of A.A. Milne. Even now, I just came from a family reunion where there are four generations and 95 people all sort of springing out of my parents' family and we are inevitably all forced to recite one of the poems from A. A. Milne's "When We Were Very Young." I gave my parents–they have sitting outside their cabin–a wood carving of Pooh and Piglet. He's always been kind of a key character in childhood and even adulthood, which made it all the more exciting to try to add a new chapter and to re-introduce these characters to this generation in a way that no one has ever quite seen them before, as these very real and approachable characters. The characters were very meaningful and I really fell in love with the early animation of those three featurettes they produced, especially between '66 and '74. Just amazing voices that they found to embody these characters and the most charming animation. They were very adept at portraying these characters as stuffed animals, even their drawings and the wonderful charm and kindness that permeates these stories. They have a certain kind of tone all to themselves, and we really tried to keep that in the movie. We didn't try to put a weird edge on it or hip it up, we tried to keep it very approachable and keep the tone more of the sort of quiet communication of these characters. Though there's Tigger who's very energetic and there's a little bit of lunacy there, but by and large it's a movie that gets by on its charm.
That's fantastic. And we would expect that from Tigger definitely [laughs]. Ewan McGregor, I just saw him in "Last Days in the Desert," and he has such an amazing range of roles: I was just curious how he got involved in this particular project.
We had a script and a director and we sat down and of course the most important decision at that point is "who is our Christopher?" You look around in the landscape of who is out there in the right age range and one guy just popped out to all of us as number one on our wish list, and that was Ewan. Mark, our director, had made a film with Ewan, so they were friendly and he was able to approach him with a positive past relationship. But still it comes down to him reading the script, wrapping his head around it and wanting to do it or not. Lucky for us, he embraced and jumped into it. I remember, just a week into filming, we felt like we had the right guy, but we were really blown away. He was incredibly prepared, he takes his craft super seriously. There was not a moment where he was thinking, oh I'm just making a family film. He was making a dramatic film in the best way because him being very grounded in that role both I think accentuates the drama and the emotion but also heightens the humor in the movie because there's a very real tension between the adult Christopher Robin trying to maintain all the issues that are on his plate and also deal with this friend who has seemingly very frivolous problems. That was always to me going to be a wonderful source of comedy in this movie and I think it's in there. And I love those scenes where he's having to suppress his own frustration, which eventually turns around into understanding. With Ewan we couldn't have been happier. He's one of our best actors working in this industry. And he's the guy who brought to us both this amazing sort of gravitas and emotional depth but also has this tremendous charm and can remind you of the six year old boy he used to be and the kid who used to play in these woods. He has just one of the most magnetic smiles that you're ever going to see, and when you get to employ that it's an amazing sort of jolt. His range is tremendous and I can't imagine it without him now.
That's awesome. It was surprising to see him there, but then the more I thought about it, I thought "That's going to be amazing!" [laughs] How do you hope this movie will contribute to the overall legacy of Winnie the Pooh in our culture?
I hope it serves as a wonderful refresher course in the value of these characters and what they represent. I think a lot of people don't have to be reminded. But I think there's a lot of people who maybe grew up with it and haven't re-engaged with one of the movies or with the books recently and I think this is a gateway back into that and it reminds you about the value of this kind of friendship, the value of doing nothing with people that you love, and that means just being present and being together doing your favorite things. As Christopher Robin asks Pooh, "How do you do nothing?" He says, "That's when someone says, 'What are you going to do?' and you say, 'Nothing,' and then you go and do it," [laughs] which means you go and do something you enjoy. That's a timeless value and I'm hoping this keeps those lessons firmly etched in people's minds and imaginations and has them going back to re-read these books, which are amazing. Every time I've read them, now multiple times in the course of making the film, they're never not enjoyable. That's my hope.
***
To view theater listings and purchase tickets for "Christopher Robin," click here.
Kevin Ott is a movie reviewer, entertainment journalist and the author of the C. S. Lewis, music-themed inspirational book Shadowlands and Songs of Light.