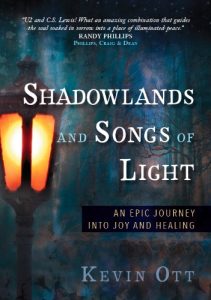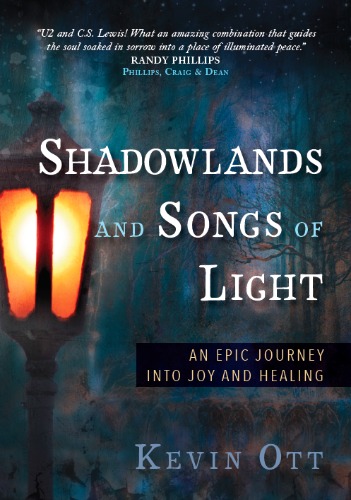 Quick note for fans of C. S. Lewis and/or U2 before the article begins:
When life's sorrows bring us into shadowlands, we need the joy of Christ to restore our strength. We tap into this joy by nurturing a deeper longing for God. Shadowlands and Songs of Light: An Epic Journey into Joy and Healing takes you on a quest for joy and a life-changing longing for God.
Written by a C. S. Lewis expert and a skilled composer, the book explores 18 beloved C. S. Lewis classics, from Narnia to Mere Christianity, and 13 spiritual principles behind the art of songwriting, as seen in 13 studio albums by U2–all to answer one question: how do we experience deeper joy in our relationship with Christ during times of sorrow and trial?
Shadowlands is available to pre-order at Amazon or ChristianBooks.com. If you pre-order a copy, the author will personally email you with a thank-you note and a copy of his upcoming e-book devotional "Devotions with Tolkien," which uses J. R. R. Tolkien's epic "The Lord of the Rings" and Scripture. (This is all on the honor system: simply pre-order Shadowlands, and then send an email to shadowlands2016 (at) gmail (dot) com letting the author (Kevin Ott) know you've ordered it, and he will contact you.)
Text LIGHT to 54900 to get a preview of Shadowlands and Songs of Light.
***
[Parent's Content Advisory at bottom of review. Also, a big hat tip to Edwin Turner and his brilliant blog article "The BFG
, Roald Dahl's love letter to his lost child," which I feature heavily in this review and will link to at the end. It is a must-read after you finish this film review.]
"Dreams are so quick," says Sophie.
"Dreams is quick on the outside, but they're long on the inside," says the Big Friendly Giant in reply.
The BFG, based on the book by Roald Dahl
,
 is Steven Spielberg's
31st feature-length film, if you can believe it. And he has not lost his touch. In fact, his craft just keeps getting better with time. "The BFG" goes by quickly because it's so engaging, like a riveting dream that you don't want to end, and it stays with you long after the credits roll. It has density and layers to it. It's quick, under two hours, but like the dreams that the BFG catches, it's long on the inside. There's more meaning and emotional depth to it–startling in its personal intensity–than moviegoers could possibly imagine (and I'll get to that in the second half of the review.) Besides the film's surprising depth and its secret contemplation of grief, "The BFG" also has one of the most delightful third acts and finales to a film that I've seen in a long time. And that's where we'll start: at the end. (Without spoilers, just in case you haven't read the book.)
Entertainment Value and Film Craft: 'The BFG' Arrives at its Destination Beautifully
The story of "The BFG" takes place in England, in the '80s, yet the tone and atmosphere and even the look of London looks as if it could take place in the 1800s. It has a stirring, atmospheric Victorian feel to it somehow, with eccentric little dashes of modern '80s England thrown in from time to time. We even see a younger Queen Elizabeth
. England has been on all of our minds lately because of the history-changing, once-in-a-lifetime Brexit vote that took place a week ago today. Somehow it was charming and comfortable to be whisked away into the peculiar but absolutely endearing antique-modern fantasy England that "The BFG" gives us.
The story moves along at an unhurried pace, but it really picks up in the third act and upgrades the level of enjoyment to smiling-so-big-it's-hurting-my-face delight. What's so wonderful about it is how the film is unafraid to suddenly mash the fantasy world it so vividly creates with the real world, with real historical figures and places that we all know very well, and these joyous mash-ups catch you off guard.
And the acting. Oh, the acting. It is worth the price of admission alone. I can say that without being accused of exaggerating because it stars Mark Rylance
as the BFG. Rylance is regarded by many as the greatest living actor in the world. Pop culture hasn't heard of him too much because he's spent most of his career on the stage in world-class theatrical productions. But lately he's been dipping into film, particularly with Spielberg. He appeared as a KGB spy in "Bridge of Spies" last year with a performance that blew everyone away. His take as the BFG is so well done that every little gesture or inflection of emotion that he emits transfers immediately into your emotions. He's like a live wire. The moment he steps on-screen he has the power to shoot bolts of whatever emotion he's going for directly into the audience. It really is a special treat just to see Rylance on-screen. It's like getting a chance to see Mozart conduct one of his symphonies or Shakespeare act in one of his plays. It's a chance to see up close one of the great living geniuses at work in their art form.
And of course there's Ruby Barnhill. She plays Sophie, and she's a diamond of a discovery. I'm always amazed when I see child actors perform with such confidence, poise and power that they can carry a feature film on their shoulders. Barnhill does exactly that. She has a very bright future, I'm sure.
The rest of the cast is perfect too. Everything came together in this film.
A Deeply Personal Story of Loss, Memory, and Tribute in the Subtext: Why 'The BFG' is Roald Dahl's Love Letter to His Lost Daughter (And a Tribute to His Granddaughter)
The various subtextual layers in this film are a little tricky to find–it's easy to wander off on rabbit trails, in other words–but, as I recently discovered (thank you, Edwin Turner) the truth of what lies behind "The BFG" is more moving than anything that the unaware moviegoer could possibly imagine. I'm still stunned, frankly, at the amount of thought and personal vulnerability that Dahl put into it. Also, the truth is more complicated because this is a Roald Dahl adaptation. When you're talking Roald Dahl, the author of books like "Charlie and the Chocolate Factory" and "Matilda," you're talking about a brilliant author who weaves layers of meaning into his fun stories with masterful ease.
While some movie critics on RottenTomatoes.com are spinning tales of political/social commentary into "The BFG," the truth is more raw and personal: the story is both Roald Dahl's tribute to his granddaughter Sophie, but also–and perhaps more subtly–a love letter to his daughter Olivia whom he lost when she was seven. In fact, Dahl dedicates the book to Olivia. Yes, the main character in the story is Sophie, named after his granddaughter and inspired in many ways by her, I'm sure, but the fact that he dedicated the book to his daughter who had already died by that point is telling. It is also telling that the BFG struggles with fear over losing Sophie to the human-eating giants that took the life of another child he had known and cared for long ago. The story could work as a medicine to help parents who have lost one child already survive the paralyzing fears of caring for and committing their hearts to another child or grandchild. But more than anything, the story overflows with the tender, never-fading love that Dahl had for his daughter Olivia and, of course, his granddaughter Sophie as well.
But I can't take any credit for stumbling on all this. It was happy chance.
I discovered this startling "why didn't I see this before?" truth when I found online an article by Edwin Turner, titled "The BFG, Roald Dahl's love letter to his lost daughter," published initially on July 10, 2014 and republished on June 30, 2016, the date of The BFG's movie release.
As Turner explains, the BFG is symbolic of an author, of Roald Dahl himself:
The BFG was of course always an author, even before he was literate; his medium was the dream, and he used dreams to tell stories to bring joy to children. He gave these dreams as protest, resistance, and counterattack to the consuming violence of his nine awful brothers.
The BFG's nine awful brothers are symbolic of all the threats to our children that exist in this dark world and its crowded halls of terrors and sharp-toothed nightmares:
Our love and care for our children is shaded and intensified by an understanding of their fragility, their mortality, their susceptibility to disease, accident, chaos, the carelessness of others…factors easily metaphorized into child-eating giants. Our love for our own children precludes an equal love for children who are not our own, despite whatever ethical systems we claim to practice and subscribe to.
Turner notes how deeply profound and personal, especially if you're a parent, "The BFG" becomes when you read it (or watch Spielberg's version) through this lens:
And this is what I find so moving about The BFG: Dahl converts the personal (and infinite) loss of his own daughter into a loving gift he seeks to share with all children. He shared that gift with me when I was a child, when I never imagined that I would grow up to be an adult with a child of my own to whom I would read that gift again, in a new, strange, sad, dark, joyous way.

Maybe all I am trying to say here, in this long, long-winded way, is Thank you.
For this reason, and because "The BFG" is helmed by one of the greatest on-screen storytellers of our time, "The BFG" will not only entertain you to no end, it might even move you to "strange, sad, dark, joyous" tears.
And I think Roald Dahl would have wanted it that way.
[Note: I urge you to read Edwin Turner's article in full. My hurried references to it don't do it justice. It is deeply moving and worth the time to read. I have bookmarked it, and I'm already looking forward to reading it again in the future, just as I'm looking forward to seeing Spielberg's brilliant adaptation again.]
Want to read more reviews like this one? Sign up for our email alerts and get notified when we post a new review.
Content advisory for this film…
Rated: PG
Sexual Content/Nudity/Themes of Sexuality or Sexual Identity: None.
Violence/Gore/Scary Content: The nine man-eating giants can be quite scary. Their appearance is so realistic that a very young child could easily have nightmares. There are also scenes of a giant reaching through a window to snatch a child away. Young children could easily get nightmares from that imagery and be terrified of windows, especially if they're not old enough to understand the complexities of plot and context within scenes or if they don't yet grasp that live action movies with really good special effects are not actually real. Every kid is different, of course, but I have a four-year-old, and I'm not taking her to see it because it would be a bit too much for her. Fortunately, you never actually see a giant eat a child (i.e. no depictions of biting, chewing, blood or guts.) In a child's nightmare, she is swallowed whole by a giant but it is not gory or bloody in any way. It's more like falling into a large pit. All the same, be wary of taking the very wee ones to this film.
Language: None.
Alcohol/Drug/Smoking Content: Men stumble out of a pub drunk.