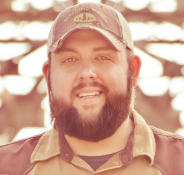 I always do the very best I can to support local music from my hometown of Nashville. The Grammy-nominated and multiple Dove award-winning band Red known internationally, and I am very proud of them. I love their variety of rock music, and I am excited to discuss with lead vocalist Michael Barnes their brand spanking new Unstoppable Screams Tour that kicked off Thursday, March 1 in Columbus, Ohio. Red headlines with support from Lacey Sturm (formerly of Flyleaf), Righteous Vendetta and MESSER. To find a stop near you, visit https://www.redmusiconline.com. 
Here is my interview with lead vocalist Mike Barnes about the tour and new music:
The Unstoppable Screams Tour Has Kicked Off with a great line-up! How did all these bands come together? And could you discuss the inspiration behind the tour name?
We love all the bands on this tour! Everyone brings a lot of energy to the table and that is what we want when we are thinking about putting a tour together. We have known Lacey Sturm since the beginning of our career as a band and are happy to be sharing the stage again since she was in the band Flyleaf!
Is Red originally from Nashville or did the band just form here?
The core members of Red are Randy, Anthony and Michael. We have known each other since third grade from a small town in PA. We moved to Nashville in 2002 in hopes of making this our career and touring the country. The band Red was formed in 2004 when we met up with Jasen Rauch and Hayden Lamb to record our first album End of Silence in 2005 and released in 2006. We hit the road pretty hard and haven't looked back!
The new album "Gone" hits hard and the lyrics are very intense. Could you discuss the process of recording the album?
The new album touches base on some deep conversations we have had as a band about our reason for being here and the legacy we are leaving behind if it was all gone tomorrow. I feel this is pretty relevant in this day and age when people are looking for reason in their own life and wanting to make a difference.
Are you guys shifting from Christian rock and focusing more on mainstream as far as your sound goes?
I feel like we have always been Christians that love rock music and a lot of our influences come from that. We like to dive into deeper subjects that I believe as humans whether you are Christian or non-Christian can relate to. I feel like our goal has always been to impact the people around us for good and that should be the goal of any person wanting to make change in this world. I come from a Christian backround so I have my faith and hope in Jesus and hope the same for anyone else.
Is Dan Johnson still serving as your drummer and did he play on the album?
Dan Johnson has been with us for about 4 years now. Joe Rickard played on this last album though.
I saw The Water Effect on the band's website, could you tell us more about that?
We support World Vision and their goal for clean water in third-world countries that don't always have access to clean water. The Water Effect is the effect on a community and how it changes for the better by simply providing a source of clean water to the community.
***
The new album and the band's sixth studio contribution is titled "Gone" and is now available everywhere. Here is the full track listing:
Gone – Track Listing (Deluxe Edition)
1. Step Inside, the Violence
2. Still Alive
3. Losing Control
4. Gone
5. Coming Apart
6. Unstoppable
7. Fracture
8. Chasing Your Echo
9. A.I.
10. Singularity
DELUXE CONTENT (Digital Only):
11. The Mask Slips Away
12. Still Alive (Looking For A Reason)
13. Gone (JSapp Remix)
14. Unstoppable (Redux Version)
15. Step Inside, the Violence (Alex Nice Remix)
16. Coming Apart (Deconstructed)
17. Gone (.grav3s Version)