Mark Nizer: The Only Juggling Comedian
…With Live 3-D!
Mark Nizer completely amazes me. He is a juggler and live entertainment comedian. Just one of those professions would be hard enough, but he manages to juggle both (see what I did there). He has performed on MTV, HBO's Just For Laughs, and Arsenio Hall Show, and he has performed with Bob Hope, Comic Strip Live, LA LAW, and opened for Jerry Seinfeld to name a few. And he has taken his act to a whole new level by offering the only live 3-D show in the world. Some of the items he juggles are laser beams at 1000 rpms, five ping pong balls being thrown 20 feet in the air using only his mouth or a burning propane tank, a running electric carving knife, and a 16 pound bowling ball. Mark Nizer is truly the man. (And, besides reading my interview with him below, you can check out his official site to learn more.)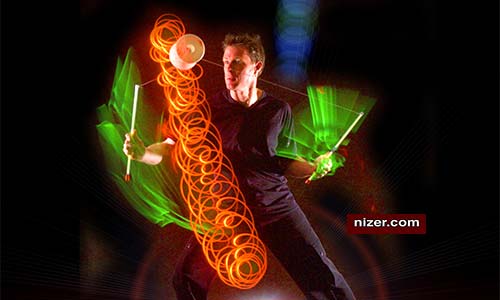 What made you decide to combine juggling and comedy?
I become obsessed with juggling when I learned 41 years ago. I began to street perform to build my show and quickly realized that juggling alone just was not enough. Comedy with juggling is a fully immersive form of entertainment and made the show great. I have judged juggling championships and quickly tire of "just" juggling.
You have the only live 3-D show in the world. How did that come about?
I am always trying to find new ways to delight. This literally adds a new dimension to the show and makes marketing a breeze.
Are you considered a clean comic?
Yes, I shower every day.
Do you juggle dangerous objects like fire and chainsaws, etc.?
I juggle propane tanks, electric carving knives (running), and torches. Dangerous to some, but to me all part of a day at the office.
What is the main thing an audience can expect at one of your shows?
To be surprised that they loved it. So many people dread being dragged to a "juggling" show and soon realize what they are seeing is so much more.
Our site deals with a lot of religious and spiritual topics and in every interview we usually ask a question related to spirituality. Do you consider yourself a religious or spiritual person?
I am a very spiritual person. I can literally stare at an amazing sunset and start to cry. We live on such an amazing planet with all its impossible creatures and plants. I love to stare up at the stars at night and feel my place in the universe. It makes me feel small and humble and takes my fears away knowing how tiny my own worries and fears are when you know your small place in the universe.