Home – Christian Movie Review
I was pleasantly surprised with "Home," the new Dreamworks CGI-animated movie in theaters this weekend. Starring an interesting mix of big name folks like Jim Parsons ("Big Bang Theory"), Rhianna, Steve Martin, and Jennifer Lopez, this uplifting buddy comedy is filled with laugh-out-loud moments and a few tears too.
The IMDB plot summary: "Oh, an alien on the run from his own people, lands on Earth and makes friends with the adventurous Tip, who is on a quest of her own."
And, by the way, aliens abduct everyone — yes, everyone — on earth. (Awkward.) That's not even a spoiler. That's how this movie kicks the story off. Wow.
Parental Guidance Issues at a Glance…
Sexual Content/Nudity/Themes of Sexuality/Romance: A character wears a glitter-covered bra as a hat. (Kids might not even pick up that it's a bra.) 

Violence/Gore: Aliens abductions, various explosions, comedic pratfalls. All of it is very well within normal PG range for a kids' movie.
Language: Mild bathroom humor including calling someone a fart face. An alien off-screen eats a urinal cake, and there are several reference to doing number 1, 2, or 3 (it's a Boov thing).
Alcohol/Drug/Smoking Content: None.

Frightening/Intense Content: Physical separation from mother is explored at length. Enemy Gorg and its ship is a bit creepy in a few scenes.

(Review continues below)
Please Support Our Affiliates!

Entertainment Value and Film Craft
Watching the movie in "Real 3D" was a treat — primarily because of the plentiful (and gorgeously animated) bubbles that are in 75% of the movie.
Much of the plot involves travel, famous landscapes, and monuments that really pop off the 3D screen in a fun way.
One thing I appreciated about the animation was that they gave the characters a real body shape — no Barbie silhouettes or larger-than-normal heads. Hips, imperfect arms, and messy hair are just part of normal life, and we gratefully see it here.
There are only three main characters so the plot is simple to follow, and the characters are easy to get to know, which makes it very accessible for even the youngest in the crowd.
Even though it was obviously targeting the young ones, I wasn't bored because:
1. An ongoing gag with Steve Martin's character (Captain Smeck) is classic comedy and had me laughing out loud constantly.
2. Clever jokes drew the whole theater into it — lots of loud, delighted laughing from adults and children alike.
3. The animation — especially the landscapes and famous settings — created a delightful atmosphere throughout the story.
4. Jim Parsons, in his first animated role, was perfect for his character.
So even though the film isn't some sophisticated "Toy Story 3" drama, it hits all the right comedic buttons and it's a lot of fun.
Worldview/Themes of Redemption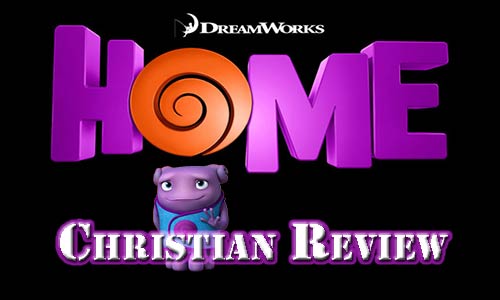 Family and friends are important. They make life worth living and help us through the good times and bad. Everyone needs a friend. But this is a foreign concept to the Boov aliens. They are too busy running away from anything that is frightening, so they never see a need for friendship. And family is unknown because they grow up in a laboratory environment.
As the film explores the layers of these issues, adults will discover a variety of themes and morals being portrayed, and that variety of edifying truths is really one of the strengths of this movie.
Surprisingly, it also does a great job of reminding us adults that being a kid is hard — and not just when aliens abduct everyone else on earth. As Tip says, "Seventh grade girls are mean!"
Conclusion
"Home" is an uplifting movie in many ways and a great opener to talk about important subjects with your kids. Make it a family night, pick up some "frozen, sweetened bovine secretions" (yes, that's what they call ice cream in this movie), and use it to explore bullying, the family unit, being unique, fitting in with the crowd, dealing with strong emotions, empathy, what true friendship looks like, and what home means.
And, as it turns out, "Home" means many worthwhile things to laugh about and ponder.