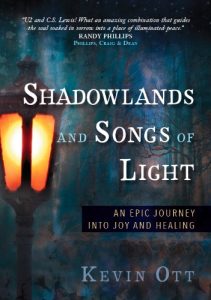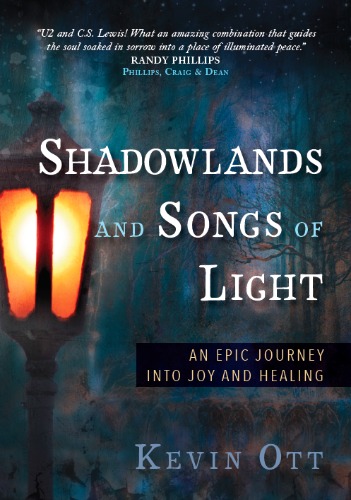 Quick note for fans of C. S. Lewis and/or U2 before the article begins:
When life's sorrows bring us into shadowlands, we need the joy of Christ to restore our strength. We tap into this joy by nurturing a deeper longing for God. Shadowlands and Songs of Light: An Epic Journey into Joy and Healing takes you on a quest for joy and a life-changing longing for God.
Written by a C. S. Lewis expert and a skilled composer, the book explores 18 beloved C. S. Lewis classics, from Narnia to Mere Christianity, and 13 spiritual principles behind the art of songwriting, as seen in 13 studio albums by U2–all to answer one question: how do we experience deeper joy in our relationship with Christ during times of sorrow and trial?
Shadowlands is available to pre-order at Amazon or ChristianBooks.com. If you pre-order a copy, the author will personally email you with a thank-you note and a copy of his upcoming e-book devotional "Devotions with Tolkien," which uses J. R. R. Tolkien's epic "The Lord of the Rings" and Scripture. (This is all on the honor system: simply pre-order Shadowlands, and then send an email to shadowlands2016 (at) gmail (dot) com letting the author (Kevin Ott) know you've ordered it, and he will contact you.)
Text LIGHT to 54900 to get a preview of Shadowlands and Songs of Light.
***
Sometimes going back to music I know well and using it as a reference helps me understand and describe new music. The latest offering from Highlands Worship is a perfect example.
I was listening to one of my favorite worships songs–Psalm 31 (Your Steadfast Love) by Julie Eymann–and it reminded me of the new worship song by Highlands Worship that came across my desk recently, called "You Will Always Be." At that moment I had an epiphany about what made the new Highlands Worship track work. Both songs do something quite effective (and affective): they use tempo to communicate the meaning of the song–two different facets of God captured with a similar songwriting approach.
In "Your Steadfast Love," the lyrics speak of God's enduring faithfulness, and the moderate tempo, which paces evenly but majestically through the chords–like the unhurried, steady strides of a king walking across His hall–communicate sturdiness and unchanging strength. The song then becomes a powerful meditation on Psalm 31.
"You Will Always Be" does a similar thing, though perhaps slightly slower. It uses a moderate, even but majestic tempo to communicate the unchanging, eternal nature of God, that He is the same yesterday, today, and forever. The singer's elegant voice weaves and glides through the melody at a contemplative pace in the quieter parts. The song, like the first one I mentioned, becomes a meditation on God's character with its pace, rhythm, and overall feel. Highlands Worship then does a good job of building the layers and power of the song until it grows to that colossal scale that have become characteristic of studio recordings by worship bands. Worship bands often "go epic" with their production, and "You Will Always Be" is no exception. That approach isn't inappropriate either, considering the facet of God–His eternal, unchanging nature–being examined. The singer's performance is impressive and beautiful. Some of the melodic elaborations might be hard for a congregation to follow, but usually worship leaders will just stick to the basic melody in live settings. In the studio recording bands can get away with a little more ornamentation.
"You Will Always Be" is just a sample of what looks to be a strong worship album–another quality effort that Highlands Worship has drawn from their crazy huge pool of talent and resources.
Find out more at their official site.
Here is their latest press release about the project:
BIRMINGHAM, Ala.– With a passion to encourage congregational worship, create resources for churches, and draw listeners closer to God, Highlands Worship is set to release their debut studio album "Here I Surrender" on July 29. Highlands Worship features the talents of gifted songwriters and vocalists from the Birmingham, Alabama-based Church of the Highlands. Together, this diverse group of individuals strives to bring the local church community together through praising God.

The album includes 13 tracks, all original to Church of the Highlands. Highlands Worship has an incredible team, consisting of 560 active worship team members as well as 30 full or part-time musicians worship staff. On "Here I Surrender," the project features three main vocalists John Larson, Nicole McLean and CJ Blount, and musicians made up from their various worship teams.

"My hope for this album is that people will truly encounter the Living God in a real and authentic way — and when they do, they are encouraged, empowered, and transformed by His presence," explains McLean. "I am believing that these songs will be more than just music and lyrics, but that they will literally be anthems of truth for people to declare in this generation and for many generations to come."

The album will be first given, in physical form, to the 4,000 pastors who will attend Grow Conference hosted by Church of the Highlands on July 22, 2016. The digital release of the album will launch in tandem with the Motion Conference, one of the largest young adults conference in the nation, on July 29, 2016. At both conferences, members of Highland Worship will be leading the congregations in musical worship.

Today, Highlands Worship has also launched a new website, complete with training videos, helps for worship leaders and members of a church technical staff, articles and blogs on church leadership, tutorials for worship team development and other creative resources. The site can be viewed here: http://www.highlandsworship.com.

In 2012, Highlands Worship released their first major project, "Place of Freedom," a live-recorded album that introduced songs and worship anthems that thousands of churches have embraced. Highlands Worship also leads worship at various conferences and events throughout the year to spread their mission.

Based in Birmingham, Alabama, Highlands Worship comes from the worship ministry of Church of the Highlands. Since being founded in 2001, Church of the Highlands, under the leadership of Pastor Chris Hodges, has expanded to 14 multisite campuses with over 40,000 in weekly attendance.

Worship Pastor John Larson shares, "Worship has been one of the central marks of Church of the Highlands since the beginning, this latest collection of Highlands Worship is the heart beat of our community. Its not about us, its about Jesus – and because of what He has done for us, we have a reason to sing."