A recent study conducted by researchers at Goldsmiths University Of London suggests that going to a concert is more beneficial to your well-being than yoga.
A strong case for that would be an Orleans concert. (See the detailed info and message from Lance at the very bottom of this article for info on an upcoming concert in Nashville, April 25.)
Orleans the band (pronounced in the same fashion as New Orleans) chose its name in honor of the influences and sounds that came out of New Orleans (such as the Neville Brothers and Allen Toussaint) at the time of their formation in the early '70s out of Woodstock, New York. With such hits in their catalog as "Still The One," "Love Takes Time," and "Dance With Me," all Billboard Top 20 hits. The band, at one point or another, has had brothers Larry, Lance and Lane Hoppen. Originally a trio, the band decided to expand and add then 17-year-old bass player Lance Hoppen, brother of Larry Hoppen, to become the quintet that features Larry and Lance Hoppen, John Hall and Wells Kelly.
Lance, fresh out of high school the following fall, joined the group and recorded bass on the album and has been a mainstay for Orleans' entire existence. He started as bass player–"hanging on for dear life," as he explains it–and then became the band leader and director and primary caretaker for keeping the band alive and running like the well-oiled machine it is. He recently released his first solo album "Conjuring." You can check it out and all thing Orleans here: http://www.orleansonline.com/home.html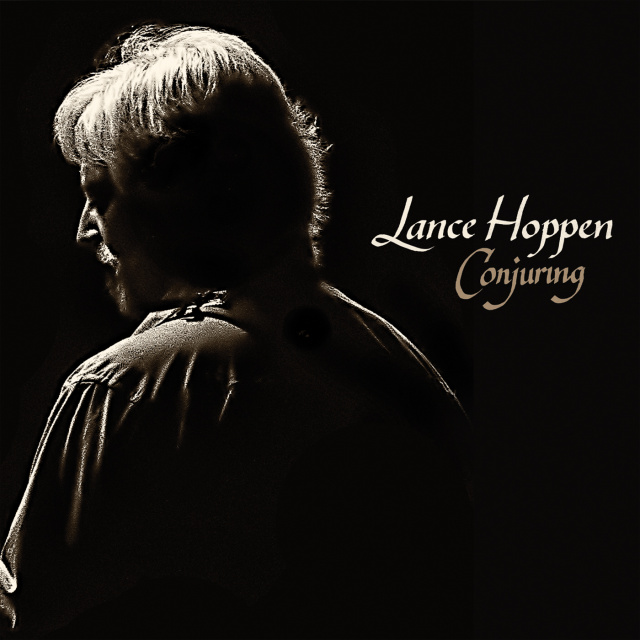 Orleans will be performing at the Nashville City Winery on April 25. (See below for full details.)
The band has had an incredible 40 plus years of touring, and they will be celebrating a career with a body of work that includes 16 albums and counting and several DVDs and books of the band's storied musical journey. This will be the perfect show to see to start you spring/summer of just right. "Dance With Me" is one of my personal top ten favorite songs of all time. I bet I have heard the song well over a thousand times in my 35-year life span and I have yet to get tired of it. It never fails to enhance the day or put me in a good mood. (And it is a goal of mine to hear it live and sing along–quietly though because I cannot carry a tune in a bucket).
I had the privilege to speak with Lance Hoppen, original member and bass player who joined the band at age 17. He has been a professional musician his entire adult life (how cool is that?), and he also recently recorded his first solo album. Get tickets to the Orleans Nashville show here: https://citywinery.com/nashville/orleans042518.html
Being a Nashville resident do you also lend your talents to artists here in Music City?
I have. I moved to Nashville in 1989 when Orleans was kind of down for the count and my whole career was kind of down for the count actually. I got a fortuitous phone call from some old friends that I had not seen for ten years. I am speaking of Kathy Baillie and Michael Bonagura; this is kind of a mystical story, kind of at the right moment I got a phone call that their bass player had quit their band on the verge of a 40 city tour with George Strait and Billy Joe Royal, and they had become successful as Baillie and the Boys in the late '80s and they asked if I wanted the gig and it was just perfect timing, so I came here and worked with them for a couple of years. Switched courses, and then went with Suzy Bogguss in her heyday and after that Orleans again, and by and by I ended up on tours with Andy Griggs when he was a newcomer, had a #1 right out of the box in '99 or so. I did tours with Chely Wright and so on and so forth.
I was watching a YouTube video of you guys on the Midnight Special performing "Dance With Me" and I noticed you were not singing and you have an amazing voice. May I ask why? 
Yes, so back in the day, and here is an interesting thing to know, I played bass on ninety-nine plus percent of all Orleans tracks, it was an elusive thing. What should be the bass part on "Dance With Me" you know you can play it really simple 1-5 [chord] country stuff. It just was boring so I did what I could do. Wells our drummer tried it and Larry did the bass and played that line that was not on the hit recording, we recorded the song twice. We recorded it on an album that didn't get released. And when we got signed to Asylum records the A&R guy producer Chuck Plotkin he made sure we got that song and one other for re-recording rights. So when we went to record that again I handed the bass to Larry because it was the right thing to do so he really contributed a lot to that record on that album. Larry sang lead, he played piano, he played bass, he played they maracas solo, he was everywhere, so he was quite the force. So when we started doing the song live and that Midnight Special thing, that is not the easiest thing to play and also sing. So on the record I sang the bottom part which becomes the top part but when you try to sing a thing and play a thing that is counter to it, it sometimes takes to brains, so back at that time I was not comfortable or capable and I didn't have it integrated so when we did Midnight Special we were playing that song live and at that time Wells the drummer was singing my part. And I was focusing on the bass part. Now these days now having done the songs you know I can't count how many times it's like water off a ducks back. In Larry's absence I sing the lead and I play the bass for it and that is no big deal. It takes a lot of muscle memory and brain coordinating neural pathways is really what happens. At that time I didn't have them and now I do.At 17 years old you joined Orleans and became a professional musician. What was your mind set at that time? 
It's kind of dream come true stuff. Larry and I and my younger brother and Landon and we have older sisters. We grew up in a very musical household. my parents were players, they met at a gig. So that was in our genetics so we were all musical and trained in one way or another and Larry was incredible, he played a lot of things. He was advanced in school, he went to college early and when he finally left the house and I was less intimidated by him I picked up a guitar out of the closet and became a bass player. My aspiration was to play with him in a rock band and in the mean time I was honing my craft in bands on Long Island where I grew up. I had a band in high school and then I graduated and in different bands I would play in clubs and such but it wasn't long after that, it was the fall after I graduated high school that Orleans, which had been a trio for about nine months getting up and running, thought they needed to expand and I auditioned and I didn't fail it and I'm sure that being Larry's brother helped me get the gig, and then it was a matter of hanging on to the gig because I was among older much more accomplished, experienced credentialed players, and I was just hanging on for dear life hoping nobody would find out I didn't know what I was doing. So it was on-the-job training. My first gig was when I was fourteen and it was for five dollars and by the time I was 18 I was in Orleans.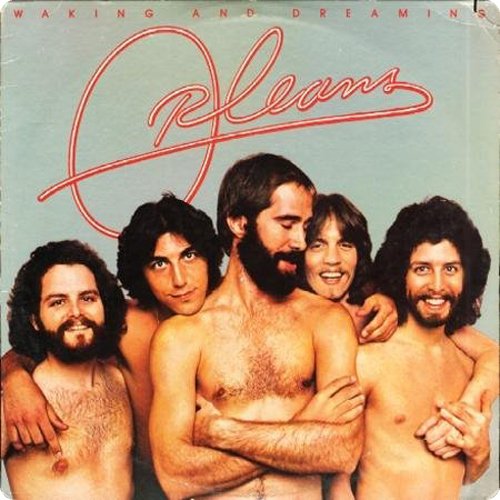 Who in the band is responsible for the album cover of "Waking and Dreaming?" 
We were instructed to go to a studio and meet an album cover guy and we were instructed. We had no idea what we were supposed to do or any kind concept or theme or anything. We were doing portraits, you know, just standard stuff and he said you guys are so stiff why don't you take your shirts off and see what happens, because yeah there were like some girls there, and wine whatever, you know, just take your shirts off and see what happens. And then he took some shots; they are waist up. We are not completely naked, we are just waste up, and what people don't know about that album is that on the front four of us have our eyes open and John has his eyes closed and on the back it's reversed. And given that title waking and dreaming would be good, when we took the shots we were either all eyes open or all eyes closed, but to get the four verses one they took elements of one photo and put it in another and air brushed it in so that what the album was about: waking and dreaming. People only see the one, then some article made it one of the 100 worst album covers of all time and it became a thing within its own legend, but what people mostly don't talk about is that in the same timeframe Pablo Cruise had a record cover where they actually where buck naked or nearly crouched on the album cover, and no one ever talks about that [laughs] and I don't get it, other than all press is good press.
***
The following is a press release and message from Lance about their upcoming concert:
ORLEANS comes to Nashville
… with special guests!
Greetings, friends and neighbors!
The day approaches! …
It's indeed a rare occurrence when the stars align to allow for my band of the past 46 years,Orleans, to play what has become my "home town." Such an alignment will take place later this month!
Personally, I've been trying to engineer this for quite some time now. A brief history of Orleans in Nashville reveals (to the best of my feeble recollection powers) this sparse schedule:
1976 — On tour with Jackson Browne at the then-new Opry House (on Briley Pky.)
1985 — Recording the "Grownup Children" album at Evergreen Studios with Tony Brownproducing.
1986 — Several TV appearances on TNN on Ralph Emory's "Nashville Now" show and New Country. A show at the Exit Inn. The Charlie Daniels Volunteer Jam at what was then Starwood Amphitheater.
1995 — A trio performance at The Bluebird
2003 — 3rd & Lindsley (before the renovation expansion)
2010 — A guest spot on the Grand Ole Opryradio show
2012 — The Larry Hoppen Memorial benefit show at Mercy Lounge
With the exception of a private party for Hippie Radio 94.5 during last year's holidays season, that's it! So, if I were you, I wouldn't wait until "next time"!
Tickets are on sale and prime seats are being filled as you read this. So, if you're of a mind to, I'd suggest you get over there asap to reserve your seats for a reasonable $25-35 per.
(I'd love to put every one of you on a guest list, but the venue would not like that at all 🙂
I'll send another reminder with more details as we move towards the date, including who those special guests will be!
Namaste' … Lance Hoppen
www.OrleansOnline.com