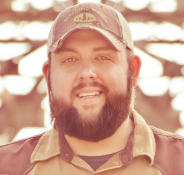 Picture this ladies and gentleman (drummers and non-drummers especially): you're playing drums, all hands and feet are going at the same time, CRASH BOOM BANG, you're rockin' and rollin' keeping time and having good rhythm, you are the backbone of the band. The guitars, bass, any musician y
ou have in your arsenal playing along side you is in sync, to the credit of your percussive skill set. Sounds like a lot to process huh?
Well, on top of that, imagine having to provide the lead vocals. That kind of pressure is inconceivable for most people. Few have pulled it off. Some notable drummer/vocalists include Don Henley (Eagles), Levon Helm (The Band), Phil Collins (Genesis), and Ringo Starr (Beatles)
But the best one to ever do it (in my opinion as I am a drummer and love and adore the art of slamming the kit) Is Fred LeBlanc of Cowboy Mouth.
Allow me to explain how I came to that conclusion: Fred plays drums like his life depends on it. If John Bohnam, Keith Moon and Animal for the Muppets DNA were merged in a cryobank and Karen Carpenter was the birth mother, Fred LeBlanc would be the fruit of that labor (pun intended). He has a voice as smooth and tender as a slab of $800.00 Wagyu Steak, a combo of rock, soul and gospel, and a drumming style that is unlike anything I have ever seen.
I have had the privilege of seeing Cowboy Mouth several times in my life time beginning in the '90s when I was just beginning to play drums at the age of 12. Cowboy Mouth can get a crowd full-attention, everyone on there feet and in participation with the show. Craig Kilborn said it best when he was host of The Late Late Show: "One of the best live bands on the road today; on a bad night they will tear the roof off the joint on a good night they will save your soul."
No truer words have been spoken about Cowboy Mouth, who will be hitting the stage in my beloved Nashville on April 14 at the Exit Inn. Get your tickets here: https://www.exitin.com/event/1652814-cowboy-mouth-nashville/
Cowboy Mouth has released a greatest hits album titled "The Name of the Band," which is a collection of fan favorite songs over the band's illustrious 27-year career. The album can be bought on http://www.cowboymouth.com/home. Some of the tracks are "Jenny Says," "Love of my Life," "Easy," as well as three brand new tracks for your listening pleasure.
I'll say it again: one of the most positive, feel good, spiritual, enlightening experiences you can have musically is being a part of a Cowboy Mouth concert! For that reason, I tried my best not to fan girl out as I conducted a interview with Fred about their music, the tour, and fatherhood:

So there is a new album in the works?
Yeah yeah yeah it's kinda like a "best of" with a few new songs–one of those types of things. This will probably be the last actual album we do because albums you know are going the way of the dinosaurs, so I think we'll just do a few tracks ever few months or something like that, whatever becomes the new norm.
I have been a fan since the first Cowboy Mouth show I ever saw dating back to the mid-'90s, and every show I have seen since you and the band are very consistent with having the same energy and same mood that keeps the crowd constantly invested. How do you do that? What keeps you motivated?
Enthusiasm honestly, plain old simple enthusiasm. I love what I do, I love being able to do it. Every time I get on stage I just tap into that joy that I had when I was five years old and I was just figuring out how to pay drums. It is really that simple that energy that enthusiasm gets me through the toughest nights. It is just being able to focus that energy and that joy and that enthusiasm and to be able to transfer my energy to a room full of people. That was my goal when I started the band was to be something that the people got a lot out of.
You may think this comment is crazy but I think if Cowboy Mouth could perform in North Korea it may change the whole outlook of the country.
[Laughs] If they would love it, but I understand it is kind of cold and I'm a good southern boy, I like staying in the south. I don't know how they would act I think they might explode. If those people were told hey it's great to be alive, find the joy inside yourself and celebrate. I think all those people would just poop. I think it would be a bunch of pooh and somebody would have to clean it up and that somebody would probably be me. Kim Jong-un would hand me a shovel and say "You clean up now!"
Has having kids changed the touring schedule of the band?

The touring life was changing anyway. I mean I'm not somebody who is really going to run around and try to prove that I am relevant to college kids on a Tuesday night. I want people to enjoy us but I am not really going to change what I do to try and make somebody else happy. We do what we do. I like to think that it is really good and that people enjoy it. The trick in life is not to try to get invited to someone else's party. The trick in life is to have people want to come to your party. And I have been pretty fortunate on that end.
Do your children play any instruments yet?
No no no, my son is leaning towards acting and my little girl, you know, it's her world and we all just live in it. I don't really shove the band on them too much. But every once in a while they will see something related to it, and be like oh neat. These people seem to think, "Daddy, who is my slave is a big deal. I have to remind daddy to clean out my diaper"–you know, it's ok. I love being a dad its great. While I work very hard at being a dad it's not always easy as you would have hoped it would be when you first get into it but you focus on the positivity and love them as much as you can when you can and have faith and it all works out in the long run.
Besides your hi-hat you just have the one cymbal. Most drummers have at least three cymbals in their arsenal. Why do you only chose to perform with one?
Well the thing about it is that also being the front man, before I was a front man I had two. And when I record I still record with two for the stereo-sonic picture, but live I play with one because so much of what you do as a front man is with your eyes so if I had another cymbal well that cuts of 33 percent of the audience right there. And I realized that during the very first couple of shows I did with Cowboy Mouth it was like I couldn't see around everybody. Plus I really like that ole cool look of the '50s drummers or the early '60s drummers who had one cymbal and I wanted to see if I could make this work and I figured out how to do it: I use the hi-hats as kind of a crash sometimes and when I need that two cymbal sound I will just open it (hi-hat) and crash with the ride and it does good enough for that. I don't do it on recordings that you can't do live and vice versa, that was just my own style that I just came up with.
It's a very unique style of playing and I noticed that your one cymbal you tilt at like a 45 degree angle is that because you pound it so hard while you are performing?
Because the way you are supposed to hit cymbals at a certain angle because you don't just beat them you kind of slay them from the side and that sound. And being that I keep it low and I am a front man I keep it at that 45 degree angle so I can get the right sound from it. So I don't have to beat the living heck out of it to get the right sound.
You are my top drummer in my book, one of my major influences; who influenced you in the wonderful world of drumming?
I like a lot of the old British drummers Ringo Starr, Keith Moon, a lot of the New Orleans guys like Ziggy from The Meters, Earl Palmer, Willie Green. Best drummer I ever saw or heard in my life was a guy nobody ever heard of, he was this drummer from a band called Mercyland who were a punk band out of Athens, Georgia in the '80s and early '90s. His name was Harry Joyner and he was literally hands down the best drummer I have ever seen, saw or heard in my life, he was a big influence.
***
And just for fun, here's a snippet of lyrics from their song "I Believe":
I believe in the spirit of rock and roll

In the eternal strength in the immortal soul

'Cause sometimes everybody's gotta let it go

I believe in the power of love

I believe that sometimes you gotta take a stand

That you're holding my heart when yer holding my hand

'Cause everything eventually is in God's hands

I believe in the power of love