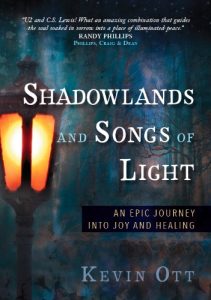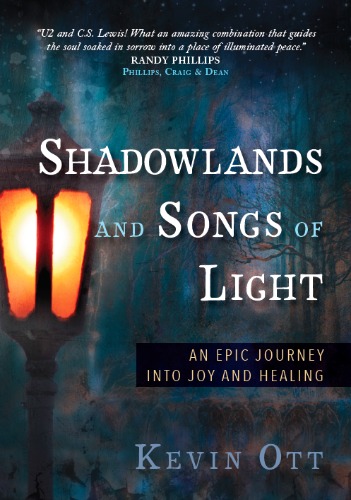 Quick note for fans of C. S. Lewis and/or U2 before the article begins:
When life's sorrows bring us into shadowlands, we need the joy of Christ to restore our strength. We tap into this joy by nurturing a deeper longing for God. Shadowlands and Songs of Light: An Epic Journey into Joy and Healing takes you on a quest for joy and a life-changing longing for God.
Written by a C. S. Lewis expert and a skilled composer, the book explores 18 beloved C. S. Lewis classics, from Narnia to Mere Christianity, and 13 spiritual principles behind the art of songwriting, as seen in 13 studio albums by U2–all to answer one question: how do we experience deeper joy in our relationship with Christ during times of sorrow and trial?
Shadowlands is available to pre-order at Amazon or ChristianBooks.com. If you pre-order a copy, the author will personally email you with a thank-you note and a copy of his upcoming e-book devotional "Devotions with Tolkien," which uses J. R. R. Tolkien's epic "The Lord of the Rings" and Scripture. (This is all on the honor system: simply pre-order Shadowlands, and then send an email to shadowlands2016 (at) gmail (dot) com letting the author (Kevin Ott) know you've ordered it, and he will contact you.)
Text LIGHT to 54900 to get a preview of Shadowlands and Songs of Light.
***
Craig Duswalt is without a doubt one of the most interesting people on earth. He is a motivational speaker who runs "RockStar Marketing BootCamp" where he helps people become rock stars in their respective businesses. He lived a life most could only dream about: as a young man he toured with Guns N' Roses, arguably one of the biggest mainstream rock bands of all time. Craig was Axl Rose's personal manager.
During that time he met Rick Warren, which propelled Craig down a journey of renewed faith in Christ — although that journey is not the focus of his new book Welcome to My Jungle (BenBella books); it is a collection of his memoirs and stories about Guns N' Roses that is classy, tasteful, and in no way disrespectful of the band; nor is there any dirt on the band members or their private lives. You can order the book here, and I'll share my review of the book immediately after my interview with Craig:
Have the original members of Guns N' Roses given you positive feedback on the book Welcome To My Jungle?
I have not even given it to them yet. I am sure Slash is ok with it. Duff is totally ok with it; he is my friend. The other guys, I have not discussed it with them. Axl is not happy that I have written a book because he probably thinks it is going to be a "tell all" book, which it is not. When he reads it — when it comes out officially — I am sure he will then be ok with it.
What made you want to write this book at this point in your life?
I write books for business. I teach RockStar marketing now. I am a motivational speaker, and I teach regular business people how to become rock stars, and I wanted a book that would give me a little bit more national attention to help my RockStar marketing brand. So I figured that I have done five books before on business, and I wanted to do a book about my time with Guns N' Roses because everyone always asks me to tell them what happened. So I figured now was a good time to try and remember what happened 20 years ago to the best of my ability. And I think I did that without revealing any deep dark secrets of the band because they are still really good friends of mine to this day.
In the book, you mention you are a Christian; how did you keep your faith in check during a world-wide tour with the band Guns N' Roses?
I had been a Christian before I ever went on the road with Guns N' Roses on tour. Then I went on tour and let's just say I didn't live the most perfect Christian life during that 3 1/2 year period, but I always had it in my heart. During the video shoot of "November Rain" or "Estranged," we were shooting the video on Sunset Blvd, and we were half-way into the tour and we were sitting behind The Rainbow restaurant, bar and venue on Sunset, and there was this gentleman sitting at a picnic table that had nothing to do with Guns N' Roses; he was just a guest of somebody, and I sat down next to him just because I wanted to eat. It was around 3 o'clock in the morning and every one was exhausted. I was hungry and there was an opening at his picnic table, so we just started talking about Guns N' Roses and who he was a guest of, and then he begins to tell me he was a pastor at Saddleback Church in Orange County. So we started talking about God and Christianity, and then I said, "Oh yeah I am on tour with Guns N' Roses, I guess I am taking a break a little bit from my perfect Christian-ness." Even though nobody is perfect, I was certainly not living the best Christian model life on tour with Guns N' Roses. We continued our discussion and when the tour was over I ended up going down to Saddleback Church with my girlfriend at the time who is now my wife Natasha. And we went to church there, got to know the pastor Rick Warren, and, at the time, we lived in Studio City, California and drove 80 miles every weekend to Saddleback after the tour was over; and when we were off the road I became a full-fledged Christian again, I got baptized again, and the rest as they say is history. So I try to live a good Christian life, I make mistakes, and I am not perfect. I no longer drink or smoke and if you read the book you will learn that I used to smoke a lot. Just trying my best to live a happy, healthier life.
I learned from the book that you are a huge Queen fan. Do you think Adam Lambert (American Idol) is a great substitute for Freddie Mercury on a Queen world tour?
I do. Wait, let me rephrase that. No one will ever substitute Freddie Mercury; he is my idol. I love Freddie Mercury and Queen. I think he was the greatest performer of all time. But with that being said I really like the idea of Adam Lambert as lead singer of Queen for this tour.
Do you think the original Guns N' Roses will ever get back together and perform again?
Well, I did at one point. They always say that time heals all wounds. I don't know how deep these wounds are getting now because I have not been with them in awhile, but I am starting this foundation called the Band Together foundation. I am just starting it now. My desire is to have a Live-Aid type concert because I always think big — where all the bands that have broken up in the past get together for one day and perform, and we raise money for some charity. My hope is that Guns N' Roses will lead that charge, but that is just a pipe dream. It is on my bucket list, and we will see what happens, but do I really believe they will ever get back together? I have a feeling they will not. And it is very sad. Saddest thing in rock and roll. They were truly amazing together.
Why do you think Guns N' Roses and Nirvana disliked each other so much?
I don't know the real story there. I do know that Axl and Kurt didn't get along. I don't know the complete back-story. I am not sure, but I think I remember that Axl did like Nirvana at one point when they first came out. I'm not sure. Then something happened between the bands, and I never got too much into asking Axl as to why, I just know they were not too fond of each other.
You explained in the book that Axl Rose collected Crucifixes; can you tell us why?
I don't know why; all I know is that he collected them, and he has them all over his house. We would buy them all over at lots of stores wherever we were traveling. I don't know why, I never asked, but he loves them.
Any closing remarks?
Just that, once again, I want everybody to know that this is not a tell all book. This is just funny things that happened on the road with Guns N' Roses — funny and interesting things. People are not going to get any dirt, not going to get any crazy weird stories of stuff that happened. It is funny and interesting stories: that is all it is.
***
I will agree; there are certainly some very interesting moments in the book, and they are all written in good fun through Craig's perspective as Axl Rose's personal manager. His friendship with the rest of the band and crew during the Use Your Illusion tour, which went nonstop from 1991 to 1993, also provides some interesting glimpses. People who are fans of GNR remember that the Use Your Illusion tour was the last for the band with all original members including Slash and Duff. Now, thanks to Craig Duswalt, you get a front row seat to some fun and interesting behind-the-scenes moments during one of the greatest tours in rock history.
And, from my perspective, I personally give the book five stars. I read the entire book in about six hours. I literally could not put it down. As I was reading the book, Craig's writing style made it feel like he and I were having a personal conversation — like a best friend taking me on a journey I could never have imagined unless I had been there. In Welcome to My Jungle, he shares the sometimes hilarious, always fascinating happenings of life during an extended world-wide tour. Even if you are not a GNR fan, if you are a music lover in general, this is a great collection of stories about one of the biggest rock groups in the history of music.
I highly recommend you pick it up and read it, but don't blame me when you can't put it down.
More information on the book and where it is sold can be found here. The book is set for release on May 13th, 2014. To learn more about Craig Duswalt and his projects, check out his website.