There are a lot of travel options out there, but when we discovered the new Fathom cruise line, I was curious. Taking a cruise that provided a great combo of relaxation, adventure and service seemed too good to be true. Add in inaugural pricing and we realized that the trip was simply something we shouldn't turn down. (Note: at the end of the story there is an additional discount code for Rocking God's House readers.) This is a little story of one morning in the Dominican Republic, working alongside the ladies at RePapel.
As our two small buses from the new Fathom line pulled into the neighborhood in Puerto Plata, our impact guide announced we needed to get out and walk a few blocks. The roads had become too narrow for any four-wheeled vehicle to pass. Many of the homes came right to the edge of the road, while others had a small bit of a sidewalk. The homes, about the size of the sheds behind a Home Depot, were constructed with stucco or corrugated metal, some with cinder blocks, others with brightly colored scraps of wood.
Many of the homes appeared to be vulnerable to any sort of storm. Unlike the rest of the city, we see no Moto taxis zipping people to work, but there is an abundance of mosquitos zipping by our ears. The streets are filled with children and neighborhood dogs watching as we walk. It's only 9 a.m., but the adults we do see are just sitting outside, seeming to have nowhere to go. They all smile and wave. We do the same.
We are heading to RePapel–an organization that is doing something to truly improve the lives of the people in Puerto Plata. As we enter, there is singing and dancing. The ladies all wear bright green aprons with the RePapel logo. They welcome us into their work. They welcome us into their lives. "We give these to the poor people," one woman said as she she showed me a small green candle she just made. More on this in a bit.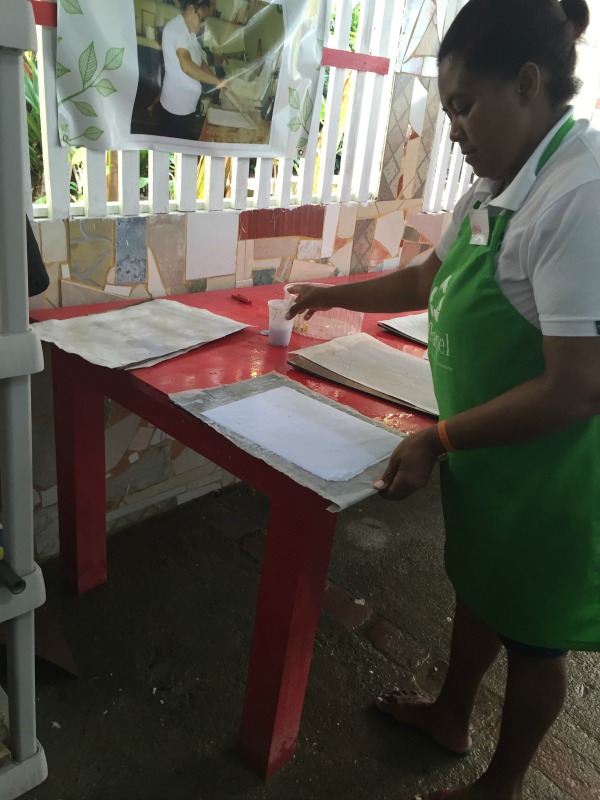 RePapel gives jobs to women. I believe all of the women we worked alongside are single moms who used to have to commute several hours to make an income. One of these lovely ladies told us through a translator that before RePapel it was scary to go to work. She loved her job, but always feared that something would happen to one of her young children. What if they got sick? What if there was an accident? She was hours away, and there was no way she could be available in an emergency. She couldn't even attend an event at their school if she wanted to. Her children are her life, and she was torn between the desperate need to support her family and the desperate desire to be present as a mother.
But now things are different. RePapel serves the women of this neighborhood first by giving them freedom, flexibility and finances. They love their jobs–the joy is written all over their faces. Having an income brings them freedom to breathe a little easier, to be a strong part of their children's lives and to dream of other opportunities. Their work schedule gives them flexibility to take off time when needed, and it provides the finances to change the trajectory of their lives so they can have clean water, access to health care, safer living conditions and the ability to give their children healthy food.
The opportunity to work here is a game-changer.
There is much joy here. There is singing and dancing as the women rip, wash and create the recycled pieces of paper. Most people want white paper, so together we sit and rip the edges off old bank statements and documents, separating the white from the print. They have a trashcan full of small strips of paper with print, awaiting a custom order. To me, the work is tedious. To these women, the work is hope.
Other women run their own businesses as well. Shells, nuts and coffee beans are crocheted into intricate, beautiful jewelry. Some make trivets and hot plates out of dried twigs and leaves. Others create candles and coasters. RePapel also helps the community by recycling. All the paper would have been in landfills. Some of the crafts are made out of old cardboard, shells, plastic forks, empty jars. Candles are made in old Jell-O molds, pieces of rope wrap the edges of coasters, shells decorate napkin rings. There is an art to seeing the beauty in the discarded. To find the possibility in what may be overlooked.
But back to the statement about the candles. Many are donated to the others in this neighborhood. Electricity is not consistent in Puerto Plata, so life is often interrupted by darkness. Mosquitos are everywhere and carry a host of diseases, making these bugs that are small nuisances to me a threat to all in their community. Malaria. Zika. West Nile. These are very real large problems, and citronella candles can be a small help.
"We give these to the poor people" struck me as such a powerful statement. These women aren't poor. They may not have money by American standards, but their lives are full. They have an income. They have opportunity. They are building a legacy for their children and are changing the culture of their communities. They have incredible joy.
They are rich and are sharing their wealth. The people in the Dominican are easily the friendliest people I have ever met, and so this commitment to share what they have is not a surprise. They have opportunity, and they desire their communities to share the opportunities. They have income, and they want others to have jobs as well. They want their children to have an education, to have a work ethic, to be inspired to dream…and RePapel is a launching point for this culture change.
I have a lot to learn from the ladies at RePapel and I can't wait to go back.
RePapel is a part of IDDI–want to get inspired? Check out what they are doing for others in the Dominican Republic.
Want to make an impact on your next vacation? Fathom has offered a special discount for Rocking God's House Insiders – Get your discount here: Fathom Discount for Rocking God's House Readers
Lori Heiselman is a publicist, marketer and writer. She lives with her husband and two incredibly spoiled dogs in Nashville, TN. Lori is on twitter at @lorilenz and blogs at http://www.wandertruenorth.com.