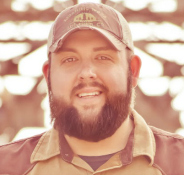 WWE is coming back to my beloved home in Nashville, Tennessee for a live episode of Monday Night Raw on July 17th! I will be there because wrestling is the one activity that I watch where I totally lose myself and revert back to my childhood. This go-around, the WWE has graciously given me the opportunity to interview a relatively new superstar to the RAW Roster, who happens to be a traveling troubadour in his own right.
Elias Samson has recently started popping up in the middle of the ring with an acoustic guitar in hand, and he performs or attempts to perform a song (assuming no nemesis interrupts him) that he has self-penned. He has a nickname, "The Drifter," and it seems fitting with coming to Nashville that I take some time to get to know this large, bearded, musically-inclined man and discuss who he is and what he hopes and plans to accomplish in The WWE Universe: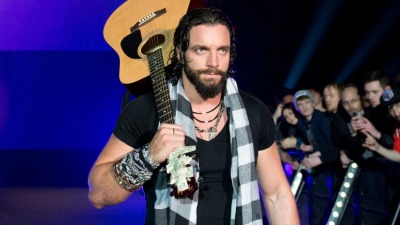 Being Monday Night Raw's resident guitar slinger, do you plan on performing a song in the ring while you are here in Nashville, and if so will you put a country twist on it? 
You know what, I know Nashville is a heavily musically driven city so I might have to put a little twist on the typical styles that I do on my songs, but yeah I absolutely plan on performing on Monday Night and writing a song for everybody there.
Being a musician, while in Nashville do you plan on taking in any sights or going to any of our famed music establishments? 
Yeah sure, I love country music. I am more of a rock and blues kind of guy, but I also enjoy country music. I have been to Nashville a few times, and I have been to a few bars and diners downtown, and I will get into Nashville Sunday night and I will just take it from there.
Being a fresh superstar on the roster, what are your current goals within the WWE, and are you still feuding with Finn Balor? 
Yeah, I am not done with Finn Balor. We had a match last week on Monday Night Raw and all I can say is yeah I am not done with that little punk man. He pushed me the wrong way and he keeps interrupting my songs and as far as I am concerned I'm gonna get back at him!
Well, while you are here in Nashville, being what music means here, I hope you get to finish your song while you are in the middle of the ring.
I have been to Nashville a few times. I have performed at War Memorial and other venues, and I have got to say for a city that is so rich in musical history I find that the people there [Nashvillians] still do not respect me or my talents or the performance that I do.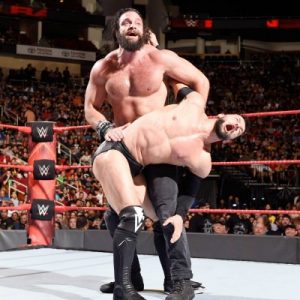 Changing the subject up a little bit here, you're a pretty big dude with a shape like The Ultimate Warrior. You may be RAW's answer to match up with Braun Stroman or Brock Lesner. What kind of work-out regiment do you have? 
I was fortunate enough to come across the great strength and conditioning coach in Shawn Hayes in my time with NXT, and that guy had just got me doing very basic, very heavy athletic exercises. I am not reinventing the wheel by any means. Heavy lifting, heavy bench press, dead lifts, shrugs, clean and press–all the basics and amping up the weights and putting in all the effort I can.
Tell us about your guitar you play with–it is really sharp. Would you ever hit anyone with it like the Honky Tonk Man used to do? 
I am playing a Martin acoustic/electric guitar right now. As far as hitting someone, I know that is what the Honky Tonk Man used to do, but I am not the Honky Tonk Man and I care too much about that guitar–that guitar is not only expensive but it means a lot to me, so I am going to avoid hitting somebody unless it is really absolutely necessary.
Do you have any information or spoilers for the announcement that Kurt Angle plans on making on RAW this Monday? 
You want me to give the spoilers and tell you what's going on with Kurt Angle? It is deep, and I am extremely close with Kurt Angle. I do know what is going on, but I am not going to tell anybody else. You are just going to have to tune into Monday Night Raw and figure out what's going on.