My Wizard World Nashville Comic Con experience was a first, and it was unforgettable.
I saw a huge gathering of Comic/Sci-Fi Fans that I had ever seen in one spot. I saw an adult Harry Potter-type character wave his wand at a car that rushed through traffic impatiently, not wanting to let the man and his associate, also dressed up as a Harry Potter character, cross the street. I saw more adults dressed up than children, I met Kato Kaelin (O.J. Simpson trials) and saw two batmobiles, the Mutts Cutts Van from "Dumb and Dumber," and several other vehicles. (See all the vehicles and other fun things in the gallery of pics at the bottom of the article.) I shook hands with the mighty Lou Ferrigno (Incredible Hulk), met Brian O'Halloran (Clerks 1 &2) and actually got nervous and stumbled over my words (he's one of my favorite movie guys as a teen). I chatted with Hacksaw Jim Duggan (WWE Legend), I got a hand-drawn picture of Animal of the Muppets from the man hand-selected by Jim Henson to draw the Muppet's comic strip–Guy Gilchrist–I chatted with Sam Ellis about "Archer" and "Adventure Time." I had a blast.
And Batman and I even caught up on some comic reading together, as you can see above.
The overall atmosphere from my perspective was peaceful and orderly with people, families and kids living out the fondest memories of their lives and childhood. I would like to personally thank Jerry Milani for the opportunity. I had fun and it was a fantastic experience. Here are some interviews I conducted while on-location:
Kato Kaelin: Nashville has taken over my entire life! I am loving this city so much, the people have been fantastic. I went to the main downtown strip and everybody was my friend. I am making a million of them so I am loving it! And the Wizard World show has been fantastic with country artists like the Bobby Cool Band. I am the MC of the main stage so I am having a great time meeting everybody. There is no time to sleep, my friend. Josh, my friend, sleeping is cheating, do you have a pillow? But no you cannot cuddle with me. [laughs]
Hacksaw Jim Duggan (WWE): It's nice to be around still! I actually do a lot of ComiCons; a lot of folks don't understand it's like pop culture conventions. There is something for everybody. I mean Lou Ferrigno is here. Flash Gordan Jones. All the comic book people. It's a lot of fun, and everybody is so friendly at these things it's great!
Brian O'Halloran (Clerks 1 and 2): It is great being back in Nashville. I have been here a few times for the film festival that goes on in April, which is always an amazing festival. It is great to be back with Wizard World and touring with them, doing Nashville, Oklahoma City and Boston in the next couple of months. Nashville is always a fun town. We were just up on Broadway last night having dinner. It was packed, music everywhere, of course, and you can't throw a stick without hitting a musician somewhere. I love it here and love it when I am asked to come back to Nashville.
Bobby Cool (Bobby Cool Band): So Annie from Wizard World contacted us and thought our band would be a good fit and honestly she gave us the call, I was like "heck yeah because I had heard about comic cons but I had never been," so I was like yeah I want to go to that.
Tell us about your music what genres do you play?
Rootsy country, some traditional, some bluegrass influences but obviously there is some Gospel undertones; we have a song that to me is about God's love and they way He loves us no matter what.
(Bobby Cool Band had a really awesome sound that caught my ear during my strolling at Comic Con! He is a great guy with a great group who should be a household name within the next year.)
Sam Ellis (from "Archer" and Adventure Time): Yeah, I came to Nashville two years ago. They didn't do it last year because of construction here, but I love coming out to Nashville. It's a great city, has some great tunes out here and the hospitality is way better than Delaware (laughs). Who would have thought we were in Delaware. My father-in-law was talking to my wife and was like the people in Delaware are awful and I wondered how did he know that, he has lived in Idaho for the last 15 years. You just can't judge or say a statement like that. Then I go to Delaware and sit there and these people come up and they are like, "Oh…Adventure Time, that is garbage." And I am like, "Hey where do you work, can I call it garbage too?" That's not nice, and nobody in Nashville has done that here. Everybody is super awesome. Last time I was here I got some Prince's hot chicken and that was a long wait, things that I dont have in Virginia, I grew up in the south, so I appreciate the kindness people here display.
Aimee Monk (Mad Hatter): I do cosplay. I do different Mad Hatter stuff. I went through a lot of work just to get all of the details. I go thrift shopping and I pull together pieces of the costume and piece it all together so a lot of it I already had made, and I also made my hat.
(Aimme had a fantastic costume that caught my eye, and she really looked movie quality! The fact she hand made her costume made it even more fantastic.)
Thomas Ian Nicholas (American Pie, Rookie of the Year, Walt Before Mickey): My band all lives here in Nashville. They are all originally from Illinois, they moved here a few years ago, I live in Los Angeles, so a lot of times with my Midwest tours the band will drive up to Chicago, I'll fly up to Chicago and we well tour our way back for them to get home, then I will fly home from Nashville to Los Angeles. I have done that a couple of times and played different venues like in East Nashville and on Broadway, so looking forward to playing ACME Feed and Seed. I played a Propaganda DJ set there last year on the rooftop, now I'm on the third level with the band! Our sound is rock so if you dig the Foo Fighters then you would dig what we are doing. I have released five original albums over the last eight years and the sixth one that just came out this year is something a little more fun and nostalgic. It's all of our favorite songs from the American Pie soundtrack.
And last but certainly not least I ran into Mark Kistler, Emmy Award-winning 3-D artist who was donating his entire take from ComicCon to victims of the hurricanes and floods. I felt a privilege to speak with him about it and please go to his website  to see how you can help!
Mark Kistler (Emmy Award-winning 3-D artist): I am at Chicago Comic Con Wizard World, right, my birthday was on Sunday, I turned 54. Hurricane Harvey slammed my hometown, I am in the middle of Harris County, the hardest hit, and my house is fine–zero damage. All my neighbors, all my fellow artist friends in Houston are thrashed. I am the only person I know with flood insurance; how is that for irony? So call it survivor's guilt or whatever. I had to do something and I am too old to help dig and rake or help with dry wall, so I just had to do something, and so I started a week ago with this fund inspired by JJ Watt. I figured if he could do 28 million maybe I could do 20 thousand. And I have got 6 thousand so far and I have given away another 12 thousand dollars in grocery help to my neighbors, and I am trying but these folks are thrashed and they are hurting and I pledged everything I make to the New Year. I am going to donate, I am going to help rebuild 'em. I'm selling my art, I am going to do a live Facebook art auction from my house, I am going to have over 100 artists at my house on the 30th of September and auction all of our art and hopefully raise another couple of thousand. We got to try and help 'em out.
Find out more about Mark's relief efforts at his website.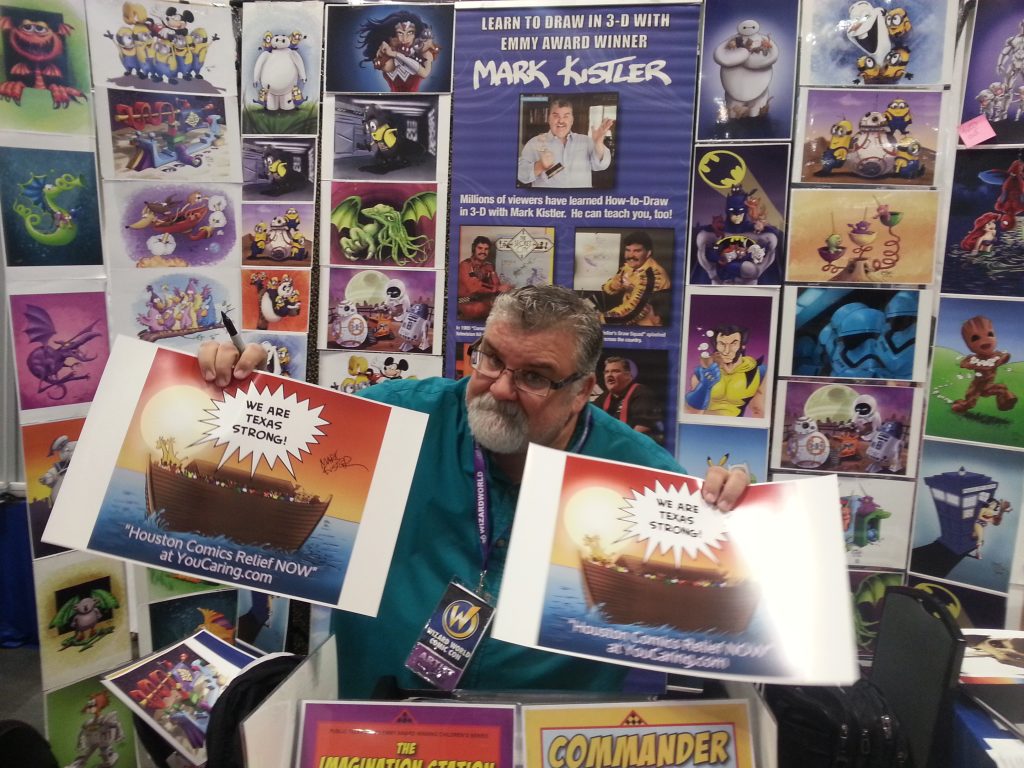 Mark Kistler
And here are a few more fun pictures from my adventures at Wizard World Nashville Comic Con: