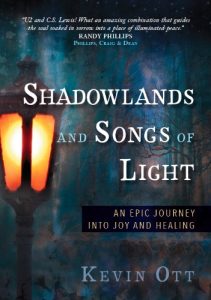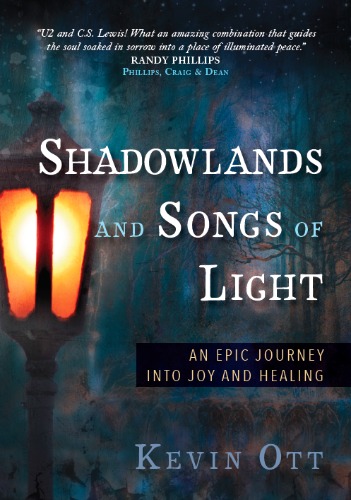 Quick note for fans of C. S. Lewis and/or U2 before the article begins:
When life's sorrows bring us into shadowlands, we need the joy of Christ to restore our strength. We tap into this joy by nurturing a deeper longing for God. Shadowlands and Songs of Light: An Epic Journey into Joy and Healing takes you on a quest for joy and a life-changing longing for God.
Written by a C. S. Lewis expert and a skilled composer, the book explores 18 beloved C. S. Lewis classics, from Narnia to Mere Christianity, and 13 spiritual principles behind the art of songwriting, as seen in 13 studio albums by U2–all to answer one question: how do we experience deeper joy in our relationship with Christ during times of sorrow and trial?
Shadowlands is available to pre-order at Amazon or ChristianBooks.com. If you pre-order a copy, the author will personally email you with a thank-you note and a copy of his upcoming e-book devotional "Devotions with Tolkien," which uses J. R. R. Tolkien's epic "The Lord of the Rings" and Scripture. (This is all on the honor system: simply pre-order Shadowlands, and then send an email to shadowlands2016 (at) gmail (dot) com letting the author (Kevin Ott) know you've ordered it, and he will contact you.)
Text LIGHT to 54900 to get a preview of Shadowlands and Songs of Light.
***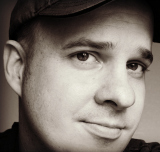 [Update: please see the comment from Joe Johnston from Dublin regarding the bells. It seems that I was wrong about the bells being from the Santa Barbara Mission, although the song does have interesting references to Santa Barbara and Malibu, as I explain below.]
The moment I heard the news about U2's surprise release (automatically downloaded for free to all 500 million users of iTunes) of their new album Songs of Innocence (#SongsOfInnocence, #U2), I was standing on a beach cliff in Santa Barbara, California overlooking the sparkling Pacific.
There I was, this diehard long-time U2 fan, and I had been carrying around their new album on my phone for hours without even knowing it.
(And by the way, I have reviewed the full album here.)
So I began listening to it. When I got to track three, "California (There Is No End to Love)," my jaw dropped. Besides the clear Beach Boys "Barbara Ann" reference (which I'll get to in a second), something else caught my ear.
A recording of mission bells kicked off the track (with the faint white noise of rain trickling in the recording's background). I couldn't believe my ears. I knew those bells. I had worked within earshot of the bells of the Mission in Santa Barbara, CA for almost six years.
The Santa Barbara Mission is old. Like, George Washington old. Spanish Friars built it in 1786, 10 years after the Constitution had been written. Bells from the mission have been ringing in this town for over two centuries.
And every day for almost six years I'd hear the mission bells. Their sound, their rhythm, their specific tone color, and the unique reverb space of the bell strikes resounding against the foothills of the Riviera nearby: all of that became as familiar to me as the sound of my own voice.
And then I thought, "No, those can't be the Mission's bells. I've never heard about any members of U2 visiting Santa Barbara."
And then a thick layer of Beach Boys-esque vocals came in as the song progressed. They were chanting, "Santa Barbara" over and over again. (And I verified this at U2's official publication of the new album's lyrics.)
I about fell over from shock.
[Update: Also, as a reader named Robert pointed out to me, there's a huge Beach Boys influence here. U2's opening chant sounds almost like the classic Beach Boys song "Barbara Ann," until it morphs into saying the word "Santa Barbara" — a very clever blending of a legendary song by the Beach Boys with the name of a city in California. Absolutely brilliant. They're channeling the California vibe to perfection.]
You can download the song on iTunes and hear the bells for yourself.
Now listen to the bells of the Mission ringing in the video I took this afternoon (see embedded video at top of post) and compare it to the U2 song. In particular, listen to the bells ringing more slowly in the beginning before the church switches to one of its higher pitched bells and rings faster.
In the U2 recording, the timing between tolls, the tone color of the bells, and the reverb space seem to match the Mission exactly. The only difference is the pitch; U2's recording of the bells is at a slightly lower pitch. The Mission has a multitude of bells in its two towers with many pitches, so it's possible a different bell was being used at the time of U2's recording. But, assuming I'm right, I'm guessing U2 used a pitch shifter during the mix down — a standard technology in any studio — to tweak the pitch of the bells to perfectly match the key of their song (which the bells do).
Of course, I could be wrong. The Mission here probably isn't the only place in California that regularly rings its bells. It might be a church that just sounds an awful lot like the Mission. But Bono's chanting of "Santa Barbara" makes a strong case for it.
After the bells and chanting, Bono's tenor takes over with these lyrics in the opening verse:
"California, and then we fell into the shining sea. / The weight that drags your heart down, Well, that's what took me where I need to be…"
Here are two pictures (taken at different times of day) of that same shining sea off Santa Barbara, where I was standing on a cliff overlooking the beach as I listened to this song.
To be fair, the lyrics also mention being "out on Zuma." I'm assuming that's a reference to Zuma Beach near Malibu, a good ways south of Santa Barbara, closer to Los Angeles. The Edge now lives in Malibu, so it makes sense.
So, technically, this song is about Santa Barbara and Malibu — and California in general. But it's fascinating how they focus in on a specific city or two.
U2 has long been known to use specific cities as the primary thematic material for songs:
"Miami" from Pop
"New York" from All That You Can't Leave Behind
New York again in the "City of Blinding Lights" from How to Dismantle an Atomic Bomb (initially I thought it was Paris, but one of our readers, Andrew, left a comment below that explains the song's true origin and why it's about New York)
"Fez" (a city in Morocco) from No Line On the Horizon
And now Santa Barbara in "California (There Is No End to Love)" from Songs of Innocence.
The song paints a vivid portrait of the California coast. In another line, Bono sings, "Blood-orange sunset brings to your knees."
And just to show you that Bono and the boys know what they're talking about, I've included a picture I took of one of those blood-orang
e sunsets here in Santa Barbara.
For the average listener, the shout-out to Santa Barbara and Malibu simply adds some atmosphere to the song. But for a long-time U2 fan who has lived on the California coast a long time, it's a dream come true.
[Note: if you're a fan of U2 or C.S. Lewis, please check out my new U2/CS Lewis-themed blog Stabs of Joy. Also check out my podcast Aslan's Paw.]