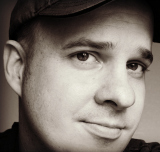 Human interest stories tend to stick in the mind for a long time because they stick in the heart first. That's why we write about them in the first place.
One of the most memorable human interest stories we've had at this site was Adam Hileman and the article that Josh Belcher did about him for Rocking God's House some time ago.
I found out Wednesday night that Adam passed away after a battle with cancer.
Any kind of news like that hits you in the gut. I didn't know Adam personally, but Josh's story about him stuck with me. When I went back and read the article–which features a spectacular interview with Adam talking about his life and his fascinating family history (which includes a friendship with Elvis Presley)–tears hit my eyes.
In the interview he tells the story of all the surgeries he had to endure when he was young, but during the experience he saw angels, and he felt God's presence near through it all. It was such an inspiring, moving moment in the interview that I wanted to share what Adam said:
Now, I know what you really want to hear about the surgeries that I have had, and I will tell that story now. After the second surgery in 1994, when I woke up from the operation, I told everyone in the room supporting me that I had seen angels during the surgery and also during my last surgery in 2007, when I was waking up, I saw a bright light. It may have been angels, it may have been God. All I know is that someone upstairs is watching over me and I am greatly blessed by that.
I still feel grateful that Adam shared his story with us, and I felt a proper tribute was needed for him.
I know Adam was a huge fan of the Zac Brown Band, so I felt it was only fitting to feature a video from that band: "Homegrown." I chose "Homegrown" because, based on the sense I got from Josh's interview, Adam was the kind of person who loved his community and loved the people in it. And the people there loved him. I'm guessing "Homegrown" would fit Adam well–almost as if the song were about him or being sung from his perspective. Though, I should add, it doesn't 100% fit because it's about somebody who lives in the mountains with lots of space on his own land. My understanding from Josh is that he lived in a more densely populated place than what's portrayed in the song, yet Adam "still made that place feel like a tight-knit community," as Josh mentioned today in an email to me.
But I also chose that song because the word "homegrown" best describes Adam's new life now. That might sound strange, but let me explain. As I mentioned I didn't know him, but his faith in Christ was evident in his interview. I know that he's now in what the book of Hebrews (Ch. 11) calls "a better country, a heavenly country." He's in the greatest Hometown in existence now, and it's a forever town that he'll never have to leave. He can sing that song about his new home in Heaven and never feel the sadness again of having to leave that home. He's safe and sound now.
I'm sure his family and friends wish he could be back in his earthly town that he called home. I felt the same way when I lost a loved one. But someday all the small towns in this world will pass away, and we'll be able to move into the Forever Town where Adam is.
That will be a bright and happy homegrown day.
And this song catches a tiny glimpse of it: