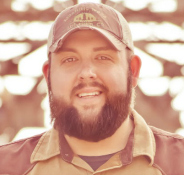 Thrice may very well be the most well-rounded rock band of the last decade. Deep lyrics, with meaning behind every word and note–and plenty of nouns, according to lead singer Dustin Kensrue–fill their new album "To Be Everywhere Is To Be Nowhere." Kensrue, alongside his three other bandmates, have released the best album of 2016. The album is currently riding on the wings of the fantastic single "Black Honey" (which has a very interesting music video, I might add).
As Dustin explains about the album:
"Eric (Palmquist), the producer, and I were talking about how rock music has lost all its nouns whereas hip-hop has become a very vital force, and he was speculating that this was because it was actually dealing with things that are happening concretely, and for some reason rock has become more amorphous in terms of the language used," explains Dustin. "So I was endeavoring to write a very noun-ful record, very connected to physical things, using metaphors, but really trying to make sure they were visceral and connected quickly, as well as engaging with what's actually going on in the world."
Dustin is also a deep-rooted man of strong spiritual emotions and observations. He has a tattoo of Proverbs 9:10 written in Hebrew on his left forearm  ("The fear of the LORD is the beginning of wisdom"). Many of his lyrics are drawn from the Bible and it shows if you ever get the opportunity to listen to Thrice's latest album "To Be Everywhere is to be Nowhere." Every song has a message that has to do with the current state that the world is in. In other words, Thrice is a secular band who stands for something. According to the Grammy's, the song "Blood In The Sand" is one of the "Top 12 Powerful Songs."
They say music is the voice of a generation. Thrice may very well be the voice–or certainly one of the most powerful ones–of this current generation.
You can check our Thrice's official site here. See the new album's track list below along with a tour schedule for the band.
All music written by Eddie Breckenridge, Riley Breckenridge, Dustin Kensrue and Teppei Teranishi; all lyrics by Kensrue.[36]
"Hurricane" –

4:44

"Blood on the Sand" –

2:50

"The Window" –

3:34

"Wake Up" –

4:07

"The Long Defeat" –

4:11

"Seneca" –

1:00

"Black Honey" –

3:59

"Stay with Me" –

4:00

"Death from Above" –

3:37

"Whistleblower" –

3:26

"Salt and Shadow" –

6:08