Third Day On Tour!
Third Day rocked Indiana Thursday night as new and loyal fans (once called "Gomers") welcomed the familiar and distinguishing sounds of one of the most talented and successful Christian rock bands — a band that has landed four Grammy awards and 11 nominations, not to mention their gold and platinum album sales.
Third Day's set was comprised of some get-up-and-move favorites like "Kicking And Screaming," "Lift Up Your Face," as well as soulful ballads like "Cry Out To Jesus," "Show Me Your Glory," and "I Need A Miracle."
"Soul On Fire" was a song they debuted Thursday night from their new album, officially to be released in March 2015. In the usual spirit of Third Day's sound, I instantly loved it.  They explained that this new album will be a worship album even though they had not released a worship album in a while. Their worship rock anthems are what drew me to this band.
Guitarist Mark Lee also explained what inspired them to write "Show Me Your Glory" from their Come Together album: the story of when Jesus went up on the Mount of Transfiguration with three of his disciples.
To me, their music has always had a worshipful feel. Singing along with the songs opens your heart to God so that you are not just singing a song, but you are singing to God.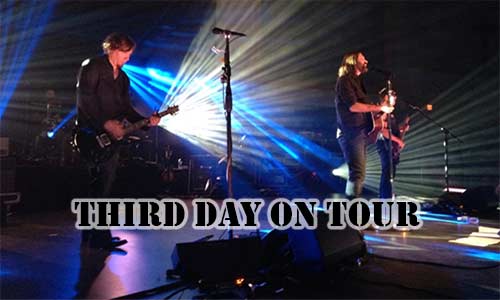 In the intimate setting with the fans, lead singer Mac Powell, who was softly strumming his guitar in his left-handed style, shared that they have been together for 22 years beginning in high school. Church, youth group, and marching band was the incubator for this rock solid Christian music icon. And this is perhaps why Rocking God's House has such an interest in offering resources for those that have a passion to play and sing for God's purpose.
Bass player Tai Anderson explained how he and drummer David Carr had been playing together, and then met up with Mac Powell and Mark Lee to form Third Day. Tai explained that their friendship has kept them together all these years, but it's obvious to me that, besides the bond of their friendships holding them together, God has kept them together because He has had a plan to use them.
In fact, during the concert, I overheard a man beside me say how the lyrics were one of the things that he loved most about Third Day. With their meaningful lyrics and soulful rhythms, their music inspires the spirit.
And you can see how this affects the band. It's obvious that they love making music, but the stories of God's work — how He has used their music to change lives and transform people — clearly motivates this band more than anything else.