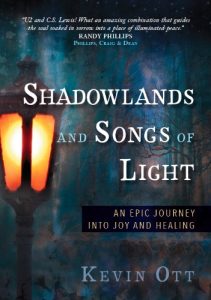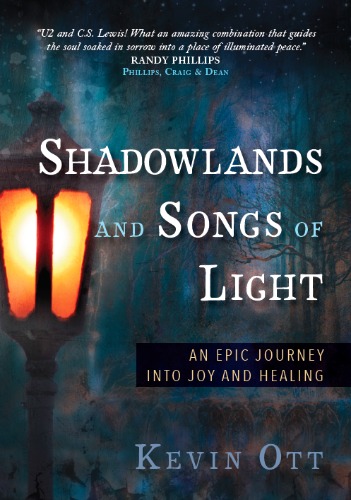 Quick note for fans of C. S. Lewis and/or U2 before the article begins:
When life's sorrows bring us into shadowlands, we need the joy of Christ to restore our strength. We tap into this joy by nurturing a deeper longing for God. Shadowlands and Songs of Light: An Epic Journey into Joy and Healing takes you on a quest for joy and a life-changing longing for God.
Written by a C. S. Lewis expert and a skilled composer, the book explores 18 beloved C. S. Lewis classics, from Narnia to Mere Christianity, and 13 spiritual principles behind the art of songwriting, as seen in 13 studio albums by U2–all to answer one question: how do we experience deeper joy in our relationship with Christ during times of sorrow and trial?
Shadowlands is available to pre-order at Amazon or ChristianBooks.com. If you pre-order a copy, the author will personally email you with a thank-you note and a copy of his upcoming e-book devotional "Devotions with Tolkien," which uses J. R. R. Tolkien's epic "The Lord of the Rings" and Scripture. (This is all on the honor system: simply pre-order Shadowlands, and then send an email to shadowlands2016 (at) gmail (dot) com letting the author (Kevin Ott) know you've ordered it, and he will contact you.)
Text LIGHT to 54900 to get a preview of Shadowlands and Songs of Light.
***
Although AMTC has been around for over thirty years, only several years ago I noticed their ad campaigns searching for Christian actors, models and entertainers. Recently I noticed large highway billboards. As an entertainer, I was curious. I went to my old friend Google, and began to scan the web to discover a wide range of opinions, from loved them to utter hatred! The polarization was too far apart, to believe the legitimacy of many comments I contacted AMTC Executive Director, Adam She. I specifically directed my questions toward the music industry, preparing him for difficult questions.
AMTC is large and growing… offering an extensive look into the world of entertainment in the 21st century. This is an opportunity for anyone who ponders the "What If" question! What if I give it my best shot, "What if" I never try! Adam stated; "The approach of AMTC is to focus beyond the talent of singer, songwriter or musician, but to cross-train them in the development of an entire personal package."
Adam specifically mentioned American Idol contestant Tim Urban of season nine. "Tim was not the greatest singer, but made it to seventh place. Why… his look, styling, humility, and personality – he had the entire package! That is the focus of Actors, Models & Talent for Christ!" "Today's entertainers must be more than just singers and songwriters, they must be well-rounded. AMTC will develop your look, stage presence, styling and song choice selection (specific to genre), interviewing skills, as well as expose you to acting and modeling opportunities. We want to give performers marketability so they may have the largest potential sphere of influence."
This statement poses a philosophical question – Christians considering fame and fortune. As Christians, we are called to live in the world, but not be of the world. Mr. Adam She admits some clients struggle with the pursuit of fame. He said "by gaining fame, or influence we get the opportunity to reach people in the mainstream." He was specific to note "not everyone who enters the program is seeking fame. Some come with the humble desire to hone their skills for positions in the church, ministry or anywhere God leads them."
I read several websites speaking poorly about AMTC. I directly addressed their allegations… What about the internet critics who claim the company is a rip-off, and that some of the industry professionals receive compensation for their inclusion into the program? Adam quoted part of Luke 6:26… "Woe unto you, when all men shall speak well of you!" AMTC considers the attacks as a badge of honor. "The final training segment preceded by their Bridge training program is called The Shine Event — a who's who of 50 to 100 top industry professionals who are barely compensated for their costs… only travel, lodging and a small food per diem. These professionals attend Shine to discover talent. No one would take six days out of a busy schedule to be minimally compensated; they come to find talent, but also because they believe in our mission." AMTC offers live auditions at locations around the US, and online auditions at no cost. They require all participants to complete an online application/questionnaire which provides insight into your personal goals. Once accepted, you can expect to receive a daily devotion and expect to be tutored by coaches required to reflect a Christian spiritual foundation.
Here is my summary of the interview. I asked difficult questions, and I believe Adam was honest and straight forward. Their skills guidance is not cheap… several thousand. Many websites will instruct you to never pay to find opportunities. They claim any legitimate company should only take a percentage for the work they find, not an entrance fee. I agree in most cases…I disagree here.  AMTC is a training ground providing a service. They introduce people to large stage, high pressure auditions, and will introduce you to industry professions. They do not provide work, nor do they contractually bind you to artists contracts beyond their training. Any contract or work offered from the attending industry professionals are between you and them. AMTC does offer ministry, military and family discounts. Additionally, scholarships are given to those who qualify based on merit, financial need, and/or life circumstances. They have a very large organization, designed to offer an extensive look into a very complex and sophisticated industry.
Running a business is not cheap; I think the cost is justifiable. Here is your line of caution… American Idol has no shortage of contestants who are delusional when it comes to a personal self-evaluation of talent. Just because you have a burning desire for success as an entertainer, doesn't guarantee you have the talent to make the big time. Actors have a much better chance of success than musical artists. Actors of all types are always needed. Casting Directors want a specific look and a personality when casting. They may be searching for beautiful, over-weight, or quirky… super stardom doesn't matter. I think AMTC could benefit actors with the casting and interview process. Don't know much about modeling so I will reserve comment. However, since some who audition may discover opportunities in modeling, I asked Adam to offer a statement concerning their position in the modeling world… Adam replied; "We started thirty-one years ago as a modeling event. Honestly, there's probably no better source in the country for modeling development than AMTC. Between acting, modeling, singing and dance, modeling may be most in need of positive role models."
Don't be afraid to shine for Christ… Matthew 5:15 – …Neither do people light a lamp and put it under a bowl. Instead they put it on its stand, and it gives light to everyone in the house. My research revealed that AMTC clients can, and do benefit from the education received. Not everyone has what it takes to make it. Perhaps that's the reasoning behind the skeptics I discovered on some websites, perhaps its the costs of attendance. If you are truthful and reasonable about your skills, then refine the talent God has given you in all opportunities. Always pray for God's will, reflect Him in everything you do!
Also, if you're an aspiring actor, be sure to read our interview with Christian actor Tichina Arnold in which she gives fantastic advice for young actors thinking of giving Hollywood a shot — whether in secular or Christian film productions. She has had leading and award-winning supporting roles in TV shows and movies with Martin Lawrence, Chris Rock, John Travolta, Owen Wilson and many others, and she has invaluable advice to offer.
***
Subscribe to the Rocking God's House community newsletter and get: