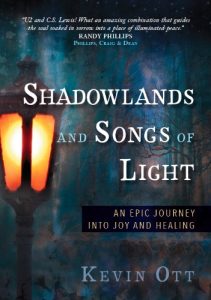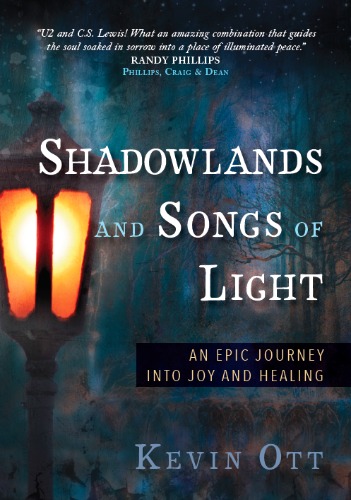 Quick note for fans of C. S. Lewis and/or U2 before the article begins:
When life's sorrows bring us into shadowlands, we need the joy of Christ to restore our strength. We tap into this joy by nurturing a deeper longing for God. Shadowlands and Songs of Light: An Epic Journey into Joy and Healing takes you on a quest for joy and a life-changing longing for God.
Written by a C. S. Lewis expert and a skilled composer, the book explores 18 beloved C. S. Lewis classics, from Narnia to Mere Christianity, and 13 spiritual principles behind the art of songwriting, as seen in 13 studio albums by U2–all to answer one question: how do we experience deeper joy in our relationship with Christ during times of sorrow and trial?
Shadowlands is available to pre-order at Amazon or ChristianBooks.com. If you pre-order a copy, the author will personally email you with a thank-you note and a copy of his upcoming e-book devotional "Devotions with Tolkien," which uses J. R. R. Tolkien's epic "The Lord of the Rings" and Scripture. (This is all on the honor system: simply pre-order Shadowlands, and then send an email to shadowlands2016 (at) gmail (dot) com letting the author (Kevin Ott) know you've ordered it, and he will contact you.)
Text LIGHT to 54900 to get a preview of Shadowlands and Songs of Light.
***
[Parent's Content Advisory at bottom of review.]
"Unless you can tell me where [the stars and moon] come from and why it is so…beautiful, then I will stop saying my prayers before bedtime."
In the new Nicholas Sparks film "The Choice," that's what Gabby says to the new flame in her life, Travis, as they sit beneath a Van Gogh-worthy starry night sky in North Carolina, having the "God conversation," as Travis begrudgingly calls it in the scene–a rare kind of scene for a movie in this genre, where we witness characters have philosophical and theological discussions. (Though, despite what the crusty critics with big screen fatigue say about commercial romantic movies, I find that Sparks movies have an unusual emphasis on the theological question of suffering compared to other movies in that style and genre. I appreciate that about his work.)
"The Choice" will mark the 11th Nicholas Sparks book that has been adapted for film. And partly for the reasons mentioned above, I found it to be a refreshing take on the romantic genre.
(Note: you can read my interview with Nicholas Sparks too. We discuss God, broken relationships, and this film.)
Entertainment Value, Film Craft
Whoever casted this movie hit a massive home run. I really enjoyed the acting chemistry between Benjamin Walker ("In the Heart of the Sea," "Flags of Our Fathers"), who plays Travis, the Southern charmer male lead, and Teresa Palmer ("Warm Bodies"), who plays the strong-willed, quick-witted Gabby.
And then, of course, you have Tom Wilkinson, probably one of the most rock-solid, coolest actors Hollywood has produced. If Wilkinson is in a movie, I have a very hard time resisting the urge to see it, even if the movie's about the history of basket weaving.
As I told Nicholas Sparks in my recent interview with him, I wish Wilkinson's character in "The Choice" was a real person because he would be a really cool guy to go to church with. (Wilkinson plays a likable, non-stuffy, genuinely caring and devout Christian in the movie who goes to a church that has amazing Southern Gospel soul. Love it.)
And, of course, the movie has memorable, winsome dialogue and narration because it's pulled from Sparks's novel. Sparks is a superb writer and an effective observer of human nature. This film clearly reflects that. (The film moved me to tears more than once. And I think Travis's plea, "come bother me," is pure genius.)
Worldview, Themes of Redemption, Philosophy/Theology
Let me start with the scene mentioned in my introduction, when Gabby says, "Unless you can tell me where [the stars and moon] come from and why it is so…beautiful, then I will stop saying my prayers before bedtime." In this scene we learn that Travis is apparently a "non-believer." And he articulates a warm-hearted view of (perhaps) Naturalism (or something close to it) to Gabby, that there isn't anything else beyond what we see, and he believes in "just love–in only friends, family, that's all you can count on in this world."
Using philosophical terms, Gabby embraces transcendence, the general belief that there's something more than this material world and that there is life after death. Travis, however, is all about imminence, the point of view that focuses zealously on the here and now only and denies the need to think about the future (the eternal future) because, according to that kind of view, there is no God or eternal reality on the other side.
Of course, the truth is much more complicated for Travis as we learn his backstory. Things get very interesting when Travis's Christian father Shep (played by Wilkinson) comes into the story and confides to Gabby about the tragedy that happened in their family. He talks about the desperate need of a parent to "protect your kid from the heartbreak this world doles out so generously." And he explains to Gabby, "after his mother died, I fell into the Bible. Travis wanted to burn it, but I didn't try to push it though because I figured I'd lose him."
And, just like that, we have a movie that's tackling the theological problem of pain. We don't get movies like that every day, frankly.
Besides being a classic love story from the trade of author Nicholas Sparks–an author who skillfully pairs epic love and epic suffering together in the same story, and then explore both through the eyes of the characters–"The Choice" is also the story of one man's journey from imminence to transcendence.
Although I'm not a fan of some of the things in the content advisory (I have particularly strong–and sometimes very annoying-to-others–opinions about why our culture should swear off premarital sex altogether, rethink its criticisms of abstinence, and try to make sex mysterious and uncommon again in the context of real covenant because, frankly, our current system isn't working)–despite these reservations, "The Choice" won me over. I think this movie's depiction of the problem of pain, of what love really means (i.e. unconditional, determined, I'm-going-to-fight-for-you kind of commitment), and of the journey from imminence to transcendence is admirable and unusual for the genre.
***
Content Advisory for Parents for this PG-13 Rated film…
Sexual Content/Nudity/Themes of Sexuality: Two implied premarital sex scenes with strong sensuality in both. Although, to be fair to the entire context of the film, the story does not let the characters "off the hook" and create one of those weird consequence-free worlds that movies create sometimes. The characters experience real emotional consequences, not all of it good, for choosing to rush into sex in a premarital context. Back to the content advisory: as far as what it is shown, viewers see the couple embrace/kiss on bed. Undressing is shown partially (woman's stomach and panties shown briefly) but no nudity. A man jokes to a girl, in a foolhardy attempt to lighten the mood, that she's just there to have sex with him. (And this backfires and makes the girl extremely angry, of course.)
Violence/Gore/Scary Content: A man gets punched in the face. A car accident is shown, and we see glass shatter in slow motion all over a person's face (but no blood or gore is shown).
Language: A fair amount of "mild" swear words (no f-words in other words): d-words, a-words, hells, and several uses of God's name.
Alcohol/Drug/Smoking Content: Some social drinking and private drinking on a date is shown. Girl talks about being hung over.