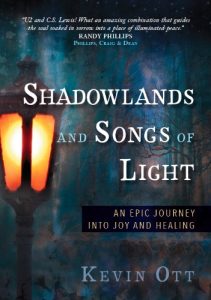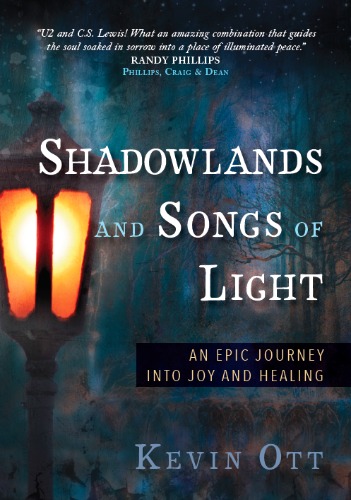 Quick note for fans of C. S. Lewis and/or U2 before the article begins:
When life's sorrows bring us into shadowlands, we need the joy of Christ to restore our strength. We tap into this joy by nurturing a deeper longing for God. Shadowlands and Songs of Light: An Epic Journey into Joy and Healing takes you on a quest for joy and a life-changing longing for God.
Written by a C. S. Lewis expert and a skilled composer, the book explores 18 beloved C. S. Lewis classics, from Narnia to Mere Christianity, and 13 spiritual principles behind the art of songwriting, as seen in 13 studio albums by U2–all to answer one question: how do we experience deeper joy in our relationship with Christ during times of sorrow and trial?
Shadowlands is available to pre-order at Amazon or ChristianBooks.com. If you pre-order a copy, the author will personally email you with a thank-you note and a copy of his upcoming e-book devotional "Devotions with Tolkien," which uses J. R. R. Tolkien's epic "The Lord of the Rings" and Scripture. (This is all on the honor system: simply pre-order Shadowlands, and then send an email to shadowlands2016 (at) gmail (dot) com letting the author (Kevin Ott) know you've ordered it, and he will contact you.)
Text LIGHT to 54900 to get a preview of Shadowlands and Songs of Light.
***
Tayla Lynn is a true southern belle born into a family of pure country music royalty. She was born and raised in middle Tennessee and went to the same high school as I did. Her grandmother is none other that one of the most celebrated female country music singers of all time: Loretta Lynn. Tayla's father Ernie and Loretta's son sing and play guitar for Loretta's band when she is on tour. Tayla said from a young age that she knew she wanted to be a performer and could not remember a time that "she wasn't an the wings of a town somewhere watching her Memaw and daddy on stage." She was only four years old the first time her grandmother took her on stage. It has been her passion and life's ambition ever since. Tayla has toured — opening for Loretta Lynn — and has even gotten a record deal with her trio Stealing Angels. She has performed in front of thousands all over the world — including for our troops in Iraq and Kuwait.
Now she has a record set to be released on vinyl on April 19th called Coal Dust. She will debut the album on "Record Store Day" at the world famous and historic Ernest Tubb Record Shop located on Broadway in the heart of downtown Nashville. The recording features Tayla and her grandmother Loretta singing a true-to-the-original remake of Loretta's first single, "Honky Tonk Girl." Loretta even sings her original harmony part on the remake. You can find out more about the new album at http://www.taylalynn.com/
You have had success as an artist in the trio Stealing Angels. Is this your first solo album, and if so, how was the transition?
I did one other solo project. I had a development deal with RCA as a solo artist about eight years ago, but this is officially my first record release as a solo artist.
And "Coal Dust" is actually a record, like an actual vinyl record?
Yes, it is vinyl. It is coming out on April 19th. It was my manager's idea to make an actual [vinyl] record. We were talking about doing a tribute album to my grandmother (Loretta Lynn), and we started tossing ideas around, and we thought vinyl would be a really cool idea.
Is your grandmother Loretta Lynn supportive of your music career?
She is very supportive of my singing career; she is actually singing with me on this album. To me there is no better stamp of approval than for her to lend her voice to my project.
She got burned in a house fire not to long ago — is she doing okay?
She is doing fine. I was there when it happened. She fought the fire herself. She got a little burn on her hand, but she is cool — she is a fighter. They were telling her to get out of the house, and she said, "No way, the house would burn down if I don't fight it" — and it probably would have.
Some media outlets (not me of course) speculate a ghost or paranormal being may have started the fire, what are your thoughts?
[laughs] No, I don't think so! That would be one bad ghost, and there is way too much positive energy around my grandmother and her home for me to believe it would be anything out of the ordinary or bad energies. I think she lit a candle and maybe one of her cats tipped it over. But thankfully no major damage was caused.
I read that you are going to have a "gospel mix" of "Coal Dust" exclusive for your "Record Store Day" performance. Could you tell us more about this?
[Note: According to Wikipedia: "Record Store Day is an internationally celebrated day observed the third Saturday of April each year. Its purpose is to celebrate the culture of the independently owned record store. The day brings together fans, artists, and thousands of independent record stores across the world."]
Well, first and foremost I am a Christian. God is number one in my life before anything else and so to have a gospel touch to the song "Coal Dust" just felt like the most natural thing to do. My producer James House threw that together wonderfully; that was all accredited to him.
When did you realize that you wanted to become a singer?
When I was a toddler. I have always known it. There has never been anything else I have wanted to do — ever!
You have a young son; do you think he will want to become a musician and entertainer as well?
He is already so musical. He already has his own microphone and guitar, and he stands and sings to us every morning. He wakes up, grabs his guitar, turns on his microphone, and he sings and plays his tunes.