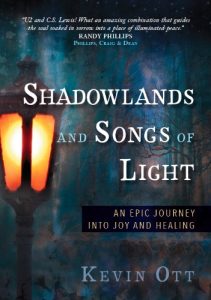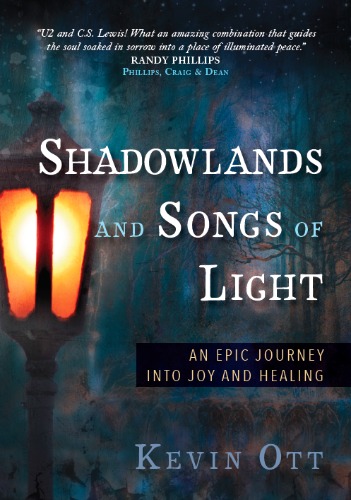 Quick note for fans of C. S. Lewis and/or U2 before the article begins:
When life's sorrows bring us into shadowlands, we need the joy of Christ to restore our strength. We tap into this joy by nurturing a deeper longing for God. Shadowlands and Songs of Light: An Epic Journey into Joy and Healing takes you on a quest for joy and a life-changing longing for God.
Written by a C. S. Lewis expert and a skilled composer, the book explores 18 beloved C. S. Lewis classics, from Narnia to Mere Christianity, and 13 spiritual principles behind the art of songwriting, as seen in 13 studio albums by U2–all to answer one question: how do we experience deeper joy in our relationship with Christ during times of sorrow and trial?
Shadowlands is available to pre-order at Amazon or ChristianBooks.com. If you pre-order a copy, the author will personally email you with a thank-you note and a copy of his upcoming e-book devotional "Devotions with Tolkien," which uses J. R. R. Tolkien's epic "The Lord of the Rings" and Scripture. (This is all on the honor system: simply pre-order Shadowlands, and then send an email to shadowlands2016 (at) gmail (dot) com letting the author (Kevin Ott) know you've ordered it, and he will contact you.)
Text LIGHT to 54900 to get a preview of Shadowlands and Songs of Light.
***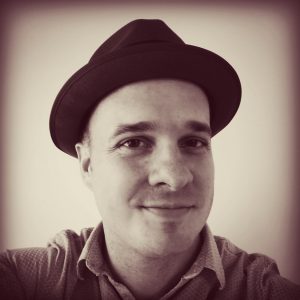 Note: Parent Content Advisory at bottom of review. There are NO SPOILERS in this review.
As a lifelong fan of the original Star Wars trilogy (isn't that a prerequisite for American citizenship?), the style, characters, dialogue, acting, humor, drama, and aesthetic atmosphere of "The Force Awakens" was everything I could have hoped it would be and more.
I'll explain why in detail — without spoilers — in a moment. However, if you have any emotional attachment to the Star Wars saga, I recommend you see "The Force Awakens" without reading any reviews. My review has no plot spoilers of any kind, but reviews can taint the way we experience films. Just see it with a clean slate in your headspace, then come back, read my review, and compare notes with me. If you just need to know the Parent Advisory content, skip down to the bottom.
A Stunning Return to Its Former Glory, 'The Force Awakens' Does Everything Right, But…
I've been asking a question since my childhood days in the mid-to-late Eighties — the days when I was small enough to ride on my dad's shoulders on the beach in Morro Bay during vacations and demand that he pretend to be a tauntaun from "Empire Strikes Back" (and I pretended to be Luke, of course, riding along on Hoth. And I imagined the sand at Morro Bay was snow. Hey, you do what you have to do.) Ever since those days I've asked this question: will we ever see another film in our lifetimes that has some or all of the classic Star Wars characters — names that have reached an Arthurian-like mythological status in our culture?
After the prequels came and went, I doubted it would happen. In 2012 George Lucas promised to never make another Star Wars movie, thanks in part to the wrath of the uber Star Wars fans over the prequels and his modified special editions of the originals. Lucas seemed genuinely hurt or at least just sick of the way the hardcore fans went after him. That was the end.
But then swooped in Disney. Mickey Mouse's giant ears flew through space like the Millennium Falcon and acquired the galaxy far, far away. J.J. Abrams was announced as director. A new hope stirred as I recalled how he rebooted Star Trek to perfection. One of the original screenwriters of vintage Star Wars, Lawrence Kasdan, was added — the Jedi writer had returned. Everything seemed to be falling into place — a rare alignment of the right conditions to produce the kind of film that I had always daydreamed about as a kid.
And it worked.
They did it. They actually pulled it off. "The Force Awakens," in its tone, personality, and thrilling drama, is every bit as good as any of the original films. J.J. Abrams and Lawrence Kasdan resurrected a world we thought long dead. "The Force Awakens" has a myth-come-to-life wonder to it that's every bit as haunting and compelling in Western imagination as, perhaps in our own modern way, the Arthurian legends. These space legends we thought could never reanimate from our childhoods have roared back to life like the glowing wrap-around engines of the Millennium Falcon.
But there's also something deeply unexpected and bittersweet that I found in the experience: many of our beloved Star Wars characters are back in this film, yes, but they're all in danger again.
I know that's very obvious, but it has never really occurred to me until now: the end of "Return of the Jedi" had an incredibly sweet feeling of closure to it. It was a very satisfying ending, and the joy of seeing them celebrate has imprinted itself as an archetype and a symbol of "happily ever after," of that sensation of deeply satisfying closure that is so elusive in life.
But "The Force Awakens" has ended that closure.
The happily ever after of "Return of the Jedi" is no more, and I'm surprised by how greatly it has affected me. The joy of that Endor celebration — a dance of triumph that I probably danced along to as a six-year-old in my family's TV room on a lazy Friday night in the summer, when our family often watched "Star Wars" for our weekly movie nights — has returned to the turmoil of conflict. The Dark Side just won't stay away. It seems angrier and larger now than it's ever been. And on top of that, we see how our beloved characters have acquired new problems post-Endor. I knew that would be the case, of course — how else could you tell a story without new conflict? — but I was surprised by how challenging it was to accept.
Let me put it this way: "The Force Awakens" does not pull any punches. This new movie has put all the stakes back on the table. Our dear heroes are in serious danger again. No one gets any passes just because they're legends. The demigods still bleed and suffer. If the myths return to life, then it means they must also return to mortality — to much pain and adversity.
And it's actually tough to watch. It's like these characters have become family somehow, and I'm very protective of them — more so than I realized. I'm very afraid to lose them — far more afraid than I ever could have imagined. It's a weird contradiction: we have badly wanted our classic Star Wars characters to return to the big screen, but let's not ding them up too much, okay? Hey, take it easy there, Abrams. Don't hit so hard, Kasdan. Just a few little adventures around the galaxy for old time's sake, okay? And then let's get them safely back to that eternally sweet closure we had going on in Endor at the end of "Return of the Jedi," okay? Please?
"The Force Awakens," however, will not let us off so easily. And the result has produced a very disorienting mix of utter delight and startling melancholy.
I don't know how to handle it, frankly.
It leads to something that author C.S. Lewis wrote about. I call it "Lewisian Joy."
Why 'The Force Awakens' Stirs a Deeply Bittersweet 'Lewisian' Joy
"The Force Awakens" so perfectly captures the soul of classic Star Wars that watching it feels like coming home after being away for a long time.
However, discovering a strange sort of grief, as mentioned above, in the midst of so much cinematic delight made me realize something else: the whole point of stories and movies like Star Wars is not to insulate us with the security of "happily ever after." It took some time for me to come to terms with this, but these stories can often awaken what I call Lewisian Joy — a deep longing and inconsolable homesickness for something that we can't even put into words; and the longing itself is simultaneously an ecstatic and a melancholy experience.
I'm writing a book about this, in fact — about the strange contradiction of Lewisian Joy, and about C.S. Lewis and the music of U2 (yep, all of that in one book) — that will hit bookstores Oct. 2016. I'll share a brief excerpt here to better explain what I mean by Lewisian Joy and how it applies to Star Wars:
In C.S. Lewis's autobiography, Surprised by Joy: The Shape of My Early Life, he defined this special kind of Joy, or Longing, as "an unsatisfied desire which is itself more desirable than any other satisfaction." For him, the sensations of homesickness for a home he had never known would strike like lightning bolts; they would flash, and then disappear…

While reading a line from Longfellow's Saga of King Olaf, a sensation of that Longing stabbed Lewis, and he described it this way: "instantly I was uplifted into huge regions of northern sky, I desired with almost sickening intensity something never to be described (except that it is cold, spacious, severe, pale, and remote) and then, as in other examples, found myself at the very same moment already falling out of that desire and wishing I were back in it."[i]

Those little moments of longing, at least the ones that Lewis recorded, probably added up to less than a minute on the clock, yet they changed him forever, as he noted: "the reader who finds these three episodes [of Longing] of no interest need read this book no further, for in a sense the central story of my life is about nothing else."[ii]

–Kevin Ott, excerpt from his forthcoming book about C.S. Lewis and U2, Oct. 2016 in bookstores and online stores worldwide
"The Force Awakens" stirs the same kind of bittersweet longing for something that's almost impossible to describe. The object that causes the strange homesickness, the movie itself, is, as it turns out, is not the thing we long for. It's not big enough to satisfy the soul. The ardent Star Wars fan will always want another Star Wars movie. There will never be enough to quench the thirst.
The movie is only the Stab that pricks our hearts and draws the Lewisian Joy — the deep longing — out. Anything, a movie or a book or a glittering constellation, can stir this longing. And the longing drives us. It launches us on a lifelong pursuit as it did for Lewis in the early 20th century, and as it has done for millions of Star Wars fans today — people like director J.J. Abrams who found their lives changed by that longing stirred in a "galaxy far, far away." From a Christian perspective, I am convinced that the Holy Spirit uses the momentum of that longing and repurposes it; He wants to transform the longing into a lifelong pursuit of God. (And I personally believe that God is not an impersonal Force. I believe that God is a Person — Someone you pursue in a relationship, not something you use.)
This is how I have come to terms with the challenging change that "The Force Awakens" represents. It is a strange, surreal form of grief, but in the end it is doing what Star Wars has always done for me: it is stirring a deep longing for something more, for something beyond the material — for something beyond this life. To paraphrase in my own words what one of the characters says in "The Force Awakens": sometimes when we want to return home, we must not try to return to the past. We must look ahead. We must move forward. Our true home — our long lost family — waits for us in the future.
"The Force Awakens" certainly resurrects the past — and it does so in glorious, unforgettable, truly delightful ways — but, whether we like it or not, it is also hurtling itself off the edge headfirst into change, and it is moving forward into the future at light speed.
And I learned something new about myself tonight in the theater: I'm not quite as ready for that change as I thought I'd be.
My rating for "Star Wars: The Force Awakens": 10 out of 10 stars. (See my notes below on the rating scale.)
[Note: after you read my review for "Star Wars: The Force Awakens," if you're a fan of C.S. Lewis, please check out my new blog Stabs of Joy or my podcast Aslan's Paw. Both seek to crack open the surprising treasures of Christian belief — the things that Western society has forgotten, ignored, or never encountered — with the help of logic, literature, film, music, and one very unsafe Lion.]
[i]  Lewis, C. S. (1966-03-23). Surprised by Joy: The Shape of My Early Life (p. 17). Houghton Mifflin Harcourt. Kindle Edition.
[ii] Ibid.
Parent Content Advisory for this PG-13 Movie…
Sexual Content/Nudity/Themes of Sexuality and Romance: None.
Violence/Gore/Scary Content: People are slashed and impaled with lightsabers in various scenes. A monster eats some stormtroopers. A character is choked by the Force. People are shot with laser guns.
Language: One "damn it." One "hell."
Alcohol/Drug/Smoking Content: None.
***
Note about my rating system for the movie's film craft and entertainment value:
1 star = one of the worst movies ever made (the stuff of bad movie legends), and it usually (not always) has below 10% on Rotten Tomatoes
2-3 stars = a mostly bad movie that has a handful of nice moments; it usually falls between 10-30% on Rotten Tomatoes
4-6 stars = a decent movie with some flaws, overall. Four stars mean its flaws outweigh the good. Five stars mean equal good, equal bad. Six stars mean it's a fairly good movie, with some great moments even, that outweigh a few flaws. A 4-6 star rating usually means it falls between 30-59% on Rotten Tomatoes (but not always).
7-9 stars = a rare rating reserved only for the best movies of that year; and a film must have a Fresh Tomato rating (60% or higher) on Rotten Tomatoes to be given 7 stars or higher, with a few
exceptions (if I strongly disagree with the critics).
10 stars = one of the best films of all time, right up there with the all-time greats (i.e. Casablanca, The African Queen, Gone With the Wind, Lawrence of Arabia, Star Wars Episode IV, Indiana Jones, etc.).