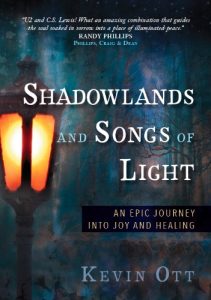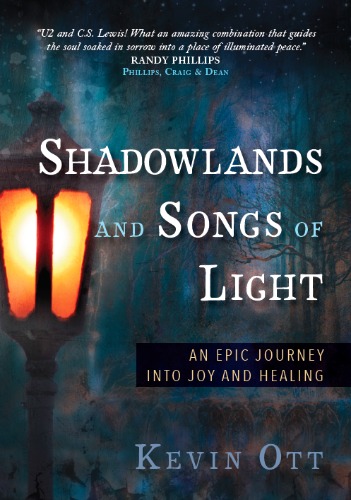 Quick note for fans of C. S. Lewis and/or U2 before the article begins:
When life's sorrows bring us into shadowlands, we need the joy of Christ to restore our strength. We tap into this joy by nurturing a deeper longing for God. Shadowlands and Songs of Light: An Epic Journey into Joy and Healing takes you on a quest for joy and a life-changing longing for God.
Written by a C. S. Lewis expert and a skilled composer, the book explores 18 beloved C. S. Lewis classics, from Narnia to Mere Christianity, and 13 spiritual principles behind the art of songwriting, as seen in 13 studio albums by U2–all to answer one question: how do we experience deeper joy in our relationship with Christ during times of sorrow and trial?
Shadowlands is available to pre-order at Amazon or ChristianBooks.com. If you pre-order a copy, the author will personally email you with a thank-you note and a copy of his upcoming e-book devotional "Devotions with Tolkien," which uses J. R. R. Tolkien's epic "The Lord of the Rings" and Scripture. (This is all on the honor system: simply pre-order Shadowlands, and then send an email to shadowlands2016 (at) gmail (dot) com letting the author (Kevin Ott) know you've ordered it, and he will contact you.)
Text LIGHT to 54900 to get a preview of Shadowlands and Songs of Light.
***
This article was originally published Nov. 18, 2014. Smalltown Poet's Christmas album mentioned below is so excellent that Rocking God's House felt a re-publishing of this post would be appropriate for the 2015 Christmas season. If you've never heard "Christmas Time Again," check it out.  
One of the most enduring and beloved Christian rock bands has returned to the Christmas season, once again bringing their instantly recognizable sound to this magical time of year. Their new Christmas album, Christmas Time Again, releases on Nov. 25. The title track "Christmas Time Again" is the first single, and you can listen to a streaming version here. You can pre-order the album at iTunes here. Also, the band will be playing a few Christmas dates; see here for details. In 2011, Smalltown Poets released their first Christmas album (Smalltown Poets Christmas) — their first recording after a 7-year hiatus. This brought much joy and good will to fans, considering that a band that had racked up Grammy nominations, several Dove nominations, and a Billboard Music Video award was once again releasing new music. Then the band released an EP called Under the New Sun in 2012 — a superb collection of seven songs that left fans eagerly wanting more — once again confirming to fans worldwide that the Smalltown Poets had more to say.
When I heard that a second Christmas album was about to hit stores, I rejoiced. I could never get enough of this band.
And, on a deeper level, their music had a life-changing impact on me during a turbulent chapter in my youth — particularly their song "Long Long Way" from Listen Closely, which became a light to my soul amidst a very dark night.
A few days ago I had the wonderful honor of chatting over the phone with the guitarist, Kevin Breuner, about the new Christmas album. In this article, Part 1 of the interview, he shares why the band enjoys doing Christmas music, what it was like recording in the same room again with the band after 16 years, how they've helped each other mature as men of God over the years, and whether or not the band will continue making music and releasing albums in the years to come. Also, at the very end of the interview, Kevin points fans toward a little Easter Egg hidden somewhere on this new Christmas album — something that will delight diehard SP fans! Stay tuned for Part 2 next week [click here to read Part 2], in which we discuss the production of Christmas Time Again in greater detail, and where I learn some interesting factoids about the band, including how they got their name and how the film Braveheart played a pivotal role in their early days.
My first question: Your new album — Christmas Time Again — is your second Christmas project. What do you enjoy about these seasonal albums that motivates you to keep doing them?
Well, way back when the band first started — or even before I had met the guys — back when they were playing under a different name, they had always wanted to do a Christmas record, and I know that when Smalltown Poets formed it was something that we always talked about. We really wanted to do a Christmas record. Christmas music has always been a big part of the season for all of us growing up and still is since we're adults with families. We all enjoy the classic Christmas albums and discovering new ones. So for us, you know, we did the first Christmas record. And the band had been kind of on a long hiatus, so that record was like a getting to know you type period again, as far as playing together. And there were still some songs that we wanted to do that we didn't have enough time to put on that record and also just some wanting to go back and maybe reinvent or uncover some really old Christmas traditional songs that normally don't get played or don't get recorded. And so we did that with this album. And also we had a couple more originals that went along with the Christmas season that we have on this album. So it's just something that we've always wanted to do. I don't know that we'll do another one. I don't think this is gonna be like, "Hey, every three years you're going to get a Christmas record from Smalltown Poets!"
It's not going to be a Christmas tradition then [laughs].
Yeah, but, you know, you'll probably get a single from us here and there because there was still a song or two that didn't make it in this album just because we ran out of time. One of them is a song that's one of my favorite Christmas songs that didn't make this record. So you'll probably see a couple more Christmas tracks from us in the future, but we're also hoping that this continues to propel the band, give us some momentum, be able to carve out more time to write and record more original music.
That's awesome to hear, so it sounds like the band is thinking about doing more albums together — more general (non-Christmas) albums?
Yeah, we had an EP that came out called Under the New Sun that had original music on it. So yeah the plan is that we want to keep making music together. That is kind of what started this whole thing to begin with. After we hadn't played together for awhile, I was back in Atlanta visiting the guys — I actually live up in the Portland, Oregon area — we were just leading worship at one of the guys' churches, and it was the first time the original members had played together in a long time. And there was just an instant spark of chemistry that doesn't exist when we're playing with other people because all of us have done lots of other projects. I had a band in the Portland area called Hello Morning that did a couple records that I think are great but there wasn't that chemistry that we have together in Smalltown Poets, and we were all talking about that how there's just something special about the five of us making music together. So that kind of set us on the journey again and really going into this record we felt like, you know, this is something that we all feel is important for us to keep doing. It's a big sacrifice for all of us. We have other jobs. We have families. But we feel that this isn't just a hobby now, this is still something that's really important that we feel is used in a special way that's beyond us.
The band has stated that you are all better men, fathers, and husbands because of each other. Can you explain that a bit?
It's interesting because I turned 40 this year, and
I have two girls and everybody in the band has kids from teenagers on down to 4-year-olds. It's interesting when you get to this point in life and you've known somebody for so long and you've been in life with them for so long that it's just we have this special relationship; you want to preserve that relationship and as that happens the band is growing together. And you just want to lift each other up, you want to be there for each other. You've gone through a lot of things together that you haven't necessarily gone through with folks that you've only known for a couple years. So I think there's that aspect to it. It really does feel like they're more like brothers, in a sense. When you're in the room together it just feels like you're home — that kind of thing. There was a lot of lyrical content on this record — with Christmas there's always a lot of, kind of the idea of coming home — but the original songs on the record, which is our single to radio, which is the title track "Christmas Time Again," is all about that, you know, coming home for Christmas. So a lot of this experience for the record felt like an "us coming home together" kind of experience.
What was it like for you personally — from a musical perspective — to be back in the studio, all in the same room, with everyone again for the first time in 16 years? Were you able to still jive together well as musicians?
Yeah, basically we did the Christmas record in 2011 and we didn't have as much time to do that one, with scheduling for everybody, so there was never a point where all of us were there together at the same time. Through modern technology you can be different places. For that record, Byron had finished up his drum parts like the day before I got there to do guitar parts, and I was only there for a couple days. And then the EP that we did a couple years ago, we never were [in the studio together], we recorded it all remotely. But then this record I was saying, "I really want to just be in the same room with you guys and play. I don't care if we only get one song recorded, or if we get the whole album done, but to me, what's important, that I miss, is I want to be in the same room as all of you, interacting with you guys and making a record." And that's what we were able to do. We didn't get to spend as long in the studio as we did making something like Listen Closely or our debut album where we were basically in the studio for three weeks or a month. But I think we're much better musicians than we were back then as well where we can move quicker and really take advantage of the time we had. So we had about a week in the studio, and it was great. I think there was some elements on this record, some moments that we would not have captured otherwise. And really just having built up a lot of musical trust with each other that I think is reflected in some of the tracks. So [there were] some really cool moments of musical maturity on here and things that we couldn't have done 10-15 years ago, but also there are some fun ones too. Like the song, the Wassail Song, was a ton of fun to record, and there's a little Easter egg at the end of it that long-time Smalltown Poets fans will hear and enjoy, and so it could quite possibly be the first Christmas song with an Easter egg in it!
***
Click here to read Part 2 of this interview. "Christmas Time Again" will be available in stores November 25 just in time for the start of the Christmas season! Stay tuned for Part 2 of the interview next week, where we discuss the production of Christmas Time Again in more detail and learn interesting factoids about the band, such as how they came up with their band name Smalltown Poets.
[Correction: This article mistakenly wrote that the band's Pledge Music drive was still happening and that fans could still purchase pledge goodies, but this was incorrect. The article was edited 11/18/14 to correct this. My apologies for the error. -Kevin Ott]