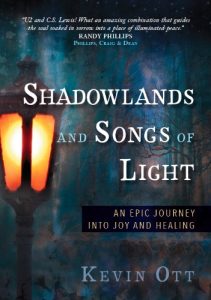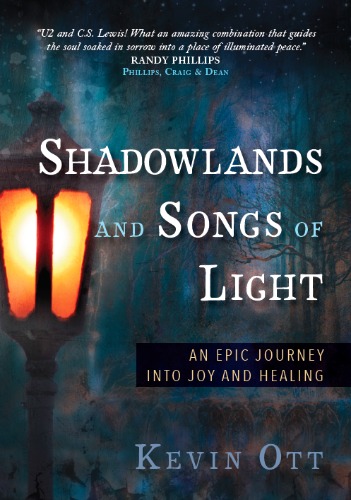 Quick note for fans of C. S. Lewis and/or U2 before the article begins:
When life's sorrows bring us into shadowlands, we need the joy of Christ to restore our strength. We tap into this joy by nurturing a deeper longing for God. Shadowlands and Songs of Light: An Epic Journey into Joy and Healing takes you on a quest for joy and a life-changing longing for God.
Written by a C. S. Lewis expert and a skilled composer, the book explores 18 beloved C. S. Lewis classics, from Narnia to Mere Christianity, and 13 spiritual principles behind the art of songwriting, as seen in 13 studio albums by U2–all to answer one question: how do we experience deeper joy in our relationship with Christ during times of sorrow and trial?
Shadowlands is available to pre-order at Amazon or ChristianBooks.com. If you pre-order a copy, the author will personally email you with a thank-you note and a copy of his upcoming e-book devotional "Devotions with Tolkien," which uses J. R. R. Tolkien's epic "The Lord of the Rings" and Scripture. (This is all on the honor system: simply pre-order Shadowlands, and then send an email to shadowlands2016 (at) gmail (dot) com letting the author (Kevin Ott) know you've ordered it, and he will contact you.)
Text LIGHT to 54900 to get a preview of Shadowlands and Songs of Light.
***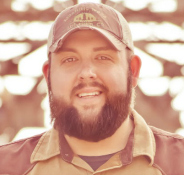 The other day I was watching a movie entitled The Way Way Back, starring Steve Carell. In one scene during a gathering of friends and family, a song is playing in the background and everybody begins to dance. It is the song "Kyrie" by Mr. Mister — a song I have loved almost my entire life. I really enjoy it because of its timeless rock ballad quality and its tribute to the Lord Jesus Christ. This got me thinking about Mr. Mister — a band I haven't thought about in years. They recorded the song "Broken Wings" — also another cool tune straight out of the 80's!
I decided to investigate them a little more and see what the band was up to these days. I was also intensely curious about the song "Kyrie." I wanted to know if it was actually about Christianity. So I went straight to the guy who sang it: lead vocalist and bass player of Mr. Mister, Richard Page. I found out some very interesting stuff about the man; for example, he is now touring in Ringo Starr's All Star Band, in addition to Mr. Mister. He is also a very accomplished songwriter and performer. He was asked to sing for Toto and Chicago, but he turned both down. He has also sung and recorded with Michael Jackson!
However, as impressive as these secular accomplishments might be in his career, the spiritual power and seemingly Christ-focused content of "Kyrie" has always been a very intriguing element in their music. I was able to catch up with Richard Page recently, and he was kind enough to answer a few questions, including one about the origin of the classic "Kyrie." Although we didn't discuss Richard's personal beliefs, he did confirm, however, that at least one of the songwriters of "Kyrie" had a definite religious view point with the song.
Rockin' God's House: I would like to revisit the song "Kyrie." It is one of the greatest songs ever written. Can you tell me about it — its origins and its meaning?
Richard: Kyrie Eleison is Greek for "Lord have mercy on us", or something very close to that. It's a commonly used phrase in the Catholic mass and other non-secular liturgies. The lyric was written mostly by John Lang, my co-writer on most of the Mr. albums. Once the song was recorded and it started to take on a life of its own, there was no going back.
[Note: in other interviews with media outlets, Page has confirmed that the song is, essentially, an entire prayer put in musical form. Although at first he resisted making "a religious statement" with pop music, lyricist John Lang kept pushing him to do it. When he finally tried the words Kyrie Eleison with the melody, it fit so perfectly that he agreed to do John's religious theme even though, at the time, he did not think religious content would fit well in a pop song. Page has also joked that fans often mishear the lyric and think he is singing, "Carry a laser," or "Carry a raisin."]
Rockin' God's House: What's it like touring with Ringo Starr?
Richard: Ringo is a great guy. He is a lot of fun to be around. The other All Starr's are all extremely talented and the band rocks every night. Being able to play music with a living legend is an honor and a privilege.
Rockin' God's House: Is it true you turned down opportunities to sing for Toto and Chicago?
Richard: Both groups were replacing their lead singers around the same time as I was busy trying to get Mr. Mister off the ground. I was friends with the guys from Toto (Steve Lukather is in Ringo's current line up), and I knew some of the members of Chicago. A lot has been made of this over the years. The truth is, my name came up as a potential replacement for Bobby Kimbel and Peter Cetera but because my band was signed to a label and recording albums it just didn't make sense. I was flattered that they would consider me though.
Rockin' God's House: Did you ever collaborate with Michael Jackson?
Richard: I sang with Michael once on a song I wrote with Kenny Loggins called Who's Right Who's Wrong. Michael and I did all the background vocals together.
Rockin' God's House: You have written many songs; can you name a few that are recognizable?
Richard:"I'll Remember" for Madonna. "My Confession" and "Thankful" for Josh Groban, "Sleep Tight" and "In Some Small Way" for Celine Dion. These are just a few. I've written songs over the years for many artists such as Hall and Oats, Meatloaf, Donna Summer, Pointer Sisters, Al Jarreau and many more.