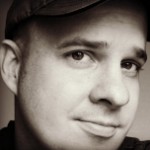 If there's anybody who can encourage you when you're dealing with grief in your life, it's Randy Phillips of Phillips, Craig & Dean (#PCDGuys). When I spoke to the pastor/recording artist over the phone for the interview below — and when I mentioned off-hand that my mom had passed away a few years ago — he replied with one of the most encouraging thoughts I've heard, and he even sang a few of the lines from the song "Voices From The Other Side" from the new Phillips, Craig & Dean album Above It All, which releases Monday, November 10. (Find out more about the album, including how to pick up your copy, here at their official site.)
That album title sums it up perfectly. From beginning to end, the songs have an unmistakable vertical presence that climbs above the storms: huge anthems, big melodic interval leaps in the singing, powerful production, and one of the most joyful, celebratory endings to an album I've heard in a long time. A soaring, unbreakable hope in Jesus elevates every track and points your attention to Heaven.
And these guys, all of them pastors besides recording artists, carry that powerful sense of hope with them into their daily conversations. I witnessed that myself (as you'll see in the interview below).
What's amazing is that they've been sharing that hope with others for over 23 years now, and it's safe to say that, by God's grace, they've accomplished a few things along the way:
3 million albums sold
23 #1 songs
Above It All is their 13th album.
"Revelation Song" became a gold-selling single in 2013; there are only seven gold-selling singles in Christian music history, and their "Revelation Song" is one of them.
They've won a boatload of Dove awards
I had the chance to speak with Randy Phillips about Above It All, which is one of the most beautifully affecting and encouraging albums I've heard from any artist in years:
As you compare "Above It All" to your previous albums, what stands out to you about this new one?
It's the first time we used a producer named Seth Mosley, and he is, of course, done so much great work, but it's the first time we used him, so that was different. We've used Bernie Herms in the past and Nathan Nockels for the past probably five or six albums, and so that was unique in how he approached our vocals, our harmonies and different things, that was a lot of fun. Also, we wrote six of the 10 songs on the album, so that was a lot of fun because in the past we've done a few originals but mostly cover songs or songs the church is singing. And then I would say the third component is the range of subject material and the style, so there's everything from hard chargin', kinda hot AC, all the way over to actually some country music — some kind of country flavored stuff — and I'm from Texas so I kinda liked that. That was a lot of fun.
I really enjoyed the album's range, I agree. And the album really has a huge sound, very big anthems, even in the slower songs. I couldn't help but visualize what they would sound like in a live setting. Are you excited to try these new songs out in live settings on tour?
Oh yeah! We've been doing a few of the songs already — "Throne Of Praise," "High Above It All" — we've been doin' those already, and they're just huge. Even though the audience is unfamiliar with the songs, for some rerason it feels like they know these songs! And I don't know how that is, it's just musically or lyrically it lands in a good place with the audience. It's like hey this is part of the discography of Phillips, Craig, and Dean, so it's been a wonderful thing.
The theme of hope is very strong on so many of the songs, and it really counters the spirit of fear in our culture right now. For some reason a lot of Christians I know are having anxiety attacks and really struggling with fear. How can Christians overcome fear in their lives?
That's a great question, and in Texas where I am, there's a big hysteria about Ebola since the nurse in Dallas, and it is just every news cycle here in Austin where I live is about the spread of this. I mean people are really in a panicked state, and you see the economy what a wild ride that can be. Also, the Middle East seems so fragile with ISIS, and, oh man, it's just — well, Jesus spoke of this, and He said, hey I want to let you guys know something that there's gonna be a time where the season is so dark that man's very heart will fail them for fear. There's gonna be fear of natural disasters, fear of climate change, there's gonna be fear economically. He said when all of this stuff happens and it seems so unsettled, look up! Look up to Me because I am your source. So what we wanted to communicate in this new album is when everything seems so uncertain and so unsettled around you, that's the time you look up with fresh eyes because He is with you.
One of the new songs, "Voices From the Other Side," which you wrote for Dan Dean after his dad died, really encouraged me because I lost my mom a few years ago. What surprised me about that experience was how real Heaven became to me right after she died, and your song just perfectly captured that joy in the midst of sorrow. Was this a difficult song to write or did it just flow out easily?
Well, I went to the funeral of Dan Dean's father, and he was the patriarch of the Dean family. He was bigger than life: a WWII veteran wounded three times, he pastored a church, he raised five incredible boys, and to see those fellas honor their dad, that patriarch; so I sat there and watched all this and I was consoling Dan Dean, and he said, "You know, I still have his voice message on my phone and I listen to it ever now and then," and when I started picturing what Hebrews 12:1 talks about, that there's a great company around us of people that have passed over that cheer us on, I was just thinking: where are my loved ones after they pass over? What happens to them? Do they see me? Do they cheer for me? What do they do? And Scripture's pretty clear about that, and I wanted to put that to music. So I got with a wonderful young man named Matthew West, and he and I wrote this song, and I just love it. I love the first line because it says [Phillips then begins to sing], "I still have that message from the last time that you called. / Wish I hadn't been so busy, we could've talked about it all. / And when there's no one else around, / I still listen to the sound, / Of your voice," [Phillips stops singing]. I just love that because it just pictures people like yourself — you miss your loved ones so much, but there's the great hope of Heaven that they are more alive now than they've ever been.
Songs like "Hope Has a Name" and "Jesus, Only Jesus" are really bold statements of faith. In an age where pastors are being told to turn over their sermon notes to the government, do you ever feel pressure from unbelievers or even other Christians to tone it down?
Not at all. From the very first day, when we kind of came in to Contemporary Christian Music it was the days of Amy Grant — she was having great success with crossing over — and Michael W. Smith. All of these great CCM artists were having tremendous success in the secular realm. And back when we broke in, the Lord helped us break in, we were just pretty straight forward — our favorite song of all, "Mercy Came Runnin," "Crucified with Christ" — we just stayed trued to our calling. Everybody has a unique calling, and there's not one right and not one wrong one, but for us it's just always been a Christ-centered message straight ahead, no turning to the right or the left. And we just tried to stay true to that for 23 years.
I love how the last three songs of the album are very uptempo and celebratory, and the final track, "Join the Song," just seems like the perfect congregational worship song. A lot of artists end albums with ballads, what moved you to end with all of these upbeat songs?
You know, I don't know that there was one particular thing, Kevin, it was kind of a collage we were trying to paint — different shades, different fabric — but painting one picture. And it kind of just takes you on a journey. One thing I love about our tunes is you can just pick one song here and there. But I'm kind of old school, I kind of like the whole CD. And I kind of listen down to it from top to finish because an artist paints a picture and follows it all the way down. So it's really from the very start of hope — be hopeful in the midst of an unsettled world — and then all the way down to where your loved ones are, and then all the way to the very bottom, which is, "so join the song!" Join up because life without these Christ-centered elements are gonna leave you in a very unsettled place.
In "Join the Song," there's a line that says "hope is returning once again." With all the challenges in our culture right now — and as you bring this album to the public — do you think there's still hope for America?

Oh no question! This country is just one prayer away from turning its eyes toward the Lord. It's just one prayer away: "If My people will humble themselves and pray I'll turn, I'll turn to you." So that's a promise that the Lord gives any nation. And this is a great nation. We've gotten off track, but that's a leadership issue. And I believe the right leaders sending the right message can be a comeback of a spiritual nature that we haven't seen in a long time. We're just one prayer away from turning our eyes toward God.