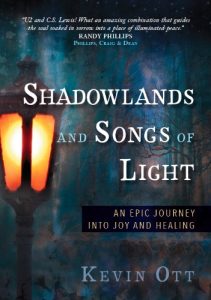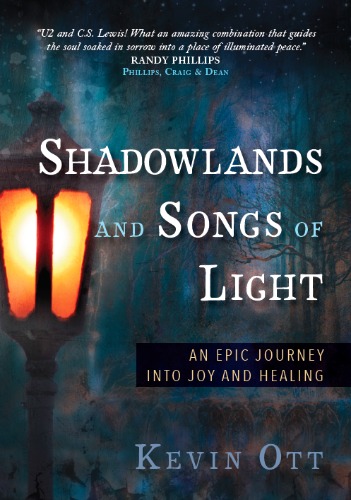 Quick note for fans of C. S. Lewis and/or U2 before the article begins:
When life's sorrows bring us into shadowlands, we need the joy of Christ to restore our strength. We tap into this joy by nurturing a deeper longing for God. Shadowlands and Songs of Light: An Epic Journey into Joy and Healing takes you on a quest for joy and a life-changing longing for God.
Written by a C. S. Lewis expert and a skilled composer, the book explores 18 beloved C. S. Lewis classics, from Narnia to Mere Christianity, and 13 spiritual principles behind the art of songwriting, as seen in 13 studio albums by U2–all to answer one question: how do we experience deeper joy in our relationship with Christ during times of sorrow and trial?
Shadowlands is available to pre-order at Amazon or ChristianBooks.com. If you pre-order a copy, the author will personally email you with a thank-you note and a copy of his upcoming e-book devotional "Devotions with Tolkien," which uses J. R. R. Tolkien's epic "The Lord of the Rings" and Scripture. (This is all on the honor system: simply pre-order Shadowlands, and then send an email to shadowlands2016 (at) gmail (dot) com letting the author (Kevin Ott) know you've ordered it, and he will contact you.)
Text LIGHT to 54900 to get a preview of Shadowlands and Songs of Light.
***
My Parents are Forcing Me to Take Piano Lessons and I HATE IT!
Please Help!
My parents made me take piano lessons at 11. I'm 14 now and want to quit. I've always hated the piano, but now I REALLY hate it. I asked my parents if i could quit and they said yes…BUT…I have to start another instrument, and I don't want to. They just don't understand…I don't like music, I'm not musical, and I don't want to be musical. I think my dad doesn't want me quit cause he didn't learn to play piano when he was younger, and he now regrets it. He quit school in eleventh grade, and he is now a builder. I don't think he enjoys it.
Please don't ask me to change teachers, choose music I like, or take a break. I've changed teachers in the past. My current teacher is really nice, I choose my own music, and I've taken time away: I still hate it!
Abbie's Reply…
There is more to learning an instrument than just becoming a great musician. People learn to play for many reasons: mostly so they can play their favorite songs or join a band. From the first time I witnessed a performance as a kid, I was hooked. I spent all my time learning how to play guitar.
I'm now a music director who plays several instruments. I've performed with many musicians over the years. Musicians who don't play from their heart don't last. Music is about many things — mostly about translating emotion into music and learning a craft. I've played with musicians who never understood how to connect with music emotionally; they played from their head. They often lacked originality and never progressed.
An issue like yours goes far beyond music. Many people hate their job and feel stuck. Some of these people are doctors, lawyers, and CEO's. They may be hard workers, but they lack leadership, originality, and they cannot motivate others because of their lack of enthusiasm. After three years, you should have a good idea whether or not you enjoy playing the piano.
Your father only wants what's best for you. As we become parents, we want to give to our children all the things we didn't have or couldn't afford. If your father hates his job, he'll probably tell you to finish what you started. I would agree — if you asked for lessons.
If you said you hated the piano and wanted to play a different instrument, I would have a very different reply. Although you're only fourteen, I think you're wasting your time and parent's money.
If you truly lack the enthusiasm you noted here, it's unfortunate your instructor has not spoken to your parents on your behalf. I think your conversation should begin with your instructor. I've worked with many musicians over the years whose parents wanted them to play at church. I am very quick to spot these kids and very quick to talk to their parents. I don't want someone on stage who doesn't want to be there. Their negative attitude is evident, and it affects the entire band and congregation.
Life is about finding your passion. Pray about it. Use this lesson to learn patience so you can offer advice and compassion to others in your position.
There are times in your life when you must do things you don't like: those moments build character.
"Choose a job you love, and you will never have to work a day in your life."
― Confucius
Talk to your instructor, and then don't talk AT your parents, talk TO your parents. Speak from your heart and appeal to them not as a kid who doesn't want to play the piano, but as a young person who is searching to find their passion and who, after three years, is smart enough to know music is not it.