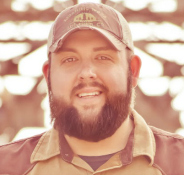 To me it is the rarest and most delightful of treats to hear people who truly have a heart for the Lord. It inspires and encourages people like me in my daily walk. Speaking to husband and wife combo Kat and Jared Hartmann about their debut EP helps restore my faith in humanity as I hear people light up and serve musically with so much passion and conviction. This is the type of music I can only hope will be played in heaven. Once you listen you cannot help but feel excited and encouraged.
Kat and Jared are worship leaders at Bethel Church in Temple, Texas where they oversee a worship ministry of over 40 people. They have been married for ten years and have two kids (about whom I had the privilege of discussing briefly with Jared as he talked about the joys of being a dad).
Kat and Jared spent the first eight years of their marriage touring the world with the rock super group Flyleaf, in which Jared was guitarist and founding member (my boy!!!). As a platinum-selling band, Kat and Jared used this platform as a ministry that affected thousand of lives and changed lives through music.
All of it has helped lay the foundation for their new worship-focused EP that drops February 4. Here is the track list:
1. We Adore You
2. Hallelujah
3. We Want To Know You
4. in Awe
5. You Amaze Me
Be sure to download it and be inspired! I give it ten thumbs up, even though I only have two!
I spoke with Kat and Jared about this new EP and a variety of topics:
How's the life of a rock star? How have you been doing?
Jared: Pretty good, just really good, here at home, got kids now, doing the family thing, and we are starting to get back into music and get it going again.
So tell me about this EP coming out?
Jared: Throughout the years we have been writing music together we have always enjoyed doing that but I had always been busy doing stuff with Flyleaf or with family and this past year we have been home more and really had time and passion for it, so yeah here we are.
Did you write all of the music on the EP?
Kat: Yeah, we have a five song EP that is coming out February 4 and it is self-titled "Kat and Jared," and all five songs are original songs that we have written over the past few years and we probably have over a hundred songs that we have written and we have just been waiting for the moment that we could start sharing them with people, and we are really excited about the EP. We are singing about this last season that we have been in, how joy is acceptable no matter what your circumstances. We are excited about what God is doing and just to be a part of it.
What is your favorite song on the EP?
Kat: The first song that we put out is "We Adore You." It is probably, to me, I have the most fun when we sing that song, and Jared and I actually wrote it by accident. We were trying to write another song and we were kind of sad because we were trying to write this other song and Jared started playing and fiddling around on his guitar, and I said, hey, we need to focus, and I said, oh wait, what were you playing? That sounded pretty cool, and we went back to it, and it's a song about just choosing to remember how good God is no matter what was put in front of you, no matter how you fell. It's like choosing to recall God's goodness and his closeness and remembering all the things he has done for you and then celebrating that because when we celebrate it, when we magnify God, everything else becomes small. So "We Adore You" is probably my favorite. Jared what is your favorite?
Jared: It wound up being my least favorite song when we where writing it [laughs].
Kat: We had a little scuffle over this. Okay, go on.
Jared: We have a song called "We Want To Know You," and Kat wrote it and brought it to me and the band.
Kat: Mmmm hmmm [laughs].
Jared: And we were trying to play it, trying to figure out what to do and….
Kat: None of them liked it, Josh [laughs]. None of these guys liked the song. My husband was like, this is not a good song, and I was like yes we are sticking with it okay?
Jared: So then we toughed it out [laughs] and we kept working on it, and some things changed musically and the whole song kind of changed and went a different direction and it had become my favorite one.
It's kind of like going to Memphis and in honor of Elvis eating a peanut butter and banana sandwich. At first you're kind of like, what is this going to be? And then you'll eat one and you will be changed forever?
Kat: Yeah, hey, ironically we ate peanut butter and banana sandwiches last night [laughs]. They are real good. Lacey from Flyleaf, that was one of her favorite snacks, she turned us on to it. I was giving her a hard time [laughs] and then she made me taste it and I was like oh no, but it's true, they taste pretty good!
***
Kat and Jared also mentioned they will be bringing the music to the masses via touring, so check here for a show near you in the future.