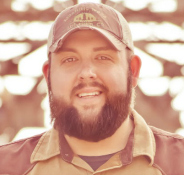 With great sadness we learned this weekend that Joey Feek
of the wonderful country music duo Joey and Rory passed away on Friday, March 4, after a long battle with cervical cancer. She leaves behind her two-year-old daughter Indiana, her husband Rory Lee Feek, and lots of family and friends.
I am hurting on a more personal level because I had the privilege to know the duo over the years while they lived in my town, Columbia, Tennessee. I always admired the love they shared, a love like something from the Nicholas Sparks
novel "The Notebook"–a love like my grandparents have, which is still going strong after 50+ years. Joey was a very beautiful woman with a strong outlook and faith in God. She battled with a bravery that I could not imagine, and she stayed positive through the end, enjoying precious moments with her family and two-year-old daughter Indiana.
As someone who knew the Feeks, I'm not writing this to make a spectacle out of the situation, but to give some first-hand insight about a fantastic couple of human beings. You take away the TV show, the albums, the restaurant on the edge of town  and you still couldn't ask for nicer people. This couple was the real deal–authentic and kind, with or without the success.
Of course, there has been enough insight on the situation through Rory's blogs–and here is a tearjerker right here that you will more than likely enjoy in honor of the group–but I am going to add my perspective on the Feek family and share a few personal stories that occurred with Rory Lee Feek.
Even before Joey and Rory the duo, Rory was an accomplished songwriter, and I have been a fan of Rory's work for years, dating back to 2005 (and maybe even earlier). Rory has penned smash country hits such as "Some Beach" by Blake Shelton
, "The Chain of Love" by Clay Walker
, "A Little More Country Than That" by Eastin Corbin, and the lengthy song, which is a part of my story below, "How Do You Get That Lonely,
" which was recorded by Blaine Larson.
I was fresh off a radio internship, working one of my first radio gigs at 101.7 WKOM in Columbia, Tennessee, and I was the weekend news guy. I did a fluff piece on a show coming to Zion Christian Academy at which Rory and Blaine Larson and friends were going to perform a benefit show. I was a young musician and a fan of music, and I jumped at the chance to interview Rory and talk with him and Blaine about the song. The moment came, and I entered the basketball gym that was rapidly filling up for the big show, and my then four-year-old daughter (now 15) were escorted to a room to conduct my interview with the duo.
I am not going to go into great detail–though if you ever catch me in-person or email me, I will be glad to tell you the details–but my fondest memory of the whole interview was how, even then, Rory was kind, gracious and wearing his signature overalls. He is not just a songwriter who writes with the intention of developing a hit, in other words; he writes from the heart, and the lyrics speak for themselves. He writes what he knows, and people can easily relate to it because he is authentic.
When it was time to turn my attention to the young, talented artist Blaine Larson in the interview, I noticed Rory off to the side cutting up, making faces and entertaining my daughter while Blaine and I spoke. I noticed it out of the corner of my eye and smiled because it was a rare moment when I saw a man go from admired singer/songwriter to warm, compassionate human being. Since that day, Joey and Rory honored many media requests I had, but that is a wonderfully fond memory I will always treasure: Rory Lee Feek joking with my daughter, making her laugh and keeping her entertained while I was conducting an interview.
The Feeks are truly great people, and my heavy heart is with the entire family during this time.