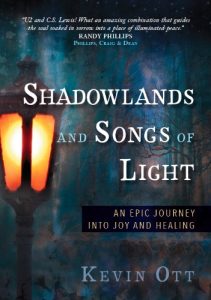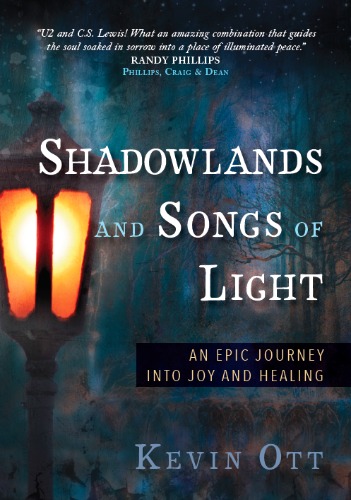 Quick note for fans of C. S. Lewis and/or U2 before the article begins:
When life's sorrows bring us into shadowlands, we need the joy of Christ to restore our strength. We tap into this joy by nurturing a deeper longing for God. Shadowlands and Songs of Light: An Epic Journey into Joy and Healing takes you on a quest for joy and a life-changing longing for God.
Written by a C. S. Lewis expert and a skilled composer, the book explores 18 beloved C. S. Lewis classics, from Narnia to Mere Christianity, and 13 spiritual principles behind the art of songwriting, as seen in 13 studio albums by U2–all to answer one question: how do we experience deeper joy in our relationship with Christ during times of sorrow and trial?
Shadowlands is available to pre-order at Amazon or ChristianBooks.com. If you pre-order a copy, the author will personally email you with a thank-you note and a copy of his upcoming e-book devotional "Devotions with Tolkien," which uses J. R. R. Tolkien's epic "The Lord of the Rings" and Scripture. (This is all on the honor system: simply pre-order Shadowlands, and then send an email to shadowlands2016 (at) gmail (dot) com letting the author (Kevin Ott) know you've ordered it, and he will contact you.)
Text LIGHT to 54900 to get a preview of Shadowlands and Songs of Light.
***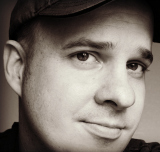 The Christian band Rend Collective Experiment has accomplished a brilliant marketing feat: catch the whole world's attention by using a very odd (translate: cool) instrument.
If you haven't heard the buzz, it's called a Jingling Johnny, and this fascinating instrument is taking the world by storm. According to Google trends, its popularity as a search term recently (mid-2013) surged to 100, the highest value on its normalized scale. The YouTube music video (1.2 million views) that helped drive this trend can be found in Rend Collective Experiment's video, Build Your Kingdom!
As you watch the video, you will notice a jolly musician slamming an ornamented staff triumphantly into the ground in time with the drummer's kick drum as if he were trying to cause an earthquake.
He succeeded.
Now that the popularity of this instrument is beginning to shake the Internet, people are asking what exactly is that wild looking (and sounding) percussive instrument?
First off, the average Jingling Johnny really is just a staff with a bunch of fancy metallic ornaments on it that jingle—usually brass or silver bells or other ornaments like crosses. There aren't any hidden electronics or hollowed out resonance chambers in the wood—though Rend Collective Experiment has one that features an external resonating chamber attached to the wood along with a string that the musician can strike with a stick while stomping it.
It's an old instrument, originally called a Turkish Crescent until the British Army renamed it the Jingling Johnny. It dates back to the Middle East in the 1600s—at least. It became a popular instrument among European military bands in the 1800s. The instrument's potential for dramatic ornamentation made it perfect for ceremonies and marches. Many of these older Jingling Johnnies were so wildly ornamented that they looked as if Captain Jack Sparrow had built them. Perhaps this explains why they were also used among gypsies in the Victorian Era.
In addition, they were popular in Victorian pubs because the sturdy wooden floors provided ideal surfaces to strike. When used in such settings, the Jingling Johnny could create a hearty thump comparable to a kick drum along with a loud jingle. It's an intriguing sound, and when a person with good rhythm is playing it—like the drummer for Rend Collective Experiment—it can get your feet stomping and your hands clapping. In a heartbeat you'll feel as if you were in an old tavern in Ireland singing folk songs while taking shelter from the afternoon rainstorm.
The instrument is also highly personal. No two Jingling Johnnies are the same. There has never been a Jingling Johnny, Inc.; they are always custom hand-made. Many people make their own, such as this fellow, who was kind enough to show all of us how to make one.
Now all I need is for someone to make a guitar that can double as a Jingling Johnny. In between notes I could slam the guitar on the stage a few times, then resume the solo without missing a beat! I'd have to add the "Jingling Johnny Guitar" to my list of interesting guitar effects.