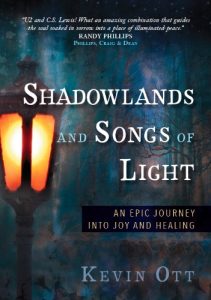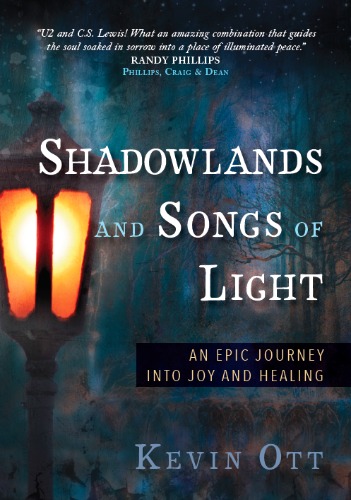 Quick note for fans of C. S. Lewis and/or U2 before the article begins:
When life's sorrows bring us into shadowlands, we need the joy of Christ to restore our strength. We tap into this joy by nurturing a deeper longing for God. Shadowlands and Songs of Light: An Epic Journey into Joy and Healing takes you on a quest for joy and a life-changing longing for God.
Written by a C. S. Lewis expert and a skilled composer, the book explores 18 beloved C. S. Lewis classics, from Narnia to Mere Christianity, and 13 spiritual principles behind the art of songwriting, as seen in 13 studio albums by U2–all to answer one question: how do we experience deeper joy in our relationship with Christ during times of sorrow and trial?
Shadowlands is available to pre-order at Amazon or ChristianBooks.com. If you pre-order a copy, the author will personally email you with a thank-you note and a copy of his upcoming e-book devotional "Devotions with Tolkien," which uses J. R. R. Tolkien's epic "The Lord of the Rings" and Scripture. (This is all on the honor system: simply pre-order Shadowlands, and then send an email to shadowlands2016 (at) gmail (dot) com letting the author (Kevin Ott) know you've ordered it, and he will contact you.)
Text LIGHT to 54900 to get a preview of Shadowlands and Songs of Light.
***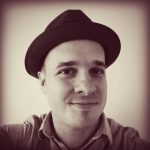 [Parent's Content Advisory at bottom of review.]
Jason Bourne has always been one of my favorite spies–though, I will admit, none of the Bourne sequels have so far topped the first film, 'The Bourne Identity,' that started it all. The fascination of watching a super spy with amnesia discover that he has incredible survival instincts and fighting skills is too good a plot to ever beat.
The latest film in the series, "Jason Bourne," doesn't try to beat that original concept, but it sure brings back the glory of Bourne in a way that it is somehow more satisfying than either "The Bourne Supremacy" (2004) or "The Bourne Ultimatum" (2007). (As an aside: frankly, I really liked "The Bourne Legacy" (2012) with Jeremy Renner. It's actually my favorite Bourne film other than "The Bourne Identity" and "Jason Bourne." It's a shame they didn't keep the Renner series going.)
Enough with the walk down memory lane. Let's get into the nitty gritty of why "Jason Bourne" worked.
Entertainment Value and Film Craft
I'll get my major complaint out of the way: I can't stand the shaky cam approach that the director takes to all of his Bourne movies. So just a warning: if you don't like jittery camera operators, then you might want to reconsider seeing this one. But despite my misgivings about the shakiness, the excellence of the movie overcame the rattling frame. And in many of the action scenes it added some extra spice.
The thing that makes this film work is fun blend of Jason Bourne's super spy skills and the 2010s world of Internet hacking and cyber-warfare that has come to define our society recently. We even get a Facebook-like mogul as a main character, so the film has an unexpected Silicon Valley tone to it that blends surprisingly well with the intriguing shadows of the Bourne world.
Oh, and the other reason this movie works?
Tommy Lee Jones.
That dude can still grab hold of any move frame he's in like a grouchy old bulldog sinking his teeth into a cut of steak, and he will not let go of it. Jones as a villain is especially fun. He makes you despise him in a subtle but impossible to resist way. You will dislike his character, whether you want to or not. And a good villain is absolutely essential in any spy drama.
And, I should also add, the action scenes are tremendous. They're worth the price of admission, especially the car chase that tears up half of Vegas.
Redemption Storylines, Worldviews, Edifying Themes
Bourne is downright weary in this film. His soul is tired. A heavy, foggy depression has settled over his eyes, and thanks to Matt Damon's performance, you can feel it in just about every scene. It's a striking image when you look at stills of Bourne in the first film. In 2002, Matt Damon's Bourne looks so boyish, young, and preserved from the storms of age and sorrow that it's impossible not to notice the haggardness in the 2016 version of Bourne. And it's not because Matt Damon has aged badly. It's simply good acting and good work from the makeup department–and the occasional nice touch from the writers and director, like when they make Bourne wear a black eye for several scenes.
For this reason–besides being about the usual Snowden-birthed conundrum of public security and Internet privacy–this movie really is about the redemption of Bourne's soul, in a general sense. He is weary and weak, and it suddenly becomes plausible that he might be tempted to the dark side. (Frightening thoughts of Luke Skywalker turning to the dark side instead of resisting temptation come to mind.)
I won't give away how far the film goes down that road, but in the end it makes for a gripping story. Any moral message in this movie might be described as this: in a world where good and evil has become very confused, there is something greatly appealing about the simple virtue of a person who really is just there to help, like the volunteer first responders in a crisis or the firefighters who do their jobs because they genuinely care about people and about their communities. It sounds hokey, I suppose, but that is the heart of gold behind this film. It holds a mirror up to our rotten political/governmental, power-hungry elites (on both sides of the political aisle) and it asks a simple question: are you really here to help others or are you just here to help yourself?
Want to read more reviews like this one? Sign up for our email alerts and get notified when we post a new review.
Content advisory for this film…
Rated: PG-13
Sexual Content/Nudity/Themes of Sexuality: None, unless you count the scenes of Bourne and other professional fighters fighting shirtless.
Violence/Gore/Scary Content: If there is one downside to films like this–at least as far as families are concerned or moviegoers who don't like mindlessly ingesting disturbing content–it's the violence. Of course, what I like about the Bourne films is that it's not in your face, graphic/gory violence. But there is an abundance of assassinating, kill shots in the head, people getting riddled with bullet holes, others getting knifed, a woman getting a sniper's bullet in the chest, and then again in the back to finish her off, or people falling off of buildings to their death. So, though not insanely gory or blood-splattering, the violence is raw, realistic, and dark. The movie itself is fairly dark and wouldn't really make for a fun, light-hearted action movie outing with your teenage sons or youth group, for example.
Language: Several s-words, b-words, d-words, h-words. Both Jesus' name and God's name are abused on several occasions.
Alcohol/Drug/Smoking Content: A man drinks an alcoholic drink while watching TV.