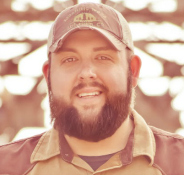 Mr. Charlie Daniels hits the nail on the head with his new contribution 'Night Hawk,' which officially drops  August 26. The album will be available at www.CharlieDaniels.com, FYE, and wherever music is sold. 'Night Hawk' will also be available for pre-sale on August 15 at his site where the first 100 autographed copies sold will also be hand-numbered by Charlie Daniels himself.
The 2016 Country Music Hall Of Fame inductee is still as fresh as a spring chicken with this contribution to classic country and the western genre. The whole album could serve as the soundtrack to a western movie. Somebody call the Coen Brothers immediately!  Charlie and Co. put a very unique spin on several fantastic songs with also a slight hint of traditional bluegrass in the mix (in my opinion). Charlie is one of the last true great artists still alive. This phenomenal album is worth listening to from beginning to end. I can't remember the last time I listened to an album from start to finish until I got my hands on this one. It gave me a great feeling of nostalgia and a yearning to watch an old John Wayne movie or a spaghetti Western starring Clint Eastwood. In the fall/early winter, I will probably be playing these tunes in my backyard while huddled around my fire pit. Long live Charlie Daniels and God Bless him! He puts his heart and soul in preserving the heart and soul of real cowboys and their way of life.
Tracks are as Follows:
NIGHT HAWK TRACK LISTING:
Big Balls In Cowtown
Billy The Kid
Night Hawk
Stay All Night (Stay A Little Longer)
Goodnight Loving Trail
(Ghost) Riders in the Sky: A Cowboy Legend
Running With The Crowd
Old Chisholm Trail
Can't Beat The Damned Ole Machine
Yippie Ki Yea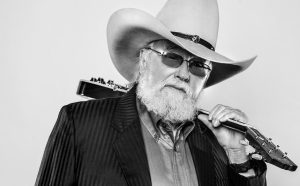 "Most of our concepts about cowboys, and all things western, are mostly derived from movies and TV. Well, the truth of the matter is, the real cowboys are not glow in the dark characters who go around fighting rustlers and cleaning out saloons with their fists. The actual working cowboy is a hard working, different breed who spend endless hours in the saddle and as Louis L'Amour said, they 'ride for the brand.' Night Hawk is a tribute to the working cowboy and his way of life," Charlie Daniels.
This album is arriving safely on the coat-tails of a well-deserved 2016 for Charlie with his better late than never (in my opinion) entry into the Country Music Hall Of Fame, alongside Randy Travis and Fred Foster. Charlie Daniels is an American treasure and one of the greatest artists music has ever known in any genre, and I am glad that people are still appreciating his works and enjoying him while he is still active. As Daniels goes into his eightieth year, the Country Music Hall of Fame Museum has decided to have an exhibit on September 23 in his honor called Million Mile Reflections. And then, this November–and, yes, I am truly honored to be going–there will be a concert called the 80th Birthday Bash Volunteer Jam at Bridgestone Arena in honor of Daniels. The list is huge with Kid Rock, Chris Stapleton, Travis Tritt, Larry The Cable Guy, and many more. And they're all going to join Charlie Daniels to celebrate his birthday. You can purchase tickets
here.