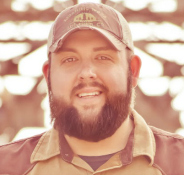 After listening to The Cadillac Three's new album Legacy from beginning to end, I would have to say the trio of Kelby Ray (lap steel guitar), Neil Mason (drums) and Jaren Johnston (vocals, guitar) have truly captured "White Lightning" in a bottle with "Legacy"–11 tracks of complete ear pleasure that drops Friday, August 25. This trio is the real deal in my opinion. The Cadillac Three, as well as a small handful of other groups, are keeping the American southern rock and country sound alive in a time when "bro country" and hip hop music has made its way into what we today call mainstream country. When the late great George Jones sang the song "Who's Gonna Fill Their Shoes," he must have known in the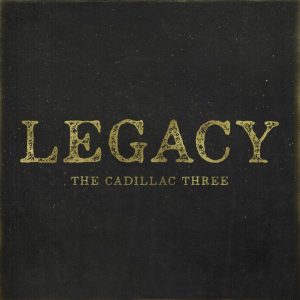 back of his mind that a band like The Cadillac Three would come along and carry the torch for many years to come. Bottom-line about their new album: if you're down to your last twenty dollars and you have to choose between 1) a meal and some gas money to get to and from; or 2) the "Legacy" album, go for The Cadillac Three because in the long run you'll be glad you did. (And besides being an amazing album overall and having a great ballad in "Legacy," it has great lyrics like "Thank daddy for Hank / Thank mommy for Jesus / Between the vinyl and the Bible it was everything I ever needed.")
The Cadillac Three (Big Machine Recording Artists) are Nashville born and raised, and they are already on tour. I spoke with Kelby Ray as they were getting settled in Salt Lake City, Utah for a performance. They will perform at the Mother Church of Country Music, the famous Ryman Auditorium, on August 31. This is the highest honor you can have as an entertainer, not just for Tennessee boys but for any band the world over in the industry.
Something else to note: Kelby Ray serves as lap steel player in a time when the sounds of the beautiful, hallowed instrument are almost non-existent in today's music. He also shared with me a fun fact about his duties within the band: he uses his lap steel to fill in the bass parts for the band, sort of in the same spirit as Ray Manzarek (The Doors) who used his keyboard to fill in as a bass player:
I just listened to "Legacy" from beginning to end. You guys have truly captured lightning in a bottle. Do you (Kelby Ray) think it's your best work yet?
You know what, I gotta say yes on that one. I think that every album that comes out you want to think it's the best thing you have done. We did it all by ourselves, we produced it all by ourselves like we did that first album. You know, just kind of knocked it out in a year. Well, it didn't take us a whole year, but we are getting it out a year after the last record. That was kind of our goal, and we kind of set ourselves to knock the album out for the fans and we did it!
Serving as producers of your own album, what is that process like? Is it kind of nerve-wracking or did you guys feel more at ease? 
Its actually less nerve-wracking because we are pretty self contained and we work pretty fast by ourselves instead of having somebody else trying to change things, like let's do it like this or let's do that. We know how we want it down, and sometimes you waste a lot of time with producers. Though a lot of them are really meticulous and that can be great. We worked with Dan Huff on that last record and he did the sound for "White Lightning," and it came out great, and at the same time we kind of spend a little more time if maybe we had done it by ourselves. So we just went in and we were like, "You know, we hope Scott Borchetta [Big Machine founder] likes this." We went in and started recording literally right after we put out the "Bury Me In My Boots" album last fall, and we recorded six or seven songs by Christmas when we had some days off the road, here and there. We played him [Scott] the first six and we were like, "Hey, [laughs] we are starting to work on the new record," and he was on board and he loved it and told us to keep on going. So we just finished the rest of the album up over Christmas break, got some artwork together, and boom here we go!
The album's name sake and song "Legacy" in my opinion should win "Song of the Year" (let me be first on record as saying this). I can already see it. Let's discuss the song:
"Legacy" was one of the songs that came in at the eleventh hour, and Neil heard it at a writer's round. Laura Veltz, she was one of the co-writers of the song, was playing it that night and just happened to say she wrote it with Jaren, and probably because she saw Neil in the audience or something or he would have never heard it and now that song has kind of capped off the whole thing. I think it was the last or second to last song to be recorded for the record when Neil was like, "Hey guys, what is this 'Legacy' song." He hadn't even heard it, and heard Laura Veltz sing it at a writer's round and now it is the title of the record. All the stars aligned, I guess.
Just like the song "White Lightning" on the last album, this is the love song that will be played at weddings, dances, anniversary's etc.
It's funny you mention that. I met a couple in Sacramento last night, while I was shaking some hands and kissing some babies before the show [laughs], a couple came up and told us that they had just got married and they danced their first dance to "Legacy."
I noticed on the songwriting credits your name does not appear. You are one of the greatest musicians I know; do you ever plan on taking a crack at songwriting? 
Yeah, we actually cut 15 songs for the record and ended up using 11 songs, so there are four extra. I helped write one or two of those that did not happen to make it on the record. You know, I just don't write as much as those guys. I have not really been as into the whole songwriting process and the love of crafting a song. I just love to play music. I like helping with the arrangements and kind of embellishing, putting the sprinkle on the ice cream [laughs].
[Note from the article's author: Kelby Ray has been my friend for a long time, and I am very proud of him and his music accomplishments. He is one of a few people I know in the music industry who is just as genuine now as a headliner on tour as he was when we were in our early twenties, working at Alpine Bagel Company in Brentwood, TN. He and I were aspiring musicians and I was also serving as a radio host, and we were trying to find our way in the music industry. The reason I bring this up is so his answer to the last question will make sense to you.]
With a stop at the Ryman on this tour and some shows performing with Hank Williams Jr., in your younger days when you guys were starting out, did you ever envision your music career taking you on this journey? 
Not really, not to this capacity, you know, ever since high school and when we were working together, all I ever wanted to do was make a living playing music and not make bagel sandwiches, you know [laughs]. Fortunately, I found a way to make it happen on a whole 'nother level. I grew up listening to Bocephus (Hank Williams Jr.), and I mean the Ryman is the Ryman, to do that in the same month is just beyond incredible. A lot of the stuff that we have got to do up to this point, you know, if it ended tomorrow, I feel like we have made it. It has pretty wild to see that we have stuck with it long enough to see the fruits of our labor turn out pretty good. Thanks to all of our great fans, it has been pretty wild so far.
***
Legacy is available now where music is sold. If you're in the Nashville area on 8/31/17, catch The Cadillac Three at the Ryman Auditorium.