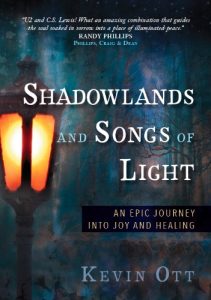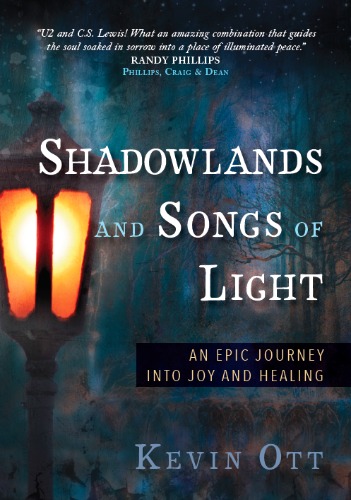 Quick note for fans of C. S. Lewis and/or U2 before the article begins:
When life's sorrows bring us into shadowlands, we need the joy of Christ to restore our strength. We tap into this joy by nurturing a deeper longing for God. Shadowlands and Songs of Light: An Epic Journey into Joy and Healing takes you on a quest for joy and a life-changing longing for God.
Written by a C. S. Lewis expert and a skilled composer, the book explores 18 beloved C. S. Lewis classics, from Narnia to Mere Christianity, and 13 spiritual principles behind the art of songwriting, as seen in 13 studio albums by U2–all to answer one question: how do we experience deeper joy in our relationship with Christ during times of sorrow and trial?
Shadowlands is available to pre-order at Amazon or ChristianBooks.com. If you pre-order a copy, the author will personally email you with a thank-you note and a copy of his upcoming e-book devotional "Devotions with Tolkien," which uses J. R. R. Tolkien's epic "The Lord of the Rings" and Scripture. (This is all on the honor system: simply pre-order Shadowlands, and then send an email to shadowlands2016 (at) gmail (dot) com letting the author (Kevin Ott) know you've ordered it, and he will contact you.)
Text LIGHT to 54900 to get a preview of Shadowlands and Songs of Light.
***
[Update 10/23/14: Additional info, based on new revelations, about whether the actors and the director of Fury are Christians, has been added to the "Worldviews" section below.]
"Do not love the world nor the things in the world. If anyone loves the world, the love of the Father is not in him. For all that is in the world, the lust of the flesh and the lust of the eyes and the boastful pride of life, is not from the Father, but is from the world. The world is passing away, and also its lusts; but the one who does the will of God lives forever."
Brad Pitt's character Wardaddy recites this passage — yes, the entire passage word-for-word as written above — from 1 John 2:15-17 in one of the most moving scenes involving Scripture that I've ever seen in any film, Christian or secular. And although this extremely gory R-rated war film will not be shown in any churches anytime soon, the film has an elusive but hard-to-deny spiritual undercurrent.
It's April, 1945, and as the Allies draw the noose tighter around Nazi Germany, the experienced warrior known simply as Wardaddy (Brad Pitt) leads a five-man Sherman tank crew deep into enemy territory into the very heart of Nazi Germany on what seems like an impossible mission. With the added burden of an inexperienced rookie soldier (Logan Lerman), Wardaddy faces the greatest challenge of his illustrious three-year tank career.
David Ayer, the director, is not your typical Hollywood director. He served in the Navy, for one thing. He also spent many years of his youth in some of the roughest neighborhoods of South Central Los Angeles. This guy has lived through some stuff. He's seen a few things.
That gritty, unflinching, real world experience shows in many of Ayer's movies, from the brutal corrupt cop drama Training Day to the South Central drama Harsh Times.
And now Ayer has taken his gritty, visceral directing style to the battlefields of WWII.
Before I saw the film, I was hearing quite a bit about the intense battle gore of this R-rated film — perhaps even comparable to Quentin Tarantino's bloody Inglorious Basterds, which also starred Pitt. Before I get to the review of the film, let's take a look at the film's parental guidance content in detail (but without spoilers!).
[Sponsored link: discover the secret system that smart Facebook marketers are using to dramatically increase traffic — Click Here! — as seen in Forbes, Mashable, Fast Company, and Entrepreneur.]
Parental Guidance Issues at a Glance…
Sexual Content/Nudity: One implied sex scene, no nudity. Nothing is seen or heard — 100% implied and off-camera. A soldier is seen without his shirt on. Soldiers discuss having sex with a girl they see walking on the side of the road, and they use vulgar language to describe their intentions. In another scene, a soldier describes a girl as a whore, and in the same scene another soldier talks explicitly about his intentions to have sex with a girl.
Violence/Gore: [Warning: this paragraph contains descriptions of disturbing violence.] This film is certainly one of the most graphically violent war movies ever made. Its war violence is more graphic and gory than Saving Private Ryan. Direct shots and close-ups show us with unflinching detail every manner of vivid gore. We see a man stab another man in the skull through his eye. A soldier is selected to replace a tank gunner who died in combat, and when he goes to clean the blood from his new station in the tank, he finds half of the dead soldier's face, and the camera lingers on the disturbing gore in vivid detail. A soldier is engulfed in flames, and we see his skin burning in close-up detail, and then we watch the soldier pull a gun out and shoot himself to end the pain. In many scenes, artillery fire blows the heads, limbs, and torsos off soldiers. A tank rolls over a soldier and causes his head to explode with gore. A tank pushes a pile of corpses along a field as if it were a plow. A tank rolls over a long-flattened corpse, and we see a close-up shot of it. A woman is killed when her house is shelled, and we see her corpse in the rubble. A soldier stabs another soldier through the neck. Countless soldiers are mowed down by machine gun fire. Many others are burned alive. A soldier is impaled by a Rocket Propelled Grenade and dies instantly. A soldier throws his half-dying body on a live grenade nearby to save his fellow soldiers. Another soldier is shot in the face, and we see a close-up of the wound as gore gushes out after he is dead. A soldier is shot three times in the abdomen by a sniper. A captured soldier is shot in the back. The corpses of women and children who were hanged are seen in close detail. Another scene shows a room full of dead people who had committed suicide together. Another scene shows a room full of dead soldiers.
Language: Countless f-words and all other varieties of swear words.
Alcohol/Drug/Smoking Content: Most of the soldiers smoke. Many of them drink, especially when they stop and rest in between battles.

Frightening/Intense/Emotionally Heavy Content: Essentially the entire movie belongs in this category. It is one of the most intense, nail-biting, emotionally exhausting war movies ever made. It does not pull any punches. It depicts the humanity of many of the characters so that you become emotionally attached to them, and this means you are desperately hoping that they survive what seems like one impossible situation after another.

Please support our affiliate sponsors


Entertainment Value and Film Craft
Despite the extreme gore and shock of this hyper-realistic war movie, there is a deeply felt heartbeat that pulsates throughout the film. It's not a cartoonish shoot-em-up action movie. It's a deeply personal family drama that happens to take place in one of the most violent moments of human history. I write "family" because that's what a tank crew is in these situations. The crew had fought three years together — an eternity in military time. They were brothers. The bond they shared was all they had.
A movie approaches greatness when it does all the basics of film craft well and at least one thing exceptionally well.
What Fury did exceptionally well was create a partition between the world inside the tank and the nuanced horror of the world outside. Although the film didn't develop the characters in exhaustive detail, it did develop the group's personality. The group character — the feel of this tank crew with all of their personalities aggregated — was well defined. It drew you into the tank, into this tight-knit family, until you felt like you were sitting there with them, praying to God that they survived the next five minutes.
Besides all of that, there is a jaw-dropping scene — a surprisingly long scene too — smack in the middle of the film that just blew me away.
And it blew me away without having any guns or fighting or any hint of violence whatsoever. It's a meal that takes place at a dinner table, yet it is one of the most intense, nail-biting scenes of the movie, if you can believe that. There's something profoundly serene about it too, as if the world had stopped spinning and time had halted. It's like the eye of a hurricane. Everything before and after this scene in the movie is pure chaos and destruction. But this middle section is utterly, unbearably peaceful.
Well done, David Ayer.
Worldview(s) In the Film
I don't think there's enough information available to about the filmmakers' intentions to claim outright that, "Yes, this movie has a Christian worldview, and they intended it to have one," but there's something elusive, behind the scenes and in the shadows, that begins to show itself near the end of the movie.
[Update 10/23/14: According to this recent article — if it is to be believed — Shia LaBeouf converted to Christianity during the shooting of Fury. In addition, the film's director, David Ayer, is a Christian. This means, if it's true, that this movie definitely does have a Christian worldview because Ayer wrote the screenplay besides directing it. The article also claims that Brad Pitt, though raised in the church, is no longer a Christian, but he was helpful in guiding Shia through his spiritual journey that ultimately led to Shia's embrace of the Christian faith.]
At first, the hero of the film, Wardaddy, expresses what seems to be a mocking cynicism of unbelief towards the Christian beliefs of his fellow crew member whom they nicknamed Bible (Shia LaBeouf). They call him that because of his aggressive efforts to get everyone he meets saved, pleading with them to invite Jesus into their hearts.
But as the movie progresses, and as the crew faces greater challenges, the hero Wardaddy begins to surprise everyone. He begins quoting obscure Scriptures — lengthy ones — from memory.
And he means it.
The passage from 1 John at the beginning of this review underscores what might be the overarching theme of the movie: we are mortals who are far more fragile than we could ever imagine. (And if you ever doubted how fragile, and how pathetically easy it is to destroy a human body, the shocking violence in this film will remove any doubts.) Therefore, do not waste your finite life chasing after the cares of this world — its pride and its lusts — but instead do the will of God, and you will live forever.
Without giving anything away, the film affirms this Scriptural truth as we watch the characters make a vital decision at a literal crossroad on the battlefield. This physical crossroad in the terrain is most certainly symbolic of the spiritual crossroad that the characters face — and that we all face in life in a broader sense. Their selfless decision at that crossroad reflects the general spirit of the passage from 1 John: don't live for yourselves. Live to do the will of God, even if that means sacrificing yourself.
Conclusion
Despite the shocking gore and the super-abundance of profanity, I walked away from this film with quite a few Biblical truths on my mind — things that the movie had brought to the forefront of the story. These were not themes I had already been thinking about before the movie, in other words. This film forced me to take my eyes off the world and look towards eternity.
And there's a deep weariness in the face of Wardaddy that haunts you as you watch the film. It's not just from the never ending tides of war. There's a weariness of the world, of its relentless ambitions and self-centered aggressions, that fills every word and expression of Brad Pitt's character.
Although I had to push through a thick slog of gore and profanity to get to the good stuff, I left the theater with a renewed desire in my heart to live a less selfish life and to spend more time pursuing the Father's will instead of chasing after the cares of this finite world. As crazy as it might sound to some moviegoers, this film deeply edified my spirit.
I can't say, however, that it will have the same effect on everybody. I'm not even sure I'd recommend this film to every Christian I know — certainly not to anyone under 17. The gore in this film is extreme. It's shocking — even traumatizing, depending on how sensitive you are to violence depicted on-screen. The countless f-words and crude sexual comments that some of the less admirable soldiers make is certainly not edifying to the spirit either — though it does add a sense of brutal psychological realism to the environment that the soldiers inhabit.
But, despite all of that, I can't deny that something about this film has stayed with me. It has haunted me, and a deep desire in my spirit to seek the Father and stop "loving the world" has welled up in my heart since seeing Fury.
Sometimes Hollywood really surprises me.
[This isn't related to the review, but I can't resist pointing this out to you: when a real tank driver — the one whose experiences in WWII closely mirrored Brad Pitt's character — was consulted for the film, he didn't know who Brad Pitt was. The last movie he had seen was The Glenn Miller Story in 1954. You can read the full scoop on this amazing WWII vet here.]